If you're looking for family bike rides in North Wales then there are plenty of places to ride with kids of all ages. Yes, there's quite a lot of hills and the Snowdonian range in the background reminds you that things could get a lot steeper! But if you know where to go, there's plenty of cycle routes in North Wales for families with children of all ages and abilities.
Here are a few of the best places to explore – do let us know if you have any more routes to add to the list.
Family bike rides in North Wales
A word of warning: Due to the landscape of North Wales, some of the routes below do involve some climbs and rough terrain. Always read up on the routes before you set off, and ensure you are all equipped for the ride, and your children are capable of completing the route.
Wrexham
Acton Park – A short wide and flat circular route around the lake is a great place to allow your little one to get up speed on a balance bike or learn to ride without stabilisers. Alyn Waters Country Park – The largest Country Park in the Wrexham area, there is a 2 mile cycleway that is perfect for letting young children loose. It's designed to be accessible for wheelchairs, so is great for less experienced cyclists.
Flintshire
The Sustrans National Cycle Network Route 5 (NCN 5) goes all the way from Chester to Holyhead. In Flintshire, NCN 5 takes you from Sealand in the east, over to the seaside at Gronant in the north of the county. Between Chester and Connah's Quay, there are eight miles of traffic-free path for cyclists, walkers and wheelchair users to enjoy.
We enjoyed riding the Rhos-on-Sea section with the boys – you can read our post here.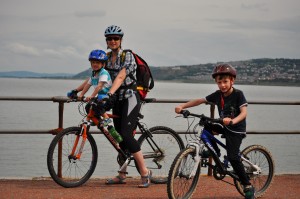 There is also a purpose built off road section which runs between Hawarden Bridge and Chester for over six miles and follows the north bank of the River Dee. This route links into Queensferry and Saltney, via the footbridge at Higher Ferry. Combined with NCN5, this makes an excellent flat circular route.
You can even look at the Sustrans website and design your own Family bike rides in North Wales, based on your choice of start and end point.
Llandegla Forest – mountain biking in Wales with children
Llandegla Forest is one of the biggest and best mountain bike centres in Wales, and has a great family route to whet the appetite of your youngsters. Is is always busy, and our boys loved looking at all the serious bikers coming down off the mountain with their impressive kit! The Family Challenge Green Route avoids major climbs and technical sections, and concentrates on allowing families to experience off-road cycling in a fun and safe way.
The surfaces are generally hard packed but there are sections which are loose, uneven or muddy at times, but we've managed it with rear bike seats. Just make sure you keep your kids under control at the start and end of the route, as you can get bikers from the other routes coming down VERY fast! Once they've got the mountain biking bug, there are routes of all grades at Llandegla which you can progress through as their confidence and skill levels improve.
More details of mountain biking at Llandegla Forest can be found on the One Planet website.
Cycling with kids in Hiraethog
The Hiraethog region is a stunning and unspoilt landscape of rolling heather moor, deep forest and quiet lakes in the heart of North Wales. Easily accessed from the A5 at the gateway to Snowdonia. There are 4 traffic free cycling routes suitable for families:
Bod Petryal – This is a short and easy route for the whole family that meanders through the Clocaenog Forest – Distance 3.5 km
The Alwen Trail – This walking and family biking trail around the Alwen Reservoir is perfect for families and less technical mountain bikers. The 7 mile/11.5 km way-marked route is well away from roads – so you and the kids can concentrate on the biking! Most of the time you're following the shore of the reservoir so it's reasonably flat, but midway around the route does climb up away from the shoreline and passes through woodland and across some moorland.
This can be a useful introduction to hill riding for chidren looking to move on from riding just on the flat. We did this route when our eldest was riding his own bike (see below) and the youngest was in a rear bike seat. It was a great, but long, day out, with a couple of climbs and descents.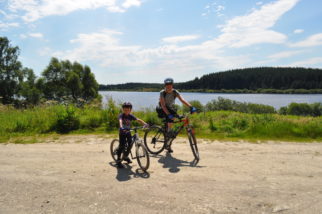 Brenig Trail – Another good route for families looking to introduce a small amount of climbing. The route circumnavigates the Llyn Brenig reservoir. Part of this trail does run along a quiet B Road, in order to get to the visitor centre and car park. Length – 15.2km, total height climbed 50m
Family cycling in the Clwydian Range
The Clwdian Range offers some great locations for family bike rides in North Wales, particularly for families with older kids looking to try out mountain biking. Coed Nercwys Multi User Trail – Coed Nercwys is a forest with a rich past. From the remains of a Bronze Age Cairn, to industrial archeology resulting from Victorian lead mining, up to the present day as a working forest, Coed Nercwys has always been a busy place.
This 2 mile route is a great place for families to safely enjoy cycling away from busy roads, and at the same time learn about this unique forests varied history.
Coed Moel Famau Loop – This short ride winds its way through the forest of Moel Famau, with a steady climb to the edge of the forest where you'll get amazing views towards Merseyside, and beyond if the weather is clear. Length – 12.2 k, total height climbed 450m.
Cilcain Short – This short ride starts from the village of Cilcain a ascends steadily up the road to the ridge of the Clwydian Range. Once you've made it up the hill you get stunning views over the Vale of Clwyd, with the mountains of Snowdonia in the background. The descent is a rather challenging singletrack, so this is more suited for families with slightly older, more experienced children. Length – 8.5km, total height climbed 185m
We'd love to hear if you've ridden any of these routes, or have any other Family bike rides in North Wales that we can feature on Cycle Sprog.
Please let us know on our Facebook page or drop us an email. Thanks!
Other posts you may enjoy whilst you're here:
This article was first published February 2013 and updated in February 2019