Kathryn and her two Cycle Sprogs (Alice, 12 and Tom 9) plus husband/dad Richard are on a family cycling holiday in Indonesia. In her first blog, Kathryn told us about flying to Denpasar Airport with their bikes, and their first, rather stressful, experience of cycling on the roads of Bali's capital city. Now they're ready to start their cycling adventure, which will see them riding from Penelokan in the north of the island southwards to Pandangbai. They just need to get there first!
Family cycling holiday on Bali
I've listed this as a 2 day trip but it's two days of cycling, but with the transfers it's at least 3 days. If you're travelling with children I'd recommend a rest day in between the two cycling days, which would make this at least 4 days in duration.
Getting to Penelokan with our bikes
We'd landed at Denpasar Airport, which is on the south coast of Bali. We had decided that we should ride from the North of the island back down to the South, as trying to go the other way would be all uphill! However, we'd been told you can't go to Bali and not see Ubud, the cultural heartland of the island, about an hour's drive out of the capital. Having been there I tend to agree!
We could organise transfers before we left home, but it was expensive and difficult to pin down, so we decided it would be easier to do in situ. So we found ourselves trying to organise a transfer from Kuta in the south of the island to Kintamani in the north via a couple of nights in Ubud.
There's no shortage of people offering you 'transport'. However once they realise there's not just 4 people but 4 bikes as well, it becomes a more, though not insurmountable, challenge. The Balinese have a can do attitude especially where there's money to be made! You just have to hire two vans – one for you and one for your bikes. And negotiate on the price …
Top tip: a list of fares are posted at the local taxi 'rank' and other tourist kiosks so you can get an idea of what a fair price is before you start your negotiations.
The extra stop off in Ubud gave us a great opportunity to build our confidence on our bikes in the traffic without being loaded up with all our panniers and trailers. We also had the time to explore some great single track riding through the stunning rice terraces.
Day 1 – Penelokan to Sidemen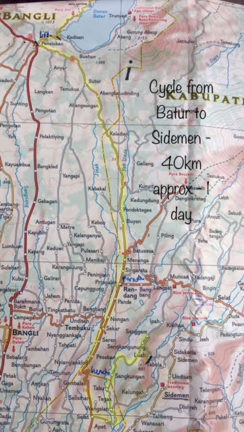 Our cycle touring adventure starts in Penelokan, a village at the top of the active volcano Mount Batur in the north east of Bali. The night before we'd stayed on the shore of the crater lake Danau Batur which means a steep climb to the top of the crater rim at Penelokan before we begin.
We start the climb, but are soon all off pushing our bikes. We flag down a helpful truck driver to take us up the rest of the incline, saving our legs for the rest of the ride!
From the top the views of the volcano and lake below are magnificent. We follow this high road for about 5k stopping to take in the view before starting the ascent down.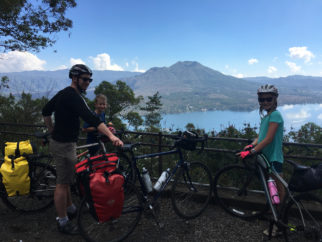 On this higher fertile ground, fed by the volcano ash we are surrounded by onions, cabbages, flowers all being grown for sale, but as we descend this gives way to rice terraces. The road surface is smooth tarmac and there's little traffic which makes for a perfect day's riding, and we cover the 20km to Sekar very quickly.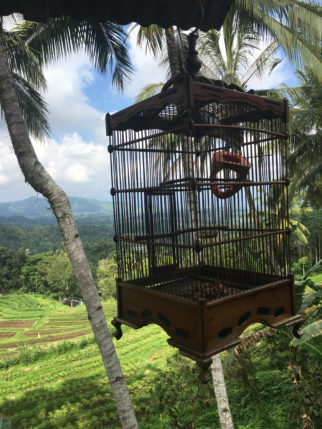 So quickly in fact that we realise we missed our turning just outside Rendang! Rather than retrace our steps, Alice makes a case for a different route on more minor roads over lunch!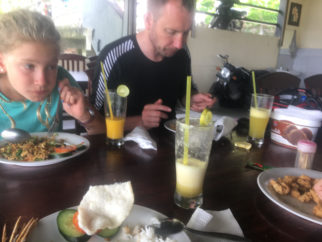 At Rendang there's a Hindu celebration taking place. We stand and watch the procession go past as people of all ages from the local villages dressed in all their brightly coloured finery carry baskets of fruit and flowers and other offerings to the local temple.
All along the way people are friendly, asking us where we are coming from and where we are going to…two questions I have since found out enable the Balinese to ascertain who you are and where you 'fit' which happens to be very important in their interdependent culture, and giving us the thumbs up!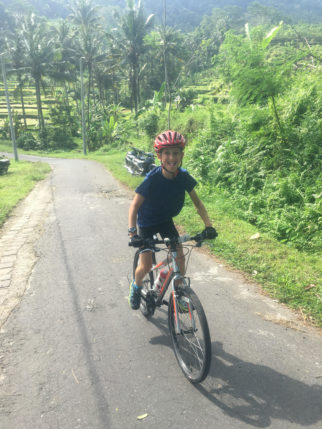 After lunch, we carry on the 'main' road briefly before taking the minor road. Still tarmac but very steep, so steep at times I'm not even sure how they built the road. We are rewarded with spectacular scenery and a real insight in to Balinese rural life. We see people rice drying, groups of men and women washing in the river – all were pleased to see us! We heard dogs barking and proud cocks constantly crowing. These are kept in separate baskets ready for fighting ….
We spend the night at Pondok Tepi Sungai, just on the outskirts of Sidemen. It's a small homestay made up of individual floating houses with a small pool to cool off in, a restaurant onsite, and view of the river below.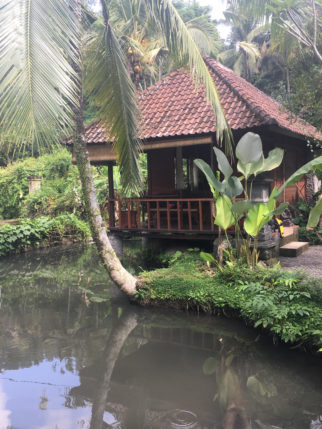 We found it very easy to spend a rest day here before embarking on the next day of cycling, which saw us heading south from Sidemen to Pandangbai. You can read about this in my next blog.
About Kathryn: As well as enjoying family cycling adventures, Kathryn runs a intercultural learning consultancy called Up+ Thrive and also provides advice and support to expat partners through Kathryn Relocated.
Other posts you'll enjoy reading: