If Geriant Thomas's inspirational riding in the 2018 Tour de France inspired your youngster to get out on their bike (not to mention Egan Bernal being the youngest person to win the Tour last year!), a child-size Tour de France yellow jersey (Maillot Jaune) could help spur them on even more. The 2020 kids size yellow jerseys have just come into the shops and we expect them to sell fast!  Most years they sell out of every size (I know because I've helped a very hassled dad try to find the last one in existence for a Christmas present – he ended up shipping it from France!)
As with most things this year, due to the Coronavirus pandemic, there was some doubt as to whether the Tour would take place. However, at the time of writing, it is set to commence on 29th August 2020. Postponed, not out!
AFFILIATE DISCLOSURE:   When you buy through links on our page we may get a small commission if the retailer has an affiliate scheme. You can find out how this works in our affiliate policy. Thanks for supporting us in this way! 
2020 Kids Yellow Jersey
If you want to inspire your young cyclist, then there's no better way than kitting them out with a replica of the iconic yellow jersey. Now available through BikeInn, the Le Coq Sportif is ideal for cycling as it is both breathable and quick drying. It has a full length zip and is made to the same high standard as previous years (just quicker!). Available in sizes as per age: 6 (s), 8 (M), 10 (L), 12 (XL) and 14 (XXL) years.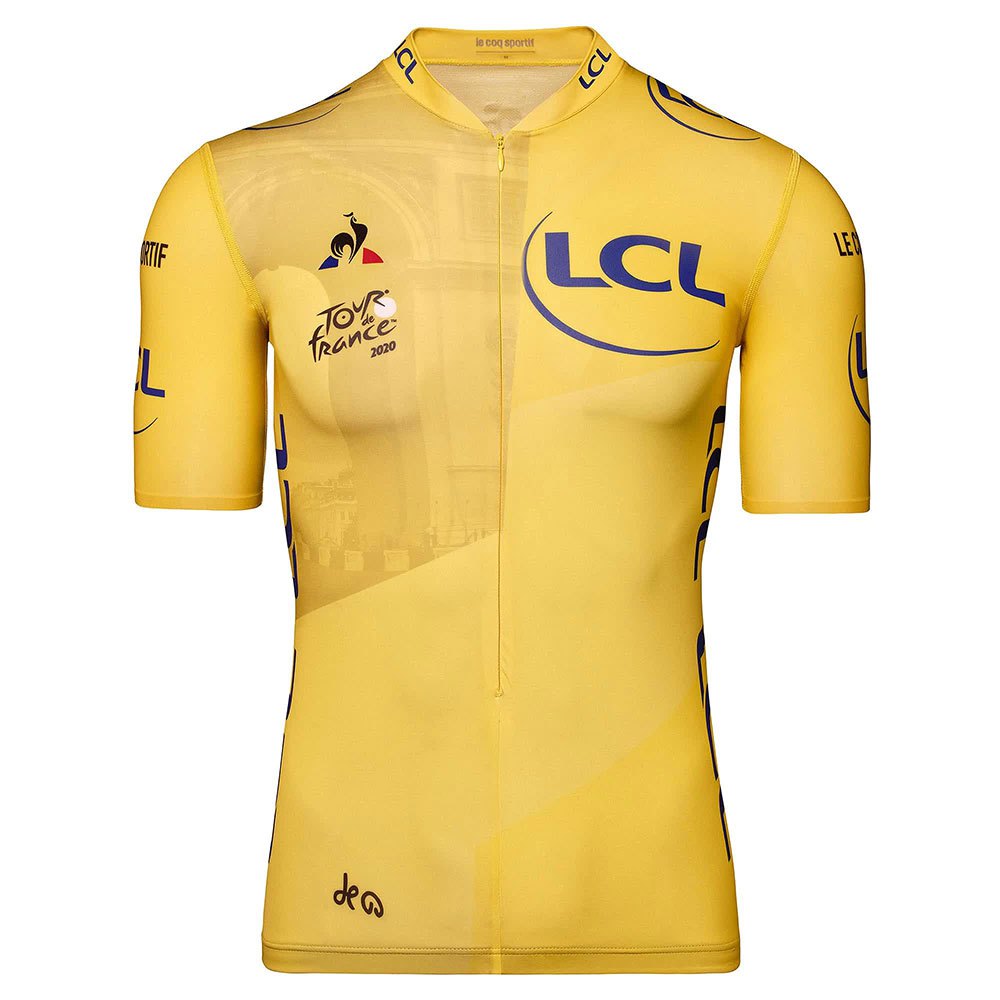 Can I get a kids size King of the Mountains jersey?
Yes, as well as the child size Tour de France yellow jerseys this year Coq Sportif are also doing a kids size King of the Mountains jersey, which costs £61 from BikeInn.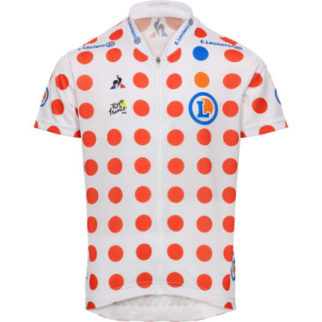 Read a review of the child size Tour de France yellow jerseys:
Read the Cycle Sprog review of the Coq Sportive child-size Tour de France Yellow jersey to find out how two keen young cyclists were inspired by their jerseys.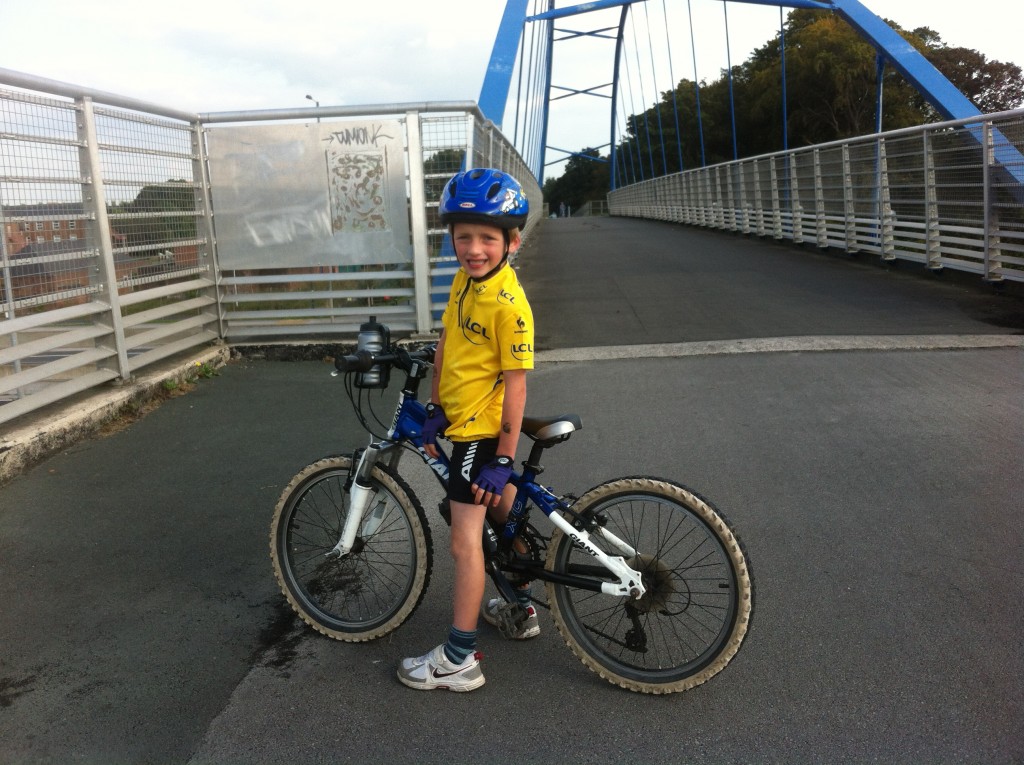 Special 100-year design for 2019 TDF yellow jerseys
You're unlikely to get your hands on one of the special 2019 yellow jerseys (other than on eBay) but here's a reminder of how they looked.
2019 was 100 years since the yellow jersey was first introduced to the TDF, and to celebrate there was a different jersey design at the end of each stage (20 in all).  17 of those designs were unique to the winner, but three designs were chosen to feature on the replica yellow jerseys available to buy that year.
The 2019 kids size Tour de France yellow jersey came in just one of these designs – the "Jaune Arrivée" design marking the landmark at the end of Le Tour.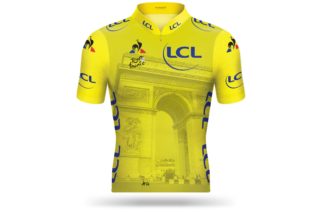 The jersey features an eye-catching photo of the Arc du Triumph, which has been the location for the final sprint finish of the race every year since 1975.  This is the design, which was presented to the eventual winner of the race on Sunday 28th July 2019.
Le Coq Sportif are the official race replica jerseys, and are made to the same standard as the adult replica shirts, and come in the following ages: 6 (s), 8 (M), 10 (L), 12 (XL) and 14 (XXL) years.
The kids yellow jerseys have all the technical specifications you'd expect, including a lightweight polyester fabric, three rear pockets, a breathable 3D mesh panel at the base of the neck and a mesh panel to stop sweaty backs.
Other posts you may like:
Thanks for visiting Cycle Sprog. We'd love to know how your budding cyclist reacts when they get their child size Tour de France yellow jerseys – send us your photos tagged #cyclesprog on Instagram and we'll re-gram the best of the bunch.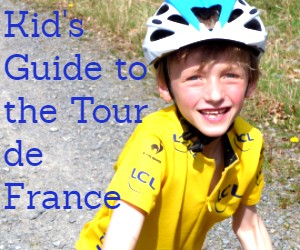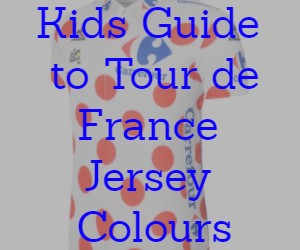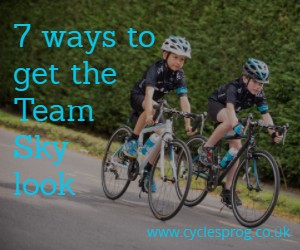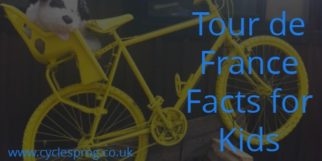 This post was first published in May 2013 and was updated in August 2020.
Affiliate disclosure: This post on kids yellow jerseys contains some links that use affiliate marketing. This means that when you purchase through them Cycle Sprog gets a very small commission. All these small amounts help us to fund the ongoing hosting and maintenance of the website, so thanks so much for your support.
Support Cycle Sprog!
If you've found this article useful you can buy us a virtual coffee (or two!) to say thanks and help us keep the Cycle Sprog website going.