The 2019 Tour de France yellow jersey design has been revealed, and the kids size replica TDF jerseys are just becoming available in the shops.
As is now the custom every year, there is a new look for 2019. It's a particularly exciting year for the yellow jersey, as it's celebrating its 100th birthday! The jersey was first worn on 19th July 1919 and to celebrate this centenary there's something quite special happening this year.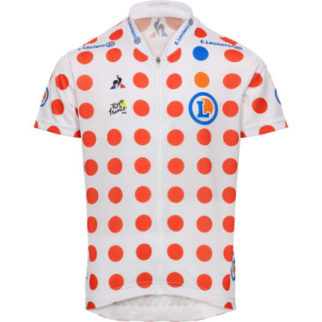 Every year the kid's size TDF jerseys sell out really quickly so don't leave it too late if you want one. If you want to know more details about how they wash and wear you can check out our review post here.
Where to buy the 2019 Tour de France kids size replica yellow jersey:
Click here to buy a kids size yellow jersey
Other articles you may like:
Affiliate Disclosure:  In order to make a living, and to be able to continue to keep Cycle Sprog running, we use Affiliate Links within this post. This means that if you click on some of the links and make a purchase we may get a small commission. This doesn't affect what you pay, but means we can continue to write articles like this one – thanks for your support.