Every year my boys are fascinated by who has won which jersey during each stage of Le Tour de France. When they managed to cycle all the way to the top of Cragg Vale on Day 2 of the 2014 Tour, I promised them both a treat. Several days later a couple of kids Tour de France jerseys arrived and the boys were beyond excited!
AFFILIATE DISCLOSURE:   When you buy through links on our page we may get a small commission if the retailer has an affiliate scheme. You can find out how this works in our affiliate policy. Thanks for supporting us in this way! 
The youngest, 5 year old T, got a kids size yellow jersey, as he always has to win everything, whilst 8 year old N got the kids King of the Mountains polka dot jersey.   As these have been their favourite items of cycling clothing over the past couple of years, I thought it was about time to write a Kids Tour de France yellow jersey review.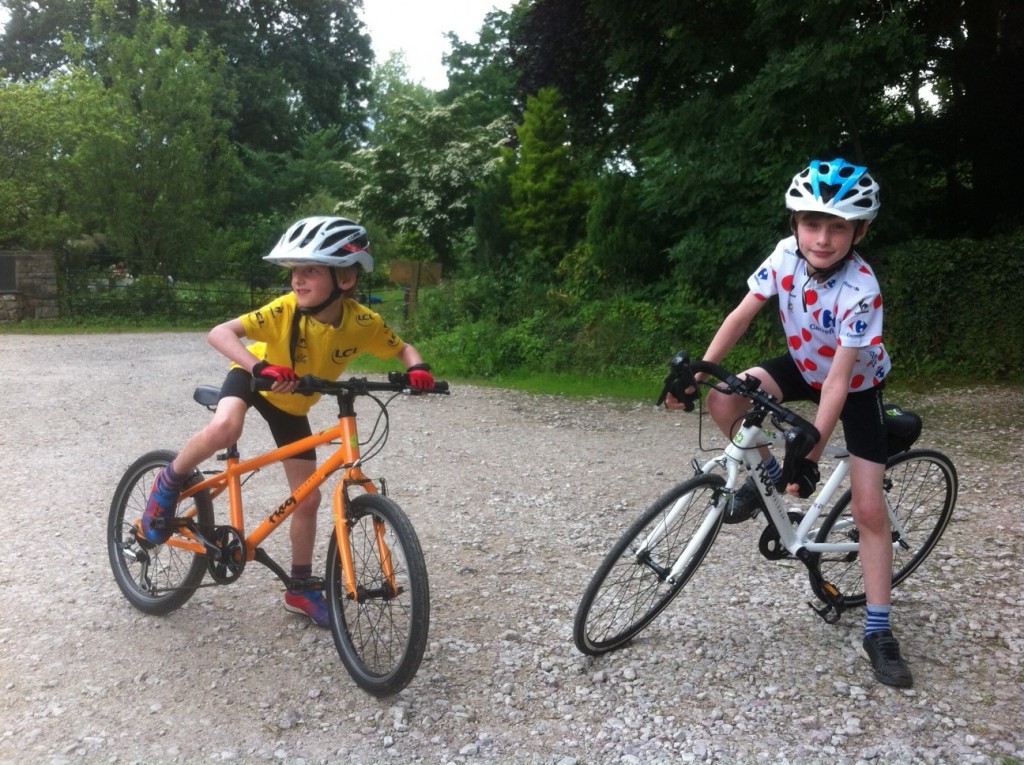 How durable is a kids Tour de France replica jersey?
The price of both cycling jerseys combined made my eyes water a bit, but I can say that after several years wear, the investment was worth it.  Firstly, the jersey's are extremely well made and stood up to being worn not only for cycling but also around the house and out whilst playing with friends.  They wash very well, although we were careful to avoid wearing them whilst eating tomato based foods.  I bought the jerseys to be slightly on the large size, and they wore them for three summers (they ended up very snug, which was probably how they were intended in the first place!)  Both jerseys were still in a great condition, and after over 4 years of use, we finally passed the yellow jersey onto a friend for his son to wear.
The King of the Mountains jersey did require a couple of stitches on the base of the zip at the end of the second summer of wear, but this was the jersey material coming away from the outside fabric of the zip due to over vigorous pulling by my son, rather than anything to do with the functionality of the zip itself.  A couple of stitches and it was back to full functionality again and was passed on down to T, as N has outgrown it.
What features do the junior Tour de France jersey's have?
Le Coq Sportive kids sized Tour de France jerseys come with the same quality of manufacture as the adult sizes, and this really shows. Made with polyester for the front and back, the jersey guarantees moisture wicking for extra breathability and lightweight feel. This is great if you're out cycling on a hot and sticky summer day. An adhesive band of silicon is applied to the bottom of the jersey front to ensure it stays in place whilst cycling and to prevent any air infiltration. This is a nice touch that is missing from some cheaper kids cycling jerseys.
The back is made of moisture-wicking mesh for improved breathability, and there is a 3D mesh piece on the top of the back to optimise heat evacuation. The jersey's ergonomic structure is completed with silicone strips to keep it in place when racing and prevent air penetration, and flat seams to prevent chafing. This is very important when you are racing your brother, sister, or friend (or even mum or dad!).
Perhaps the most important feature is the rear pockets, which are ideal for keeping the all important snacks in!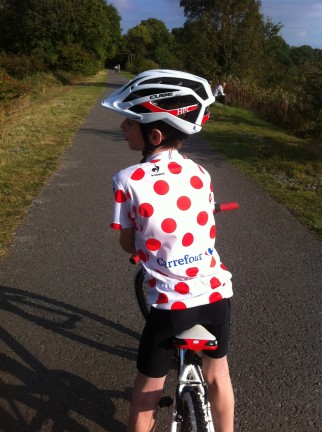 The Tour de France junior jerseys have also proved extremely popular with friends of all ages (especially teenagers) and we've been asked on numerous occasions where we got them.
Be warned, however, that each year the detail on a Tour de France jersey changes slightly. In 2019 the jerseys celebrated 100 years since they were first worn in the race. There was also a different jersey design for each Stage of the race, and the kids replica was from the final stage in Paris, as you can tell by the photo.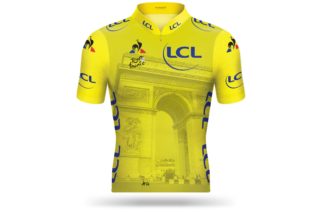 The unexpected benefit of the investment in the TDF kids jerseys was the impact it has on the boys cycling.  When he was 7 years old, T told us this, in his own words specifically for this Kids Tour de France yellow jersey review:
"My yellow jersey is very good because it is cool and awesome. When I ride in it I feel very special and feel like a proper cyclist."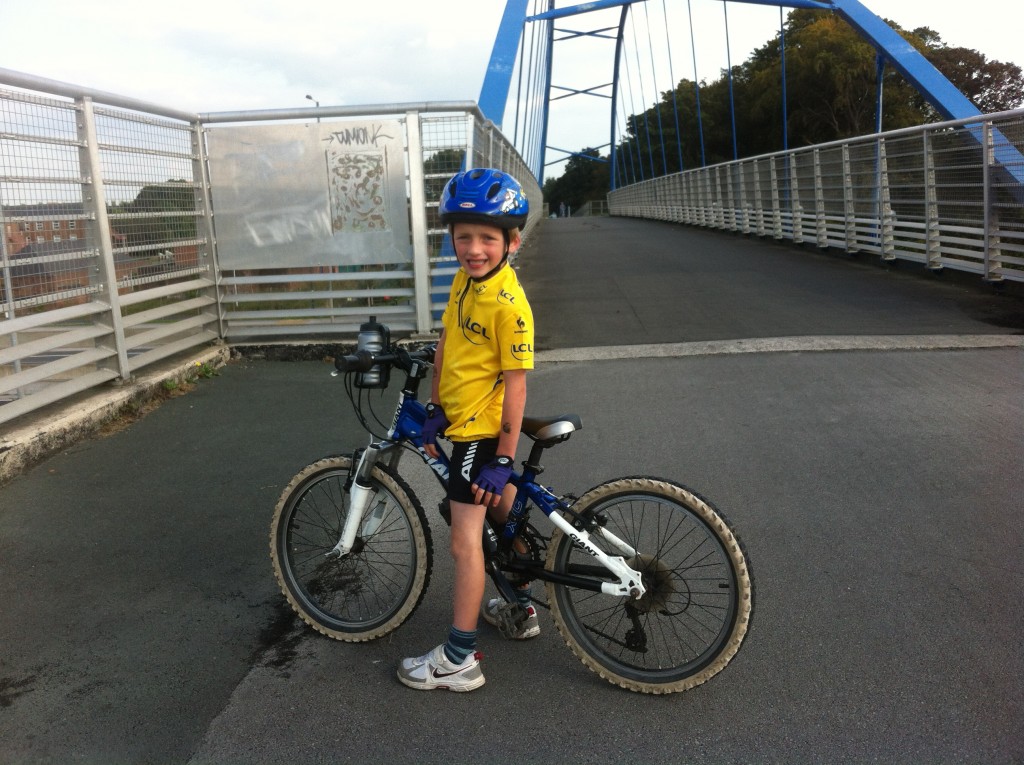 When they are wearing their Tour de France jerseys both boys seem to be able to cycle further and faster and stay in the saddle for longer without moans and groans.  They were definitely inspired by seeing the Tour de France, and the jerseys have been a brilliant way to keep that inspiration alive.
Kids Tour de France yellow jersey review: Overall verdict
Le Coq Sportive kids sized replica Tour de France jerseys are very well made child sized cycling jerseys that wash well. They also help inspire kids to cycle longer, further, and faster. I'd definitely consider buying another one when my children grow out of their current sizes.
Where to buy kids Tour de France jerseys
The 2020 Kids size Tour de France Yellow Jerseys and King of the Mountains Jerseys are now available to buy.  
Obviously availability of sizes will decrease as the race goes on, so don't leave it too late to purchase.
Other articles you may like:
If you've found this Kids Tour de France yellow jersey review useful, why not sign up for our newsletter? Click here to subscribe and get the latest reviews of kids bikes and accessories direct to your inbox.
This review of the kids sized Tour de France jerseys was first published in July 2015 and updated in June 2020 to reflect a further year's use and availability of the 2020 jerseys.
Affiliate Disclosure:  Please note that we use affiliate marketing schemes on some of the links on this page, which mean that we may get a small commission if you make a purchase. It doesn't affect the amount you pay, but helps us to fund the ongoing hosting of the website. Thanks for your support
Support Cycle Sprog!
If you've found this article useful you can buy us a virtual coffee (or two!) to say thanks and help us keep the Cycle Sprog website going.