Bike shops are often the backbone of community cycling, and never more so than this year, when more and more families are starting to rely on cycling as their main mode of transport as fuel prices and cost of living skyrocket.
Local bike shops sell bikes, clothing and accessories, offer servicing and maintenance and can provide a hub for all things cycling related in an area.  However, local bike shops are increasingly under threat which is a real problem for families who want to test out a bike before they buy, or who need help with looking after their bikes.
Local Bike Shop day is Saturday 29th April 2023 – a chance to celebrate the community and culture that is independent bike shops.
I decided to ask an expert for more information about local bike shops and what they can offer parents looking for a bike for their Sprog.
Gary Conway worked for Tandem Group Cycles who produce various ranges of bikes (including Squish Bikes and Dawes) which are stocked in bike shops up and down the country.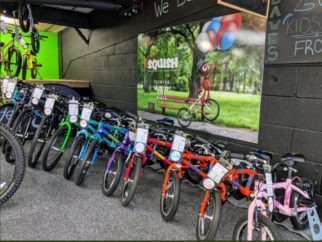 [Karen] Why is it important that parents support their local bike shop?
[Gary] I remember very clearly my experiences as a child picking a new bike from the local bike shops in my area.  I loved it!  Sure, circling a picture in a catalogue or looking at things online has its plus points – usually for the parents – but going into a showroom to look at and sit on different bikes will always be the best way of ensuring you buy the right product, for your child or yourself!
It's also great fun for your children!  It's, unfortunately, becoming a common phrase "Use them or lose them" and this is very much the case with bike shops, as well as all other local retailers.  This is why it's so important for everyone to show their support.
[K] Isn't it much cheaper and more convenient to buy online these days?
[G] For many products I'd definitely say yes, but for bikes or anything of a mechanical nature, there are other factors to take into account.
Sure, buying a bike online in the comfort of your own home when the kids have gone to bed is very convenient. And yes, you might save a bit of money on the initial purchase. But for most parents who aren't very confident assembling a bike, they'll likely have to seek help assembling and setting it up. This will incur a cost, so the initial saving starts to get squeezed.
You also have nowhere to then take the bike to for after service or warranty if you buy online. I'd say that the inconveniences of buying online outweigh the small saving you made to begin with, and especially when buying a bike for your child you really need to be sure it is set up correctly, and safely; something a website cannot offer you.
[K] Won't parents get a much better choice of kid's bikes at a big national store, or online? 
[G] No, not necessarily. National stores tend to push a lot of their own-brand products and have a set range of bikes in store. Also, most don't specialise in just bikes; bikes can often be amongst camping, walking, gym equipment, car parts etc, etc.
That's great if you want to buy products across a few activities in one place but for me, service and knowledge will always be better from your local bike shop where they live and breathe bikes.
As for looking online, this can very easily become a bit overwhelming for parents who need some guidance.
I know from my experience in retail that the majority of parents don't really know what sort of bike, or what size bike would be best for their child, so buying online would very much be like taking a stab in the dark.
[K] What happens if they want a size or colour that their local bike shop hasn't got in stock? 
[G] Just ask for it. Stock levels are now stabilising after 2 years of extremely high demand so in a lot of cases bikes can be ordered into store quickly.
Local bike shops are a lot more versatile than a website; it's not simply a case of seeing if an item is or is not in stock. If it's not there then your local bike shop can order it, offer you something different or advise on suitable alternatives – not just suggest a bike of the same colour, price, or similar part number as a website might do. You'll find this is the same in most shops big or small; to showcase a complete range in all sizes and colour options can take up a lot of space.
Most stores won't have enough space on their shop floor for all the stock they hold…but they may have more in the back, so I can't urge consumers enough to just ask!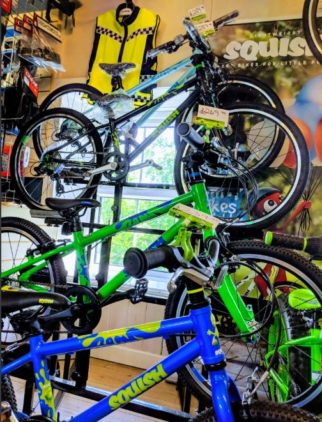 [K] Will a local bike shop charge extra for a kid's bike to be assembled?
[G] No, not a penny. Any bike purchased from a local bike shop will be supplied to the customer assembled, checked and adjusted free of charge.
Most stores even offer a free 6-week safety check to adjust brakes and gears after the bike has had some use.
You'll also find a lot of local bike shops will offer to hold the bike for you on the run up to Christmas or a birthday, and in most cases even let you pay for it over time, helping you to keep that surprise present hidden, and spreading the cost of a present.
[K] Do local bike shops offer the same guarantees and return services as the larger chains?
[G] Yes. In most cases, bikes and components are guaranteed by the bike/component brand themselves. So, where the consumer buys them from makes no difference to the length of the guarantee. Buying bikes online however can bring with it the headaches we touched on earlier so even more reason to buy local.
[K] I know some people don't feel very confident going into a bike shop, because they worry they won't understand the lingo or be pressurised into buying a particular bike. Do you have any advice for first timers?
[G] I can appreciate that and agree, not all bike shops have always done a great job of making their store seem inviting to non-cyclists.
As with anything in life, there's some good, some bad and inevitably some ugly. Bike stores have started to recognise this though and some very positive changes have already happened – I've visited stores that conduct "ladies nights" where they teach bike maintenance and repairs, others that have coffee shops in store to encourage a more relaxed atmosphere for all, and more and more are offering children's cycling lessons. All of which help overcome some historical stigmas associated with bike shops.
If a consumer visits their local bike shop, has a chat and asks questions, I think they'll be surprised at how valuable that local contact can be.
Also, stores that offer a lot of kid's bikes are there for local families. Their business depends on them, so hopefully, you'll be pleasantly surprised by how well they treat you and your children if you visit. In larger chain stores or online, you may sometimes feel like just another number.
I like to think smaller, local bike shops treat their customers better and with more personality as they want to see them in their store again and again over the years.
[K] We've also produced this kids bike buying checklist for parents to download and print off to take with them to their local bike shop, to ensure they're asking all the correct questions about the bike before they buy.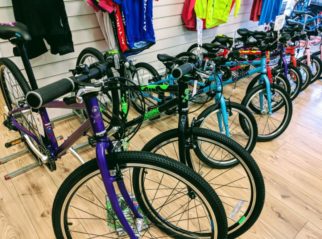 [K] What should parents be looking for when they buy a bike for their Cycle Sprog?
[G] Parents are now starting to recognise the benefits of buying a lighter weight, better quality bike.
They last longer (making hand-me-downs great for younger siblings), they're easier to use, more fun, and retain their resale value better. If parents aren't 100% sure what they should be looking for, I'd say they should be looking for their local bike shop!
[K] What do you think the future holds for local bike shops?
[G] There will always be a place for local bike shops. Not only for sales but also servicing. I think there's still a way to go for many, and I'm sure we'll sadly lose some amazing stores along the way as online retail continues to increase across all industries, but I'd say for those stores who adapt with the times, the future is still very bright.
Government spending on cycling and infrastructure to support it needs to increase and looking at countries in Europe shows just how far the UK has got to go to get it "right". This can only encourage even more cyclists, so to answer your question I think the future is very positive.
Local Bike Shop Day is 29th April 2023, but your local bike shop will welcome your business all year round!  
If you appreciate what I'm saying in this blog, and would like to support me to write more then please consider buying me a virtual coffee (or two!) to keep me going!
Other posts that you may find useful: