The best kids packable waterproof cycling jackets 2022
Don't you just love those days? The ones where you're hoping to get out for a cycle ride with the kids, but you're not quite sure whether it's going to rain or not.
Do you take their waterproof jacket?
Where do you store it if they get too hot to ride in it?
Suddenly you're carrying a large rucksack full of "just in case" items!
This is where waterproof kids cycling jackets that fit into a stuff sack or pack away into a pocket come into their own.
Lightweight but offering good protection from the elements, these cycling jackets pack down small and discreet.
They can be carried in a small rucksack, a saddlepack, around the waist on a belt or in a rear jersey pocket (and I manage to squeeze mine into a bottle cage!)
Cycle Sprog is a reader supported website. When you buy through links on this page we may earn an affiliate commission.  Learn more here 
The best kids waterproof cycling jackets that pack down small
Here's our pick of the best packable kids waterproof cycling jackets to help you ride out whatever the weather.
We've reviewed a couple, and the others all come from reputable brands and retailers - all you need to do now is head out on your bikes and look forward to some rain! (Just don't forget to pack the jacket.....)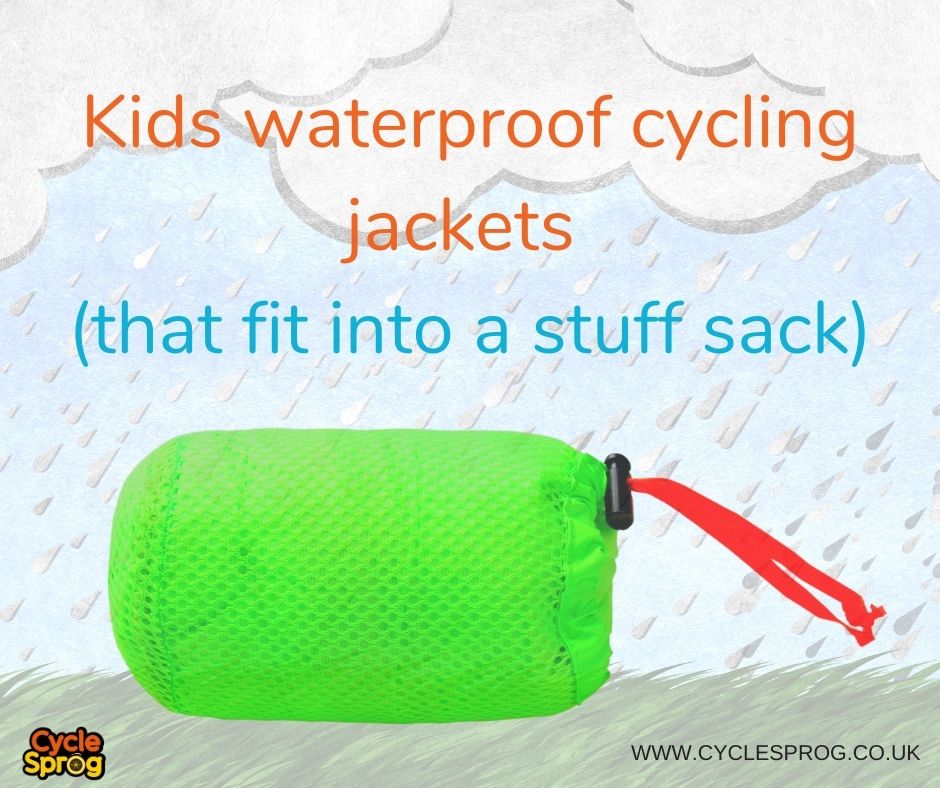 Polaris Kids Strata Pack-Away Waterproof Jacket
Cycle Sprog reviewed and recommended jacket!
We were really impressed with the Polaris Strata childrens pack-away waterproof cycling jacket, which has been used by both our Sprogs on more occasions than we'd like (thanks UK summer weather!).
The taped seams really kept the water out, and the fit was baggy enough to fit over our regular cycle clothing whilst folding up small when not in use.
You can read our full review here (which includes sizing details) but here's our summary:
The Polaris Strata childrens pack-away waterproof cycling jacket does exactly what it says. It packs up small into its own pocket, keeps water at bay and comes in two strong, visible colour schemes. We recommend it if you're looking for a lightweight waterproof that you can quickly pull out of your bag when the weather turns bad, or light levels start to fade.
Buy Now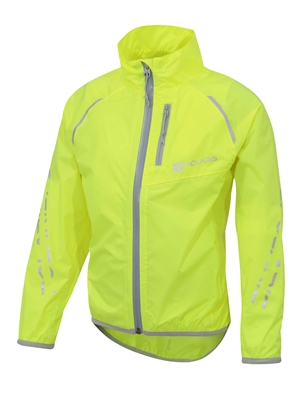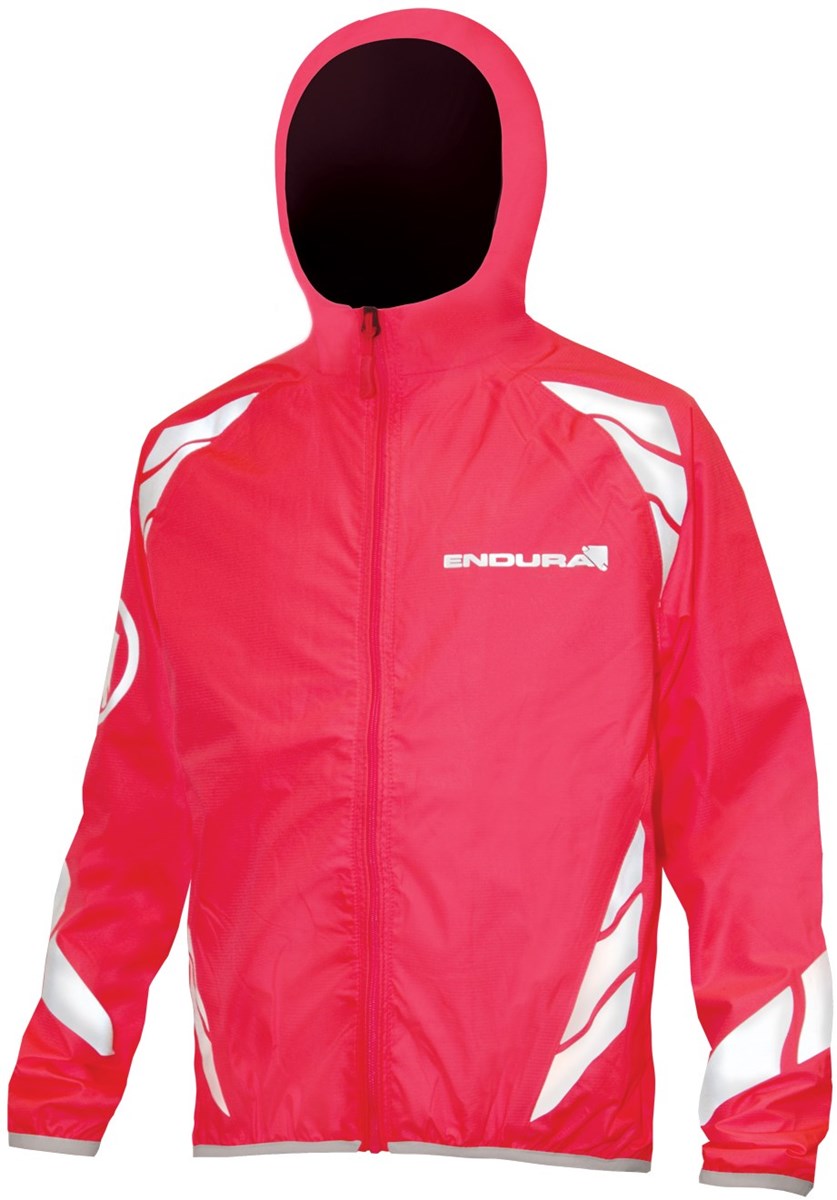 Endura are renowned for making quality cycling clothing, designed to keep you warm and dry whilst out on your bike.
The Endura Kids Luminite Jacket II  is their year round model.  Made from 100% polyester, if offers good protection from the rain. Breathability is provided via a vent on the back so the rider shouldn't get too sweaty.
The autumn/winter version of the jacket has a hood, which makes this a more versatile jacket for on and off the bike.
The hood can be rolled down and secured with velcro so it doesn't get in the way while cycling. Some people like this, others prefer a jacket with no hood, so it can't obscure their vision.
The Endura Luminite jacket has an LED loop so you can fit a light for nighttime riding if needed.
Whilst on that topic, the 360 degree reflective chevrons will ensure your child is visible when the light fades.
The jacket compacts down into a mesh stuff sack which should help prevent the build-up of those whiffy damp jacket smells that sometimes occur if you leave them packed away slightly damp in a plastic sack.
Buy Now

Altura are another brand renowned for making great all year round cycling kit, designed for British weather.
One thing I like about their Airstream jacket is that it has a navy blue option which is more subtle if your child is wanting to wear it off their bike too.
They also do brighter pink and yellow options if you prefer (and I do find it easier to spot my Sprogs when they ride off ahead of me on the trail when they're in hi-viz!)
Altura claim that the jacket is lightweight with a relaxed fit which is repellant to both wind and rain whilst offering high levels of breathability.
The Altura Darkproof tech with reflective child-friendly print offers a level of hi-visibility to keep your kids safe and seen.
The jacket packs away into an integral pocket with zipper closure, similar to the Polaris jacket.
Buy Now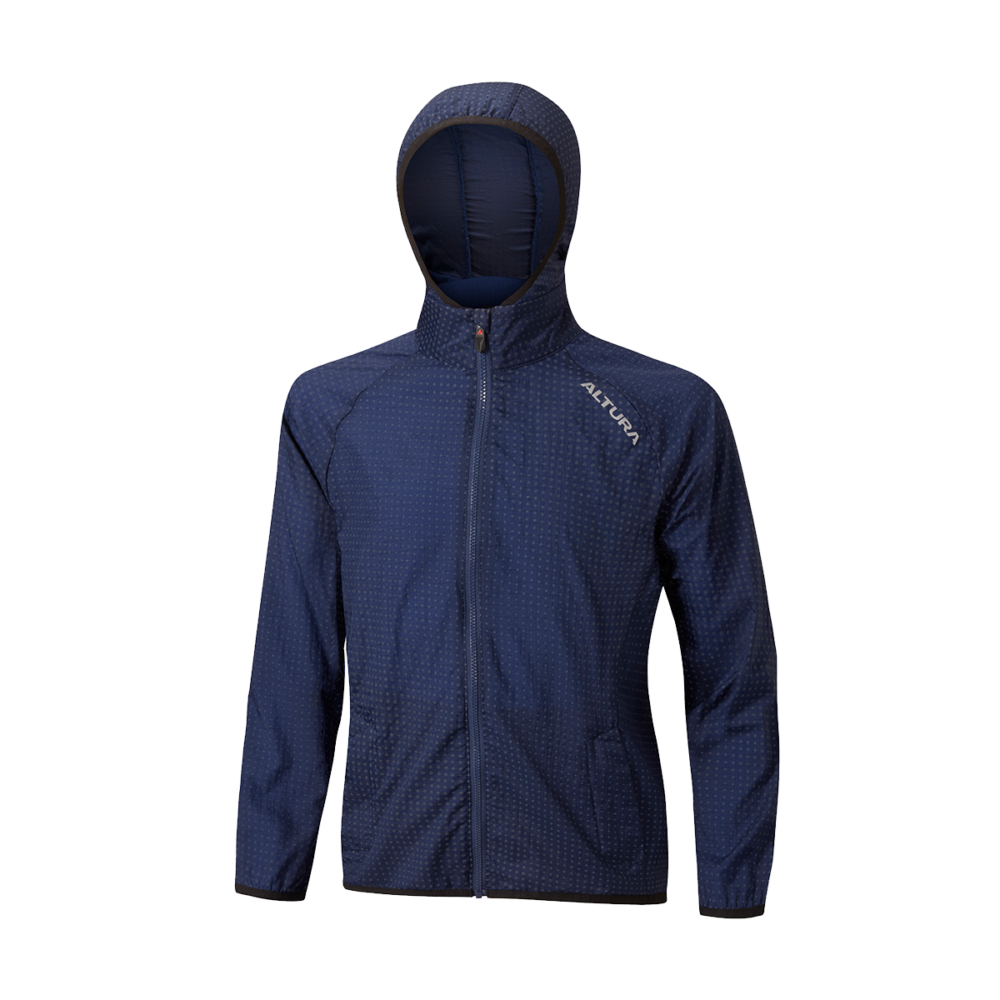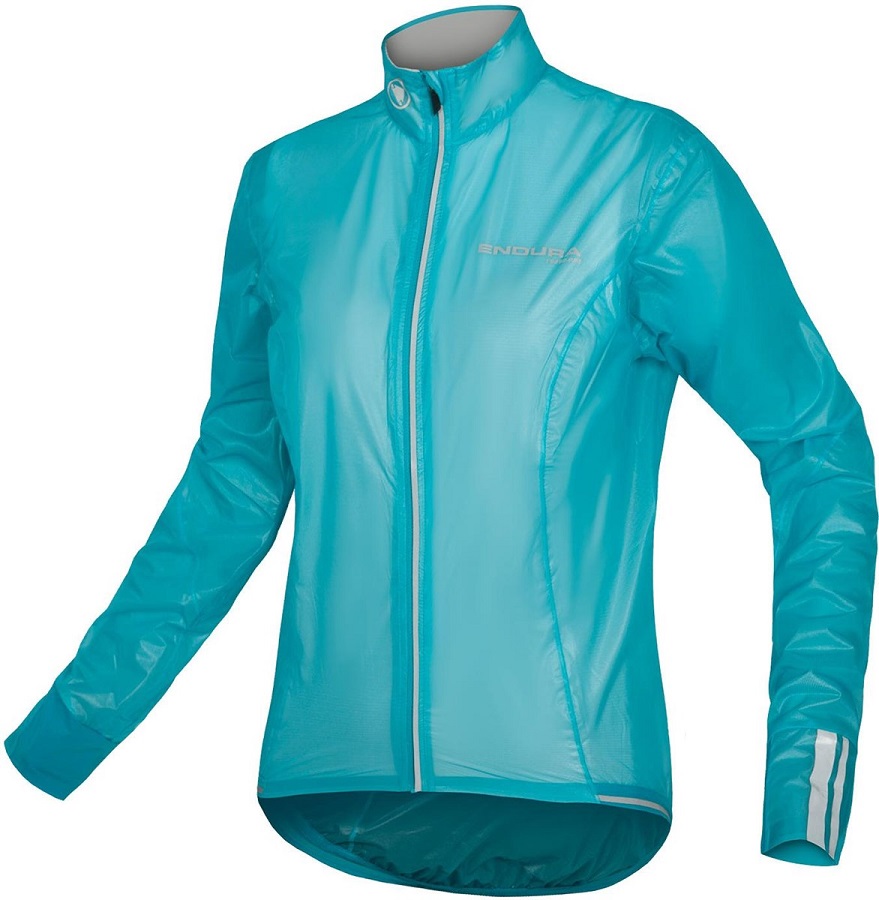 Endura FS260-Pro Adrenaline Womens Race Cape Il
This jacket is a great choice for older girls (and mums!) - especially those who race their bikes, as the fabric is designed to show your race number through it.
But you don't need to be racing to wear this jacket - the lightweight, waterproof and breathable ExoShell20ST™ fabric has a built in stretch which anyone moving about a lot on their bike will appreciate.
It comes with its own stuff sack and has reflective trip for extra visibility if you're out after dark.
Sizing starts at XXS which equates to UK size 6/8, and the jacket is available in a choice of 4 colours.
Buy Now
Endura FS260-Pro Adrenaline Race Cape II / Waterproof Jacket
Dads and older sons don't worry - there's a male version of this pack away cycling jacket too!
It's the same specification of the women's version, but with a cut designed for the male body.
In terms of sizing, the male version starts at an XS, which Endura say will fit a 89-94cm chest and 74-79cm waist.
There's a choice of 5 different colours in the male sizing.
Buy Now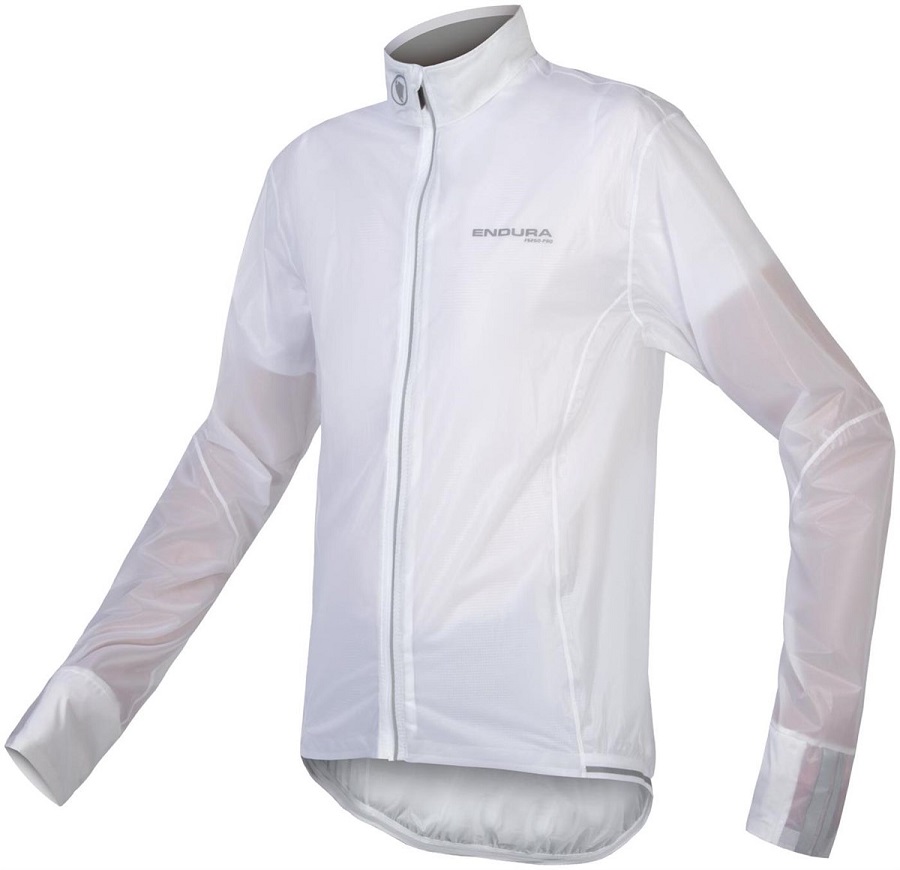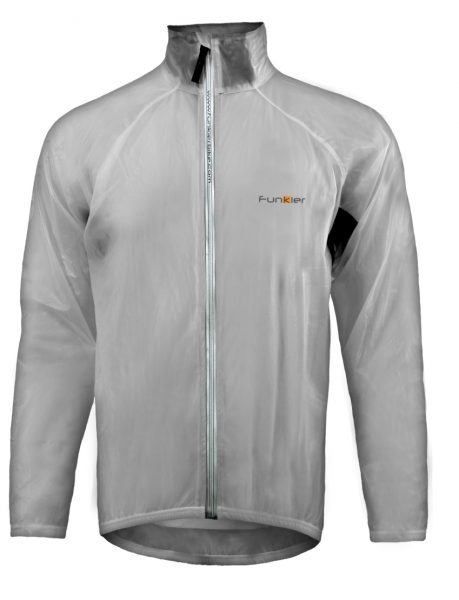 Another spring and summer weight cycling jacket that fits into a stuff sack is the Funkier Storm Stowaway.
The jacket has mesh underarms to keep the rider cool on those muggy, rainy summer days.  The fabric is see-through, so useful if you're wearing team kit and need your logo to be seen through it - either during or before/after racing.
This jacket comes in larger sizes than some of the other kids ranges making it ideal for those older kids who aren't yet big enough for adult kit (biggest size is 14 years)  It packs down into a rear pocket. Sizings are given as:
8 years  (Chest 70cm / Hips 74cm)
10 years  (Chest 74cm / Hips 76cm)
12 years (Chest 78cm / Hips 80cm)
14 years (Chest 82cm /Hips 84cm)
Buy Now
If you're looking for a less "cycling" type waterproof jacket and more one that can be used for all sorts of occasions  then it's worth looking at Mountain Warehouse's
Pakka jacket
.
They've got a great range of colours and sizes in their Pakka range - and do ponchos and waterproof trousers too.
The down side of these jackets is that they haven't been designed with cycling in mind so are lacking some of the details sound on other jackets featured on this page (such as reflective and hi-viz materials and lower cutbacks.
However,  the big plus is that they're a lot cheaper and more suited to all-round wear. They've got a hood, which you can pack away into a collar pocket so it doesn't get in the way when you're cycling.
Children's sizes start at 2 - 3 years and go through to 13 years.
The adult packaway jacket start at women's size 4 and men's XXS so these are ideal too for taller kids and teens.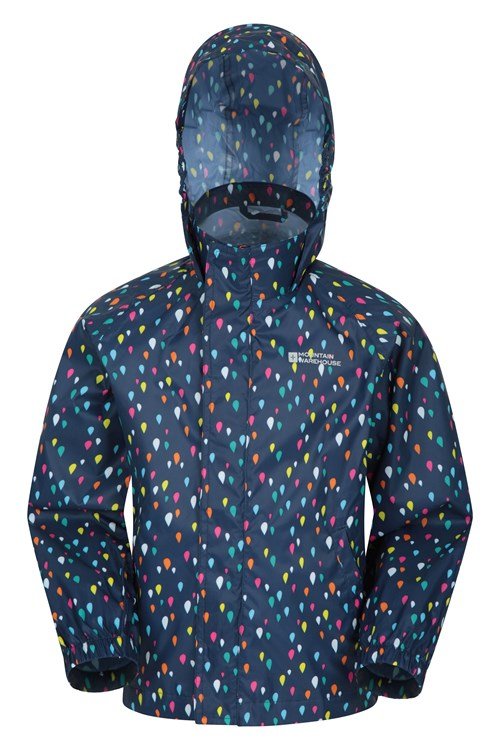 Cycle Sprog reviewed and recommended product!
If you're looking for a really lightweight and compact cycling jacket that not only fits into a stuff sack but can be worn around the waist of your child, then the Pere Rain Jacket may be what you're looking for.
This is more of a late spring, summer, early autumn jacket, and served both our boys really well over a number of years when they were younger.
It's handy because it folds down into the rear pocket and comes with a waist belt small enough that your child can wear the jacket round their waist for the rest of the bike ride.
Great for those rides where you're trying to keep weight and luggage to a minimum!
We've also used it on non-cycling trips away where we were packing very light.
You can read our review of the Pere Rain Jacket here.
The Pere Performance Rain Jacket is also suitable for younger riders, as sizing starts from age 5 - 6 years (56 - 61cm chest) and goes through to ages 11-12 Years (74 - 79cm chest)
Buy Now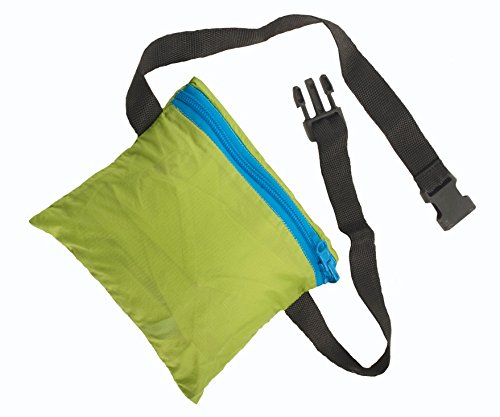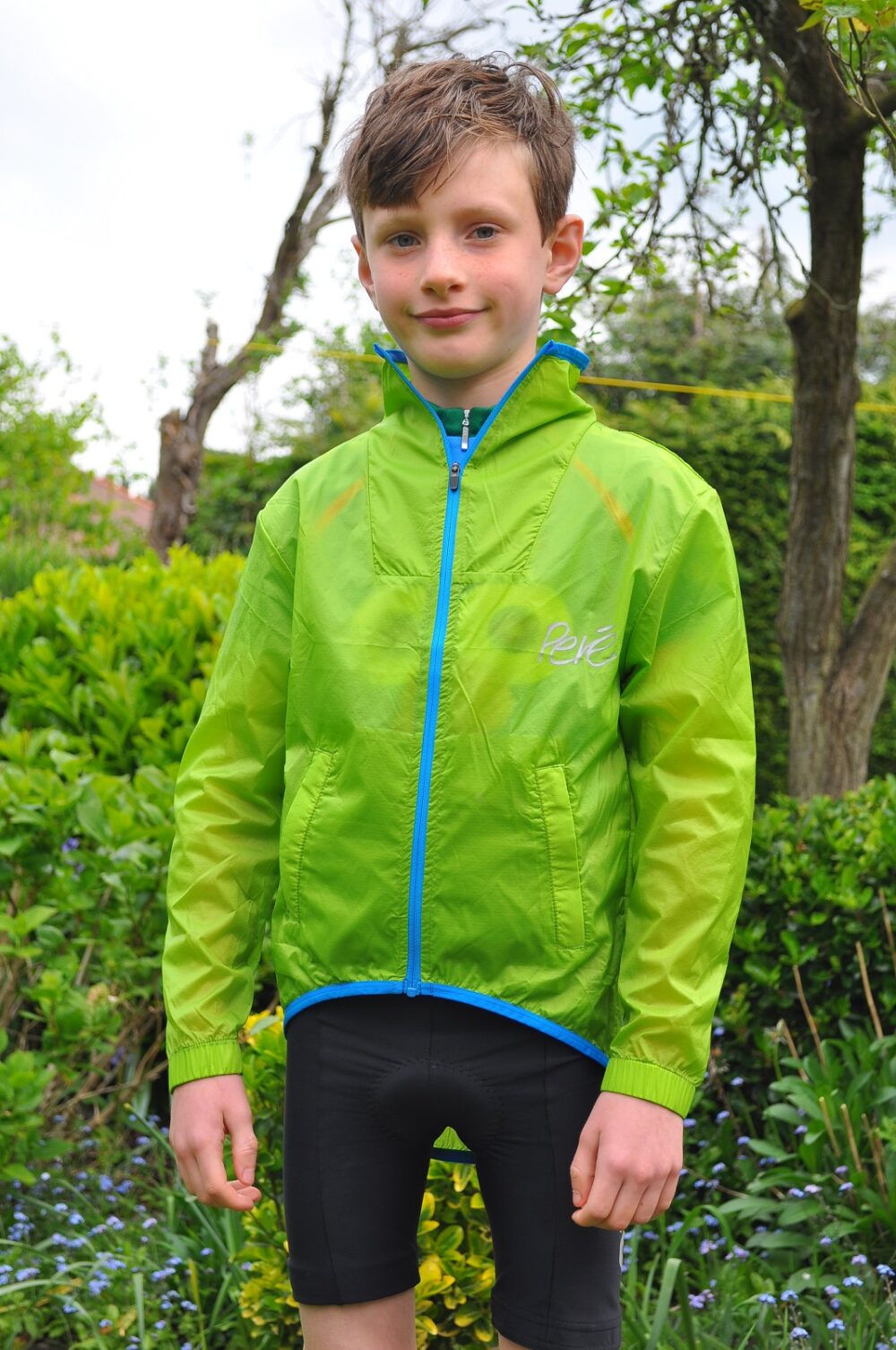 We do hope you've managed to find a suitable packable waterproof cycling jacket from the list above.  If we've missed your favourite out, do please drop us a comment below to let us know your recommendations.
Thanks!
Keep up to date with the latest Cycle Sprog articles
Sign up to receive our newsletter straight to your inbox.