The line up for Kendal Mountain Festival 2021 has just been announced, and they're offering Cycle Sprog readers an exclusive 20% discount code off of the Kendal Mountain Festival online player. 
As always they've got loads of cycling based content including feature length films, inspirational speakers plus a specially curated collection of cycling short films. 
The 2021 Online Festival Pass grants access from 6pm 18th November to 11:59pm on the 28th November. Events will be available within 24 hours of the live event ending and will include speaker events, film collections and selected feature films and premieres. 
Affiliate disclosure: Cycle Sprog may get a small commission if you make a purchase from the links in this post. For more information please see our affiliate policy
Just enter the discount code SPROG20 at the checkout to get your 20% reduction in price, which will allow you to watch the festival content from the comfort of your own home. 
No babysitters are required, simply sign up for an online pass and watch when ever you've got a moment!
20% discount code for Kendal Mountain Festival online player
This year the Kendal Mountain Festival returns to a live festival between Thursday 19th and Sunday 22nd November 2021.
However, given the success of their online festival last year, they are offering a blended approach this year which is fantastic news for those who cannot attend in person, or who, like us, want to see more than is physically possible in one weekend!
The online player provides a fantastic opportunity for families and young people to watch amazing films in a flexible format – and adults to watch what they want when the kids aren't around. 
With so much cycling content at the festival, it can be hard to choose what to see but fear not the online festival will solve all your decision-making problems.
With options for annual subscriptions, month-long pass or individual rentals, the Kendal Mountain Player allows you to watch content at your leisure.
What's more, our Kendal Mountain Festival Discount Code gives you 20% off! simply use the code SPROG20 for your discount.
A months online pass with our Kendal Mountain Festival Discount Code is only £28.80 (reduced from £32) which means you and all the family can watch huge amounts of content for a bargain price.
Here at Cycle Sprog we all used the online player last year and had a great time working through the content at home with the kids.
This year, we will be there in person for a couple of the events, but we will still be getting an online pass to watch most of the films and sessions, as you simply can't see everything during the festival. 
Our code also gives you 20% off the Thursday evening Cycling Session too – which features 13 year old cycling sensation Ruby Isaacs, amongst an inspiring line up. 
So what should you see at Kendal Mountain Festival?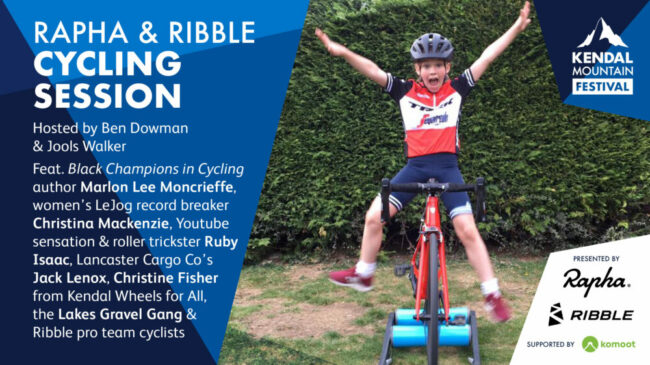 If you can attend in person, Rapha & Ribble Cycling Session is the session to see and offers a perfect start to the festival on Thursday the 18th of November. You can use our KMF discount code SPROG20 for 20% off this particular in person event as well as watching online.
This session is hosted by Jool Walker and features a fantastically diverse range of cycling content.
The star of the show for any young Cycle Sprogs will no doubt be 13 year old Ruby Issac talking about her passion for cycling and demonstrating some of her bike skills live on stage. 
Dr Marlon Lee Moncrieffe will be there talking about his new book 'Desire, Discrimination, Determination – Black Champions in Cycling' and learn more about cyclings untold history.
There is also Emily Wormald founder of Lakes Gravel Gang talks about how to start a cycling club to make cycling more accessible and inclusive. 
If you can't make it in person, you can watch it on the Online Player from Friday onwards. 
If you have an Online Festival Pass, then you can try and see everything, but that may still prove challenging so we've got a few picks here.
This is a must-see collection of short films all about cycling.
It features the awesome short film "Girls Gotta Eat Dirt" which is guaranteed to put a smile on your face and make you reach for your mountain bike.
"After the Storm" features Andy and Aneela McKenna who reflect on personal racism, themselves and mountain biking, while riding through the Hebrides.
Where the Tour de France went, Lachlan Morton followed. No support, no rest, no transfers, 5,550km and 23 days to do it. Can a solo rider beat the peloton to Paris?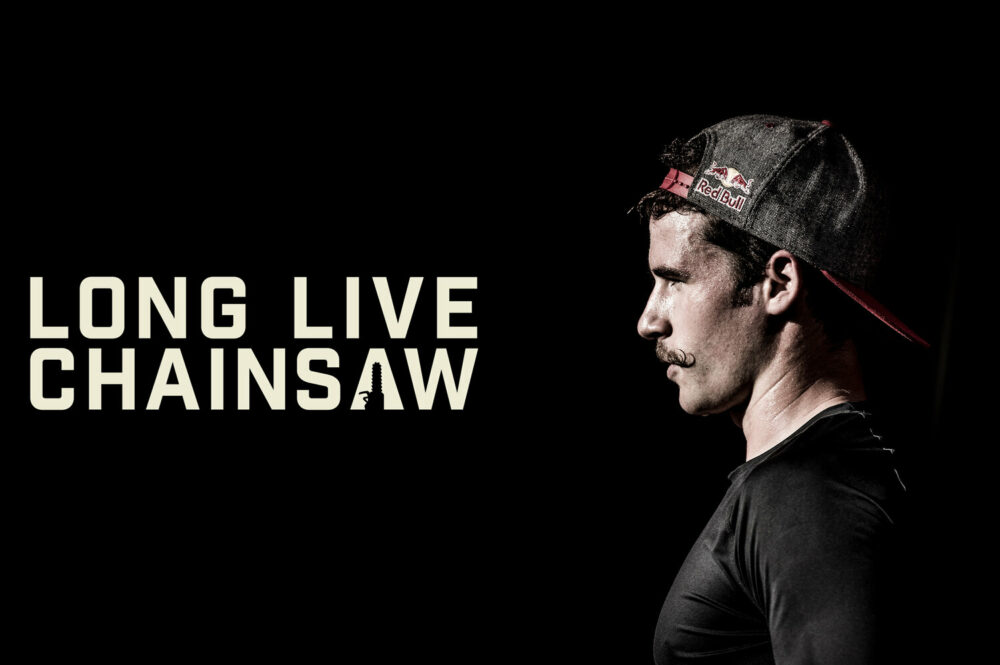 Stevie Smith will be remembered as one of the greatest downhill mountain bikers of all time. This film tells the story of a young Canadian who became a legend in the sport and inspired a generation. 
Other cycling picks
TREK BIKE NIGHT – Bike night returns focussing on all things mountain bike with appearances from Evie Richards, Kade Edwards, Hattie Harnden, and Danny MacAskill.
Expect an evening of high octane adventure and adrenalin fuel stories of racing and riding mountain bikes around the world.

BACK ON THE BIKE (Short Film) – Mountain biker Saskia Dugon takes her mum for a bike ride! Not just any ride, but a bikepacking trip across North Wales having not ridden a bike in 20 year!
THE FURTHER AWAY, THE BETTER (Short Film) – Riding bikes off-road is nothing new, as the Rough Stuff Fellowship can constantly remind us. Way before modern bikes, a group of riders set out to cross the centre of Iceland. 
EVERYTHING IN BETWEEN (Film) –  In February 2019, two strangers set out on a 20,000km cycling expedition from London to Tokyo. They had to arrive within 230 days in order to deliver the official whistle for the opening match of the Rugby World Cup.   This is the story of the wild human adventure that happened in between.
14 DAYS SOUTH (Short Film) – Five eco-adventurers bikepacking across the UK, with a twist. They cross seas with waterbikes: Orkney to John o' Groats, and Land's End to the Isles of Scilly. They visit six National Parks, and meet environmental experts along the way to learn about what scalable climate solutions are available.
PLUS LOADS, LOADS MORE – we particularly enjoy watching all the film collections, as it gives you an insight into so many different activites, from climbing to kayaking, ski-ing to swimming and BASE jumping to boarding – there's an almost inexhaustible supply of films to watch over the next 10 days. 
Check out the full Kendal Mountain Festival programme here and don't forget to use our discount code SPROG20 to get your 20% discount on any duration online subscription. 
How to get a Discount Code for the Kendal Mountain Festival
To get 20% off the Online Player and the Rapha & Ribble Cycling Session just go to their website, choose tickets for the event or sign up for the Online Player, and enter the code SPROG20 at checkout. 
If you've enjoyed reading this article, please do sign up for our newsletter - we'll keep up updated when we have new articles which may be of interest. Thanks! 
Other posts you should check out whilst you're here: