When we first set up Cycle Sprog finding child-sized mountain bike clothing that was well designed, durable and stylish was difficult. We weren't the only ones who realised this – brother and sister duo Fraser and Jessica were struggling too. Thankfully they did something about it.  In this sponsored post (#Advert) 17-year-old Fraser explains how their good idea turned into the successful kids cycle clothing brand ShredXS.
ShredXS are kindly giving all Cycle Sprog readers a 15% discount on all non-sale items. Just enter the ShredXS coupon code #CSprogXM19 at checkout if any of their kit takes your fancy. Valid until 23rd December 2019.
Hi, I'm Fraser and with my sister started ShredXS and in the last 5 years we've been on a journey to develop our business knowledge and our riding skills.

Who are ShredXS?
ShredXS is a Scottish based business started by me and Jessica with Mum and Dad, when we were in our last years of primary school and when tasked with a creating project one summer. It is a clothing range for kids who just love mountain biking. The idea came to us after struggling to find clothes that fitted, especially mountain bike shorts, so we produced our own for kids who want the same level of quality and design adults get but just for them!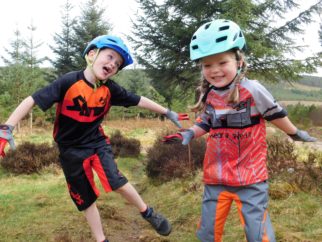 Spreading the word about our kids sized MTB clothing
After launching with DH shorts and jerseys at Tweedlove Bike Fest in 2014, we sold directly to customers across Scotland, mostly at family mountain bike events. Following the success of 2015, ShredXS expanded, targeting the English market as well as Scotland.
It was at the Cycle Show in 2016 that we first met the Cycle Sprog team and learned about their own exciting plans.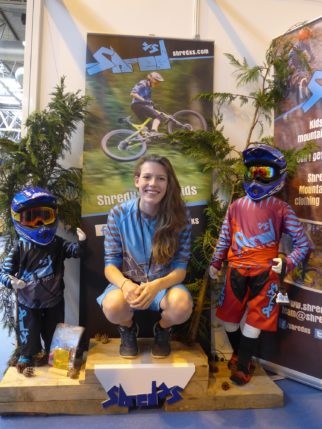 From this event forward we establish contact with retailers and met so many like-minded families and keen young cyclists.
As a family and business, we've travelled across the UK many times to mountain bike festivals, events and races, speaking to customers and encouraging families to get involved in cycling as well as promoting the brand.
We've had two epic road trips, one travelling around Scotland, England, Wales and Ireland to trail centres, events, races and festivals. Here's Jessica in action: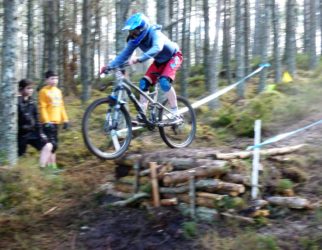 Our 6 week road trip across Europe last year was a fantastic opportunity for us. The family of 4 plus dog, ShredXS kit and bikes all in our van, travelling to the world's best mountain events, festivals, and spending time riding as a family, meeting amazing people and making friends for life.
We've seen so many young riders wearing the ShredXS kit, and we just love spotting riders and families wearing our kit!
We love that a customer bought our kit from our Swiss retailer, not realising that they lived less than 10miles from the home of the brand. Jess says "It was in that moment that we realised the brand has become more than what we'd ever hoped it could be!"
The ShredXS kit
Jess and I are both competitive riders, and so knew that when designing the range it must have the quality and protection that young riders deserve. This has made sure that ShredXS' products are long lasting and survives all the bumps and crashes that young riders put their clothing through.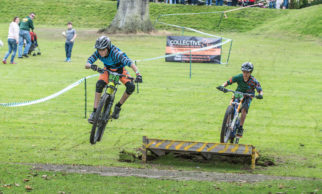 The Downhill range has continued to be successful, specialising in tough protection for muddy races! Meaning it would be a challenge to go to any kids downhill race and not see young riders wearing the ShredXS kit. Our Long Pants are fab for winter riding! Or in our case, Scottish Summer!
The Enduro range was introduced for longer rides, comfort and general fun on the bike. They also went down to an even smaller size to allow younger riders the opportunity to have their own MTB kit, just like Mum and Dad.
We sent the team at Cycle Spog some of our ShredXS Enduro shorts and we love seeing photos on their website of them on their adventures.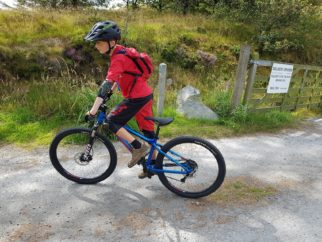 Karen (Cycle Sprog's editor) told us  "What is amazing is the boys have  been wearing the same pair of shorts since 2016! They not only last due to the hardwearing nature of the fabric, but the adjustments mean there is plenty growing room. T's grown so much recently though we might have to put a new pair on the Christmas list this year!"
Following up from customers and parent requests, an XC range was added and has sold well for the competitive kids in XC and as a great base layer for the DH and Enduro shorts.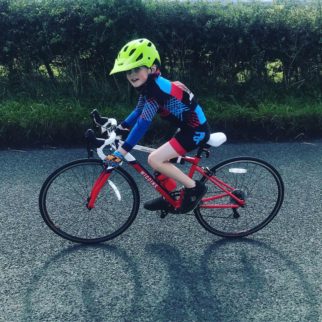 Gloves was another product we were continually asked for.
The Balance Bike and kids MTB gloves
Finding full finger cycling gloves for children is a challenge, not to mention then getting them on! There had to be a solution and the ShredXS kid-glove has a wide opening that little fingers can open and slide into.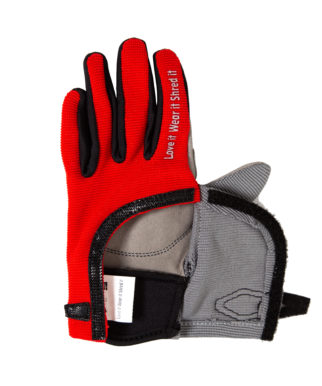 When closed the glove looks just like all other MTB gloves. The flat palm allows them to grip the bars easily and the marking on the fingers helps as a teaching aid for two finger breaking. They've been a great success and there is many young balance bikers and young rippers across the globe now wearing the ShredXS glove.
What age is ShredXS clothing aimed at?
Downhill and MTB Shorts simply didn't exist before in this range of sizes or offer the correct fit for kids who ride bikes. With each of the styles; DH, Enduro and XC available in 7 sizes you can be sure ShredXS have a size for your young riders.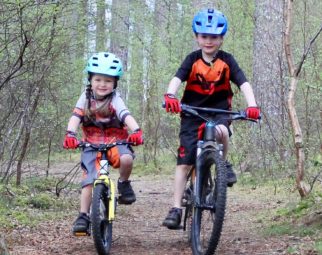 The range covers from age 4 to 16 and all the disciplines that peddle power covers.  Here's Jessica in some of our larger sized DH kit.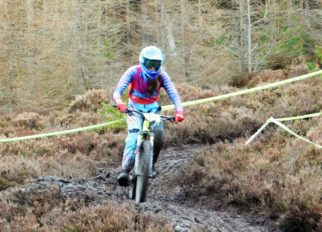 The gloves can go even younger with many of the balance bike riders, making sure they have that full finger mtb glove for all their exploits. The 6 sizes start from age 3 and with the unique wide opening, they're so much easier to fit to little fingers, who don't quite have the dexterity to manage a full glove.
Christmas and beyond
It's been an epic journey for us at ShredXS and now that I'm 17 and Jess is 18 and off to University, we're now longer ShredXS target customers.  This is me competing at SDA 2019 (Scottish Downhill Association) earlier this year – I'm now 6′ 4″ and you can see the kit barely fits anymore!!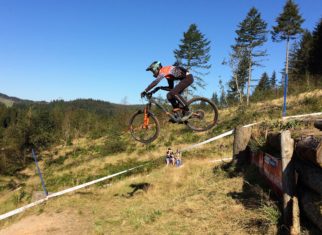 However, we can't wait to put our elf hats on again and get ready to send out all the Christmas bundles – a family tradition since 2014!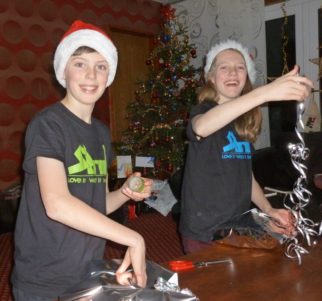 We know that the kit is just as good as the day we launched. The skills and knowledge we've developed from ShredXS is amazing; meeting customers, industry reps and other businesses, product design, accounts, advertising but most of all connecting with people across the globe. So when you see another ShredXs rider make sure to say hello!
Where to buy – and an exclusive ShredXS coupon code
The entire ShredXS range can be bought direct from their website. Enter the exclusive Cycle Sprog ShredXS coupon code of #CSprogXM19 to get a 15% discount on all non-sale stock plus free UK P&P.  Valid until 23rd December 2019. They are also able to post worldwide – they've got some keen followers and riders in Australia, NZ, America and Canada.
ShredXS are also stocked by several independent local bike shops and trail centres in the UK as well as Germany and Switzerland.
Disclosure:  This post was sponsored by ShredXS, meaning we have been reimbursed for our time in editing and hosting it. Thanks to ShredXS for their support, and in providing our readers with a generous coupon code. 
Other posts you may like whilst you're here: