Cheap kids bike trailers that cost less than 2 tanks of fuel
In this article we're looking at options for cheap kids bike trailers that let you get cycling with your child without spending too much money.
Petrol prices have got astronomically high recently, along with virtually everything else.
If filling the tank with fuel used to be something you did without thinking, you may be doing a double take now when you swipe your card.
One way to cut back your fuel costs is to swap to cycling for shorter journeys.
If you have one or two young children one of the cheapest and easiest ways to do this is to use a bike trailer.
If you already have a bike yourself you can get up and running with a cheap kids bike trailer for less than two tanks of fuel (using the AA's calculations of a tank of fuel costing £92.20 for petrol and £99.48 for diesel as of 18th May 2022)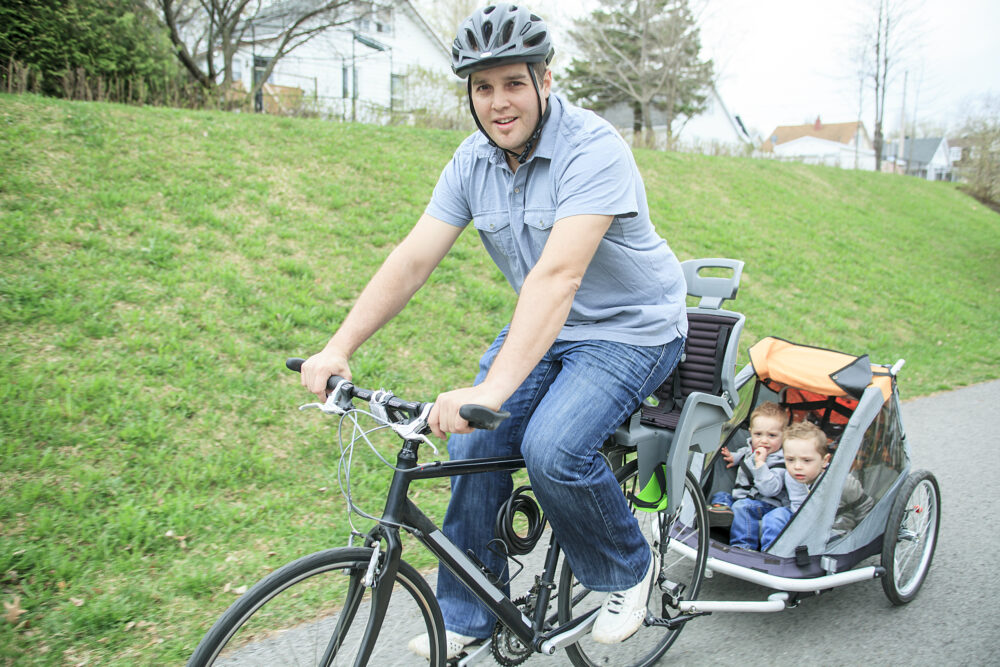 Why a bike trailer makes sense at the moment
1) For the cost of a couple of tanks of fuel you're getting a mode of transport that will last you a very long time. No more filling up the tank every week!
2) You'll have an asset you can sell on when you're finished using it (assuming you look after it carefully) - so your overall cost of transport will drop even more.   Or you can keep it for transporting your shopping once your passengers have outgrown it
3) Trailers are a cheap and easy way to get into cycling with your children, and you can always upgrade later if you decide you want a better model or a different way to cycle (such as cargo bike)
4) You're getting your exercise free while you move around, meaning you don't need to pay for gym membership or fitness classes
5) Cycling gives you feel good endorphins - we could all do with some of those at the moment
6) You've got a fun, low cost family activity to do at weekends and in the holidays
Single or double trailer?
I'd generally recommend going for a double trailer even if you only have one child who will use it.  This is because a double trailer:
Has more space for stuff - and we all know how much of that we need to cart around with our kids!
You can carry a playdate passenger
They allow flexibility if your family grows in future
They're easier to sell on when you're finished with them
There's more double trailers available to buy than single ones
You can use it for carrying shopping or other cargo when your child isn't with you - further reducing the costs of petrol / parking
A couple of reasons to avoid a double trailer are:
You know none of the above reasons are ever going to matter to you
You can't store a double trailer and really need a compact trailer
Your route is very narrow and a double trailer would get stuck
New, used or rental trailer?
There's three ways to get your hands on a kids bike trailer without spending too much money.
You can buy a cheap trailer new, pick up a second hand bargain, or rent a kids bike trailer.
With all three options it's possible to get up and pedalling for less than two tanks of fuel.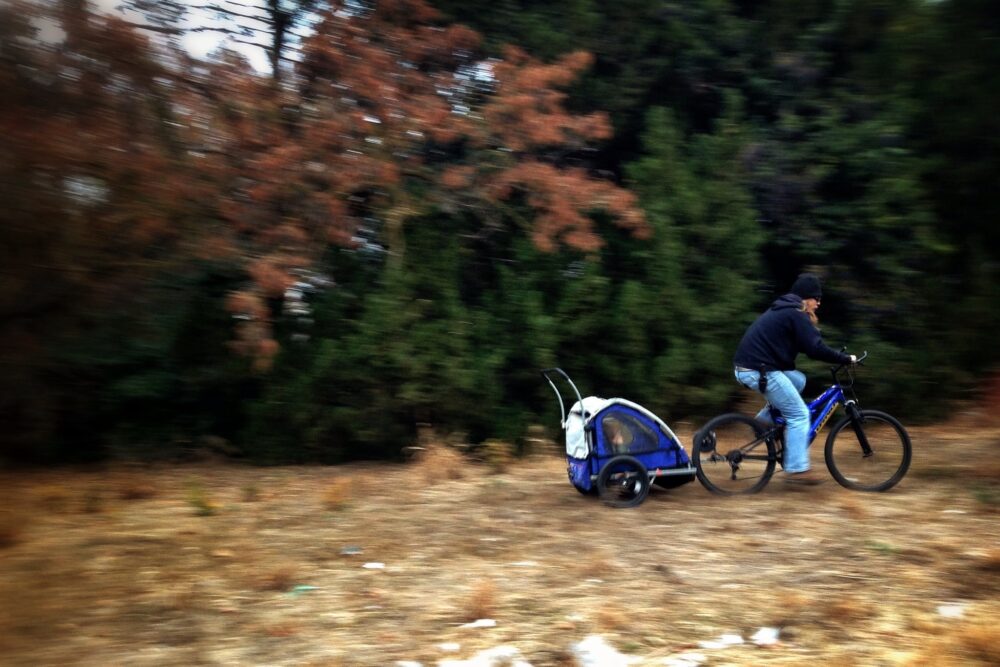 DEAL OF THE WEEK ON KIDS BIKE TRAILERS (UK ONLY)
The good people at Kids Bike Trailer Hire are currently selling off some of their older stock, so you can pick up a great Burley trailer at an incredible discount.
Limited stock availability - when it's gone it's gone! 
Cheap NEW bike trailers
Do be careful of buying a new kids bike trailer that seems too good to be true.  It may well have been imported cheaply not have much quality control (i.e. is it actually safe?)
We always recommend reading the one-star reviews for a product, and ask yourself "Can I return this and get my money back easily if there's something wrong with it?" 
Good places to look for a new affordable kids bike trailer are:
All these places sell a range of reputable brands and have good returns policies, and you can actually go into stores and see the products if you want.
Prices for a new trailer start from £150 and there's a number of basic models for under £200.
RENTING a kids bike trailer
Renting or leasing a bike trailer can be a cost effective way of testing out whether it's the right choice for you and your family.
Or perhaps you just want one for a short period of time, for example if your car is off the road or you're going on holiday.
Bike Trailer Hire offer rentals of premium trailer brands from £45 for two weeks, and will deliver anywhere in mainland Britain.
They also do a "Try Before You Buy" option - perfect if you're not quite sure which brand to go for.
Cheap SECONDHAND kids bike trailers
Buying a second hand trailer is like anything - you may be lucky and get a real bargain!
Perhaps you'll find a top of the range trailer listed to end late at night and get it for much less than a cheaper model new one. (Premium brand names to be aware of are Burley, Chariot, Hamax and Thule)
Or perhaps you'll just get a really good deal on a standard model that's hardly been used.
Or perhaps you'll be pipped to the post and lose out on the perfect model - that's life!
It's definitely worth looking though.
Cheap bike trailers to buy
As with everything in life you can get bike trailers at all different prices.  They all do the same basic thing - allow you to tow your child behind your bike.
It's just some are more basic than others.
Personally I pulled my two children in a cheap trailer for years. Or make that two trailers, as the first wore out and we had to replace it!
They were fine - yes it would have been nice to have all the features you get with an expensive trailer, but we enjoyed commuting every day to school.
The one thing to note is that a cheaper trailer won't have an internal roll cage that comes with a more expensive model.
There are some very cheap kids bike trailers available which may not be as robustly made as those from a reputable brand / retailer, remember to read the reviews and ask yourself whether you can return it if there's a problem.
Here's a few bike trailers that cost roughly the same as two tanks of fuel:
Bike Original Double Trailer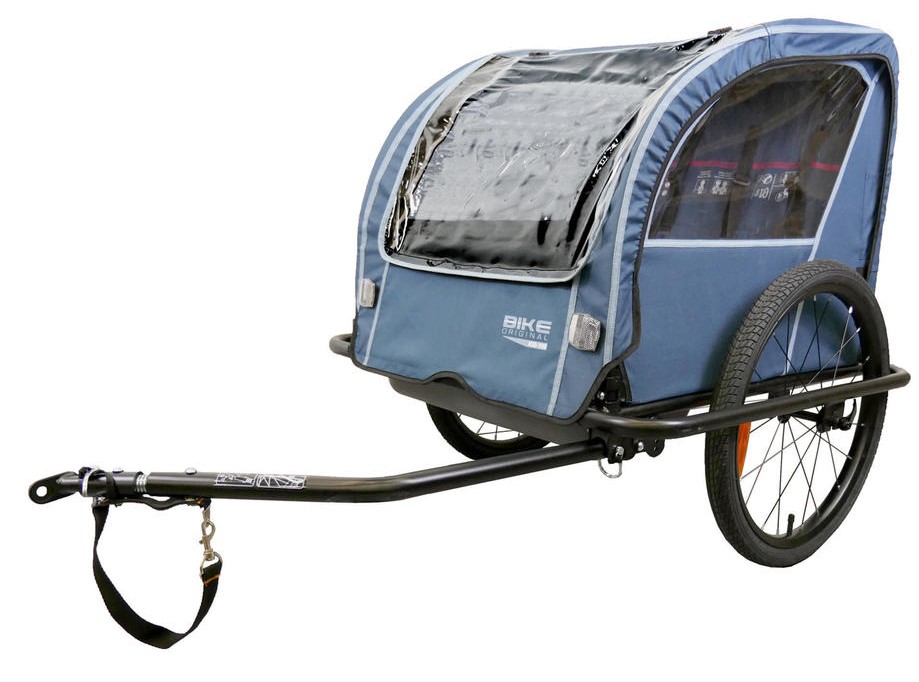 The Original Bike trailer is a double trailer that can hold kids up to a total combined weight of 41kg (whether you can still pull them is another matter!)
It has a few basic features, such as polyester hood with openable and removable transparent window with ventilation mesh, a rear storage pocket.
One plus point about this trailer is it's easily foldable and the wheels are quick release, which is handy if storage space is limited or you need to transport it in a car boot.
The wheels are 20" wheel in size, meaning there is a bit more ground clearance than with a trailer with smaller wheels.
The Halfords two seat trailer is one of the most popular entry level trailers around, and can often be found really cheap on Ebay, as so many are sold each year.
It's got a maximum capacity of 36kg and comes with a bug screen and rain shield protects your child in various weather conditions.
The trailer comes with a flag which is great for making your trailer visible to other road users.
The trailer folds flat, and has storage pockets.
The Raleigh Entrepid 2 is an entry level two seater trailer that has 16" wheels.
The cover provides a level of protection from the elements, or you can roll it up if it gets warmer.
Hope you find a trailer suitable for your family
I do hope this article has helped you find the best priced kids bike trailer.  I'd love to hear what you end up with, so do please drop me a note in the comment box at the bottom of this article. Alternative you can tag @CycleSprog on Instragram or Twitter.   Happy cycling!
More advice on kids bike trailers
We've got loads of great articles on how to cycle with small children so do please take a browse around our website.
Here's a few of our favourite kids bike trailer articles to get you started:
Keep up to date with the latest Cycle Sprog articles
Sign up to receive our newsletter straight to your inbox.
Everything you need to know to keep cycling through winter