It's that time of year when the sun starts to shine and thoughts turn to long leisurely family bike rides. However, getting ready for a family bike ride can take time – especially when you're faced with new routes, growing children and changing weather.
Chris spent the morning checking over the bikes, pumping tyres and oiling chains. We've just moved house, so my task was to find a suitable local route.
This reminded me yet again that when you're not familiar with an area it can be pretty tricky cycling with kids, as you don't know the types of road involved. Thankfully the neighbours were full of ideas, and we settled on an off road route that starts about half a mile away and ends at an ice cream farm.
After a quick lunch everyone was instructed to dress appropriately for the weather, which was grey, breezy and overcast. 30 minutes later and we'd started to gather outside, only to realise that whilst we'd been talking about the fact 6 year old T had grown and needed to move up to the Frog 55, he hadn't actually ever ridden it. There was an urgent need for some practising on the bigger bike, adjusting of saddle, learning gears etc.
Earlier in the week we'd been sent an Islabikes Luath and an Islabikes Beinn for review, and 8 year old N was desperate to get out on the Luath (drop handle bar bikes are what the kids want!). He's been riding it up and down our road, and has been the envy of his friends, but we suddenly realised that the off road route we needed for T wouldn't be suitable for a road bike. Cue another re-jigging of bikes to allow N to head out on the Beinn.
So, at long last we were almost ready to leave, when suddenly the clouds parted, the breeze dropped, the sun shone and it was hottest day of the year! Immediately the thermals, fleeces and winter cycling gloves were a burden, and everyone trooped back indoors to try and find more appropriate cycling gear for a warm spring day.
Having yet to unpack all the boxes since our move, I eventually found the summer cycling gloves in a box marked "Triathlon and Open Water swimming" – an obvious place!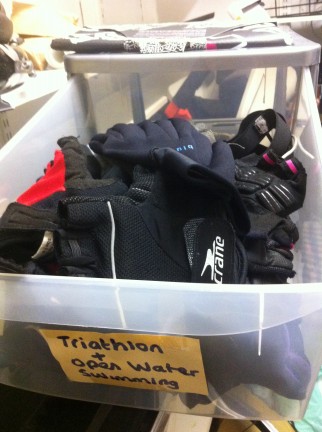 By the time I realised that the helmets and rucksacks didn't match the bikes it was more than my life was worth to suggest yet more alterations. (I'm not usually that OCD, but when you're thinking of taking photos for a bike review this is an important consideration!)
Frazzled, we finally set out on our ride.
And that's when all the time, energy and raised voices become worth it. Within moments of setting off the excitement of the bike ride took over.
We'd been pedalling for a couple of minutes when the boys found a steep slope that they raced up and down countless times. N takes his role as bike reviewer very seriously indeed, and had us timing how quickly he could get up the hill.
Then we passed a grassy field and T was off like a lightning bolt practising his cyclocross! We eventually reached what I'd planned to be the start of the ride – but of course to the boys the ride had started the moment we left the house.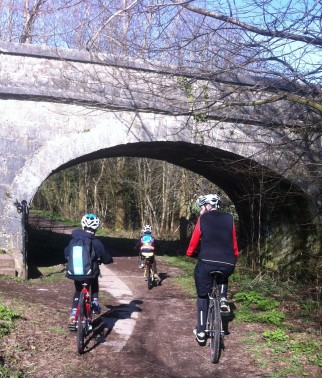 It was fabulous to be out riding on a new route (which will over time no doubt become a well known and used route for us), and after a number of miles we finally found our way up the lane to the ice cream farm.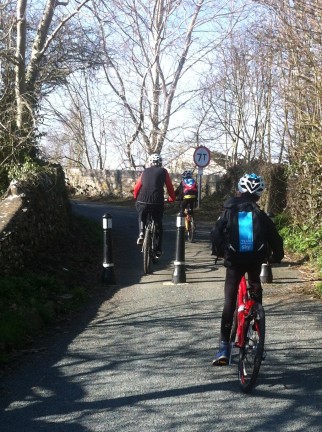 Thankfully we arrived 10 minutes before closing – what a good job I hadn't made them change their helmets, bags and bikes!!!
The ride back was just as glorious – spring has truly arrived in the north of England. When the bike ride was declared the "best ever" I knew all the hassles were worth it!
Here's wishing all our readers a warm, dry summer full of stress free family cycling…….
You can read our reviews of the bikes mentioned in this article here:
If you've enjoyed reading this article, please do sign up for our newsletter - we'll keep up updated when we have new articles which may be of interest. Thanks! 
Disclosure: Cycle Sprog were sent the Islabikes Beinn and Frog 55 to review