Halloween Costumes for Cycling Kids
It's almost Halloween, and no doubt your little ones are excited to get dressed up for the occasion. If they're as in love with cycling as we are, then why not get creative this year with a bike-related Halloween costume to cycle to school in?
There are lots of ways you can incorporate cycling into your child's Halloween costume, and here are some of our favourite ideas and how you could pull them off. 
We've broken this guide up into two sections: spooky costumes for kids, and then something more fun for the adults (you'll see what we mean!), so have a peruse and see if you get a spark of inspiration.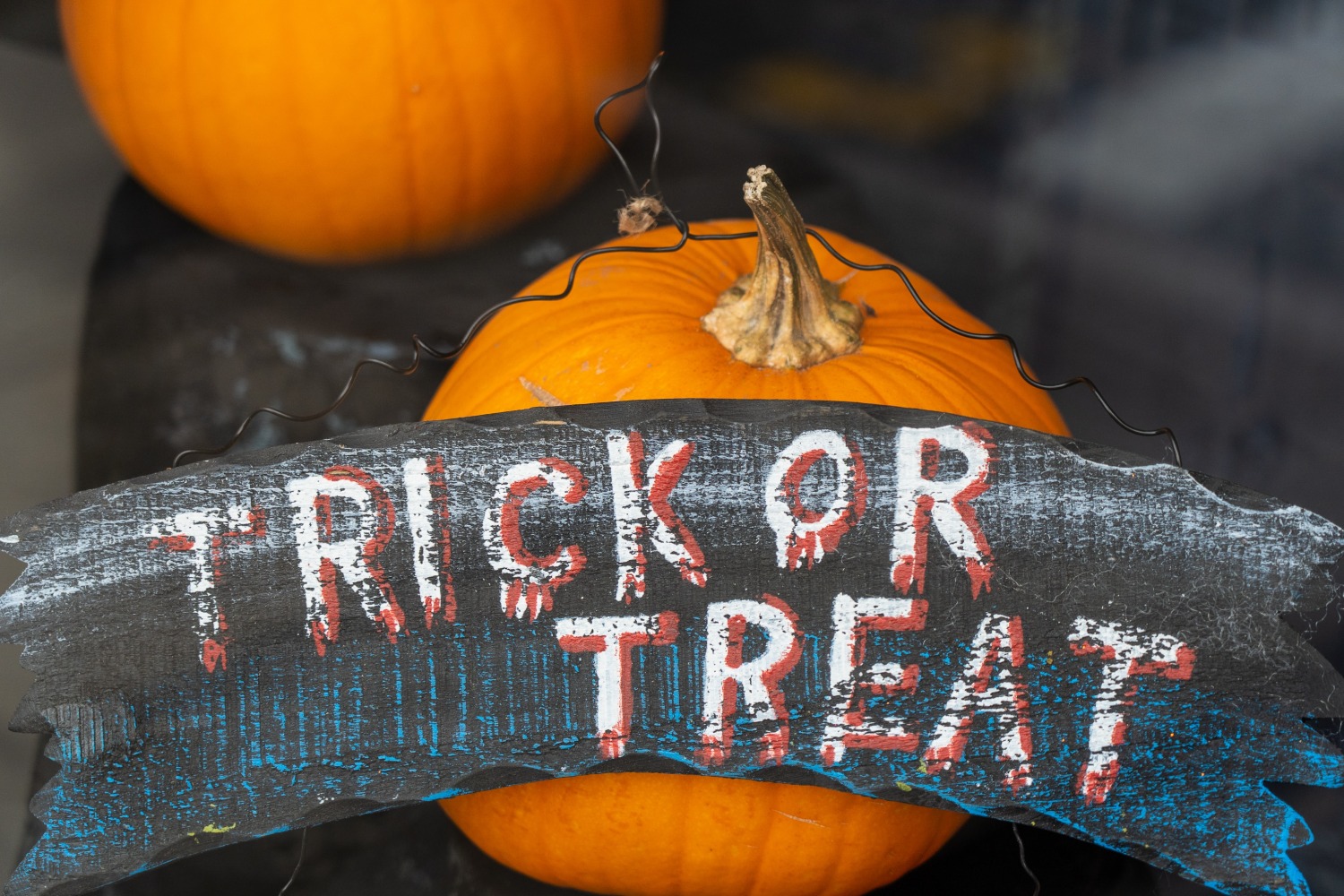 Spooky costumes for cycling kids
First up we've got some nice ideas for traditional spooky costumes that your child can wear while riding their bike, along wish some other genius ways to incorporate bikes into your Trick or Treating.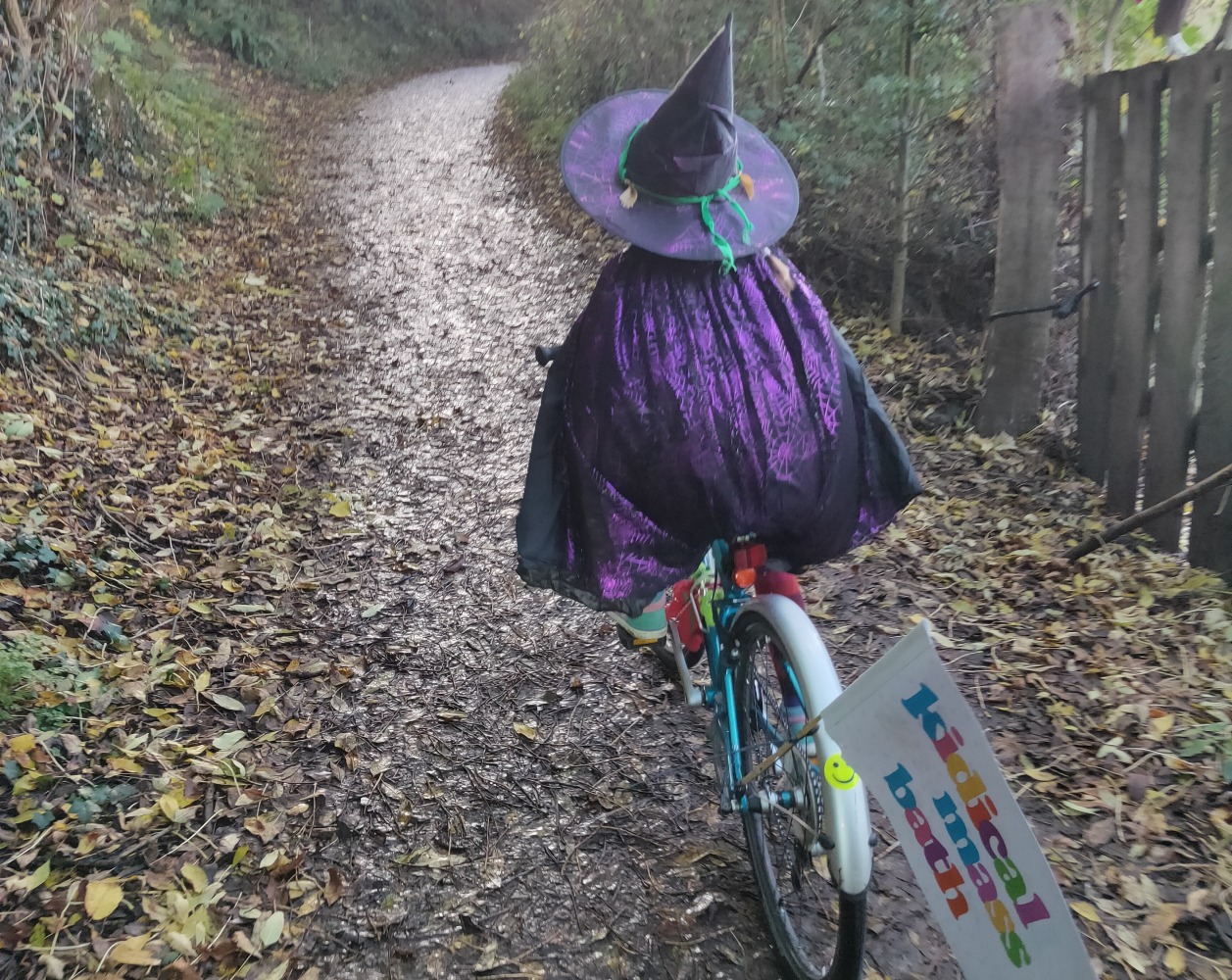 Witch on a broomstick
This one comes from Cycle Sprog's very own Saskia Heijltjes, whose daughter sported this lovely witches costume while riding her bike. It's a traditional spooky Halloween costume that's likely to go down well with most kids, and if you want to get extra creative, perhaps you can tie a broomstick to the top tube of the bike!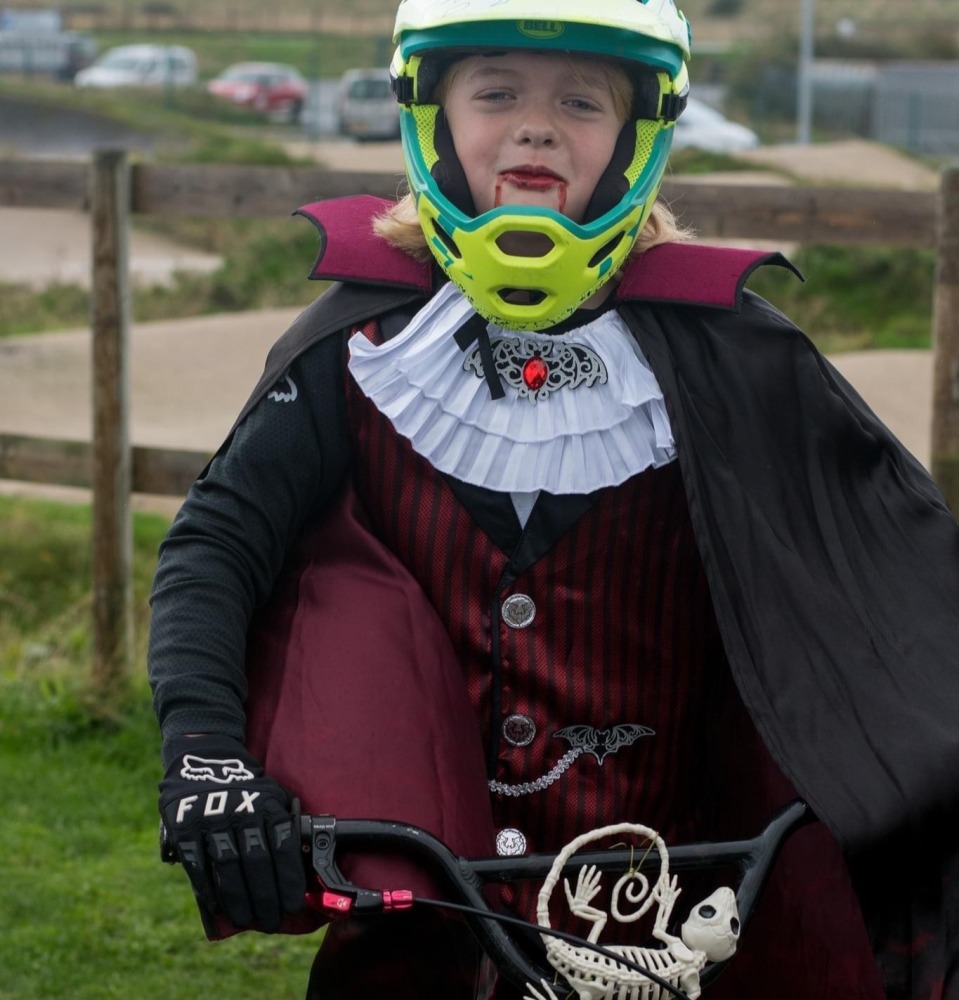 "Count Bikeular"
You don't necessarily need to come up with a unique costume idea that incorporates cycling, as Cartie Kasey showed us in this lovely photo they shared on Facebook. If your little one loves cycling, they can dress in whatever costume they want and still rock it on the bike! In this photos, Cartie's son's Count Dracula costume is paired with his full-face helmet, while they've added a skeleton to his handlebars to add a bit of Halloween spirit to the bike!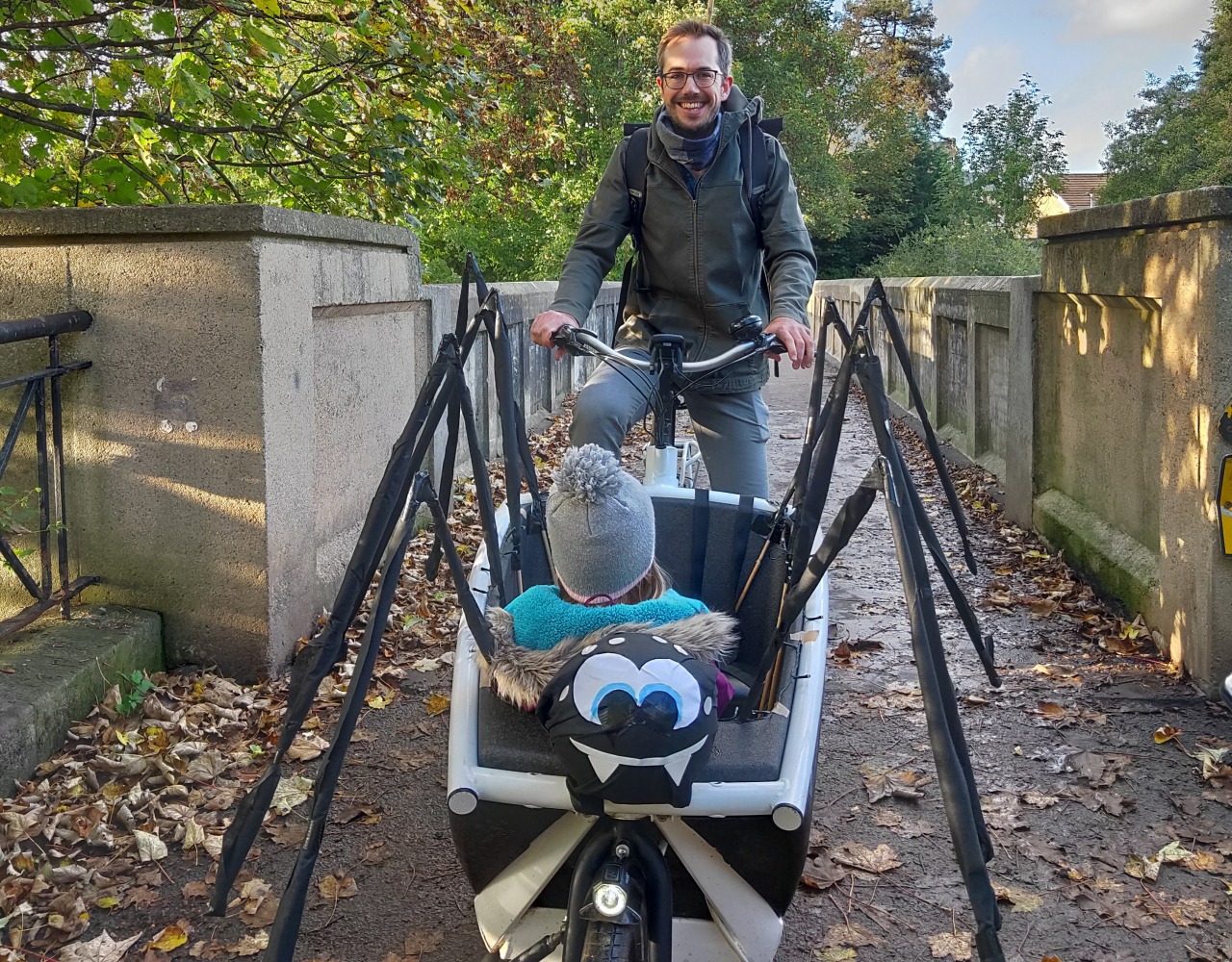 Cargo spider
Another one from Saskia Heijltjes, where this time she and her partner decorated their cargo bike to look like a giant spider!
To do this, they covered bamboo canes with weed control fabric for the spider's legs, attached them to each other using duct tape, and stuck them into place. To make the head, they used the same weed control fabric to cover a plastic ball, and then added paper eyes and a mouth.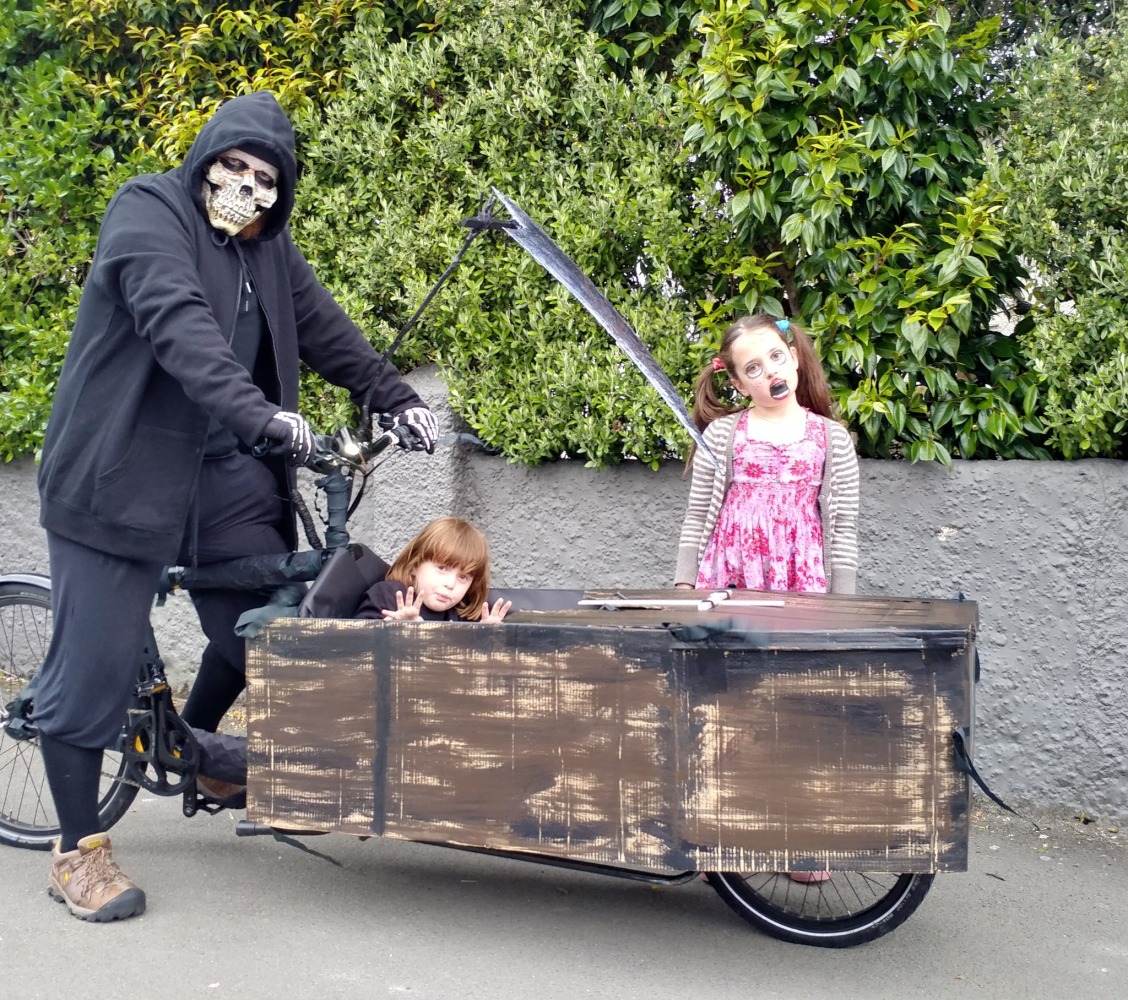 Cargo coffin
We love this idea that Alex Dyer (@AxleRyde) posted on Twitter/X a few years back, and think it's a great idea for anyone with a front loaded cargo bike. Alex, from the looks of it, has used painted cardboard to stick around the box of his cargo bike to create the coffin effect - something that could very easily be replicated! We love the added touch of his Grim Reaper costume and the scythe projecting from the handlebars.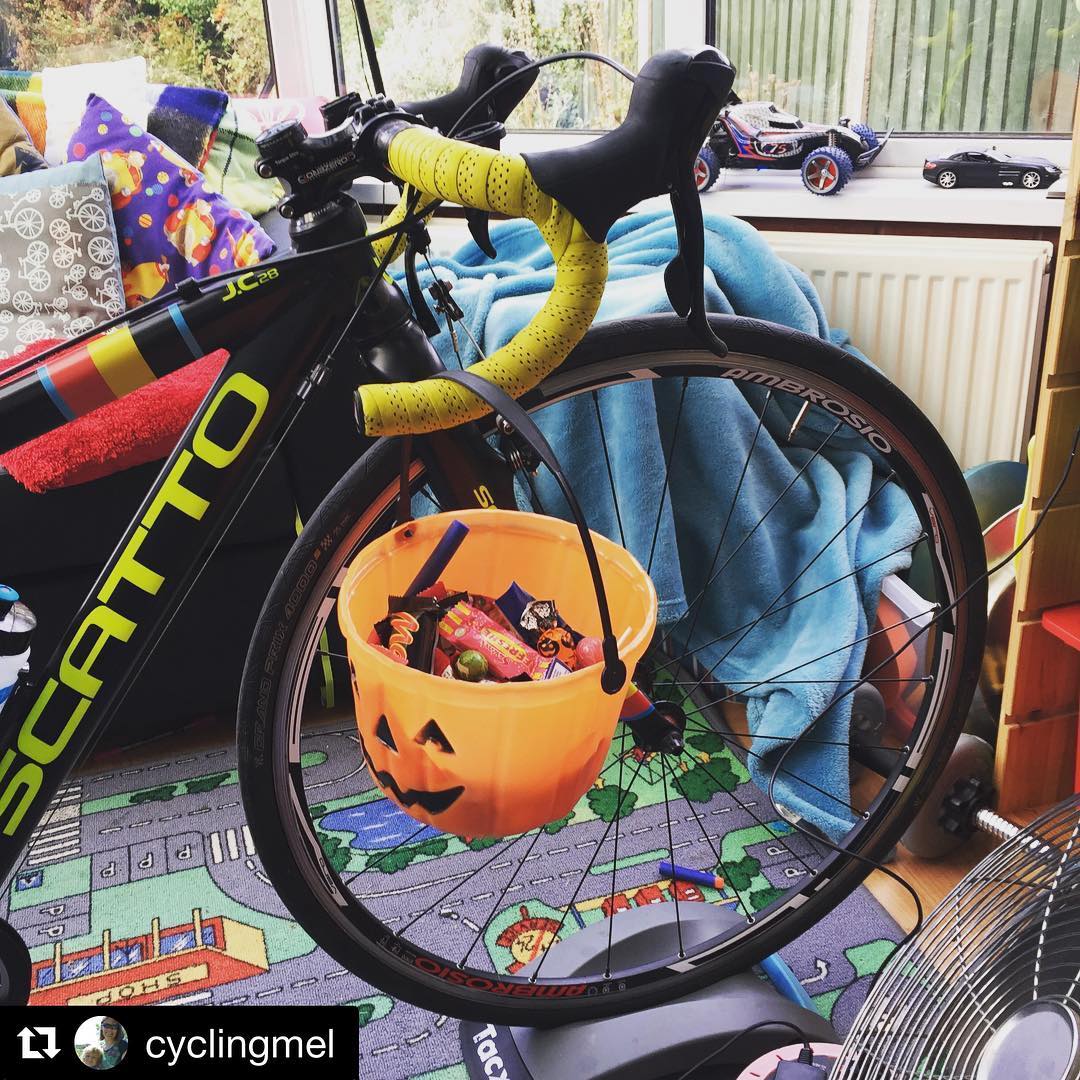 Take the bike trick or treating
Not so much a costume idea, as a great way of incorporating your bike into the entire Halloween experience. As Mel Hearn showed us via Facebook, there's nothing to stop you taking the kids Trick or Treating by bike, and drop handlebars can make an excellent way to carry the treats!
Fun for the adults
While all the costumes we've listed are for the kids themselves to wear, there are so many ideas from classic 80s TV and films that it seemed a shame to not include them. That's because, let's face it, if we're going to put a lot of effort into making Halloween costumes we might as well enjoy the process! These Halloween costume ideas are as much for you to enjoy as they are for your children to rock on their bikes.
View this post on Instagram
Elliot and E.T.
This is a classic cycling Halloween costume and one of the easiest to achieve because it's actually very simple. All you need for your child is a red zip-up hoodie, blue jeans, a basket on the front of their bike, and something to serve as E.T. wrapped in a white towel. 
If you want to go all out, there are plenty of official E.T. dolls and plushies on sale, though if you're working on a budget you can always try to make something yourself. It can be as simple as a paper E.T. mask on the head of a stuffed toy, and wrapped up in a white towel or blanket so only the face is showing.
Evel Knievel
An oldie but a goodie, Evel Knievel is still iconic. Recreate the stuntman's look with a simple base: white button-up shirt, white trousers and white footwear. 
You'll need to get a bit more creative with the finishing touches, whether you opt for drawing or sewing the red, white and blue starred 'V' on the shirt and belt. Finish everything off with a homemade cape, and you're onto a winner.
View this post on Instagram
Mario Kart
Whether your child's got a group of friends together, or they just want to pick their favourite Mario Kart character, this beloved video game offers plenty of options for costume ideas. 
At its most simple, you can buy readymade costumes for a variety of Mario characters, including Princess Peach, Bowser and Toad. Get creative with cardboard or papier-mâché to decorate your child's bike like their chosen character's kart, and away they go!
View this post on Instagram
Kiki's Delivery Service
If your child is a Studio Ghibli fan and loves Kiki's Delivery Service, then this offers a great option for a Halloween costume. For those wanting to be Kiki herself, all that's needed is a dark blue short-sleeved dress, a red bow for their hair, red shoes and a brown satchel or shoulder bag. 
To incorporate the bike, try affixing a witches' broom to the top tube of the frame, so the brush is sticking out the back. You'll get bonus points for adding a black cat stuffed toy!
For those wanting to dress as Tombo, the costume is even simpler: it's just a red and white striped t-shirt with blue jeans and black-framed glasses. For the more ambitious, try adding a fan as the propeller on the front of his bike.
The Goonies
Goonies fans can very easily recreate these classic characters, and it's particularly effective if they band together with three friends to form the whole group. For Chunk, opt for some checked slacks, a floral shirt and red jacket. Bonus points for a basket on the front of the bike, and even more points if that bike is a Chopper. The other three main characters — Mikey, Data and Mouth — ride BMX bikes and wear more casual clothes. Choose a leather (leather-look) jacket and turned up jeans for Data, a double dose of denim jeans and denim shirt over a grey top for Mikey, and dark grey trousers, a light grey shell jacket and black band t-shirt for Mouth. Bonus points if the t-shirt is the original Purple Rain album cover version.
We hope this roundup has given you some inspiration. Good luck with your Halloween creations and share them with us for a chance to be featured in next year's list!
Keep up to date with the latest Cycle Sprog articles
Sign up to receive our newsletter straight to your inbox.
Other posts you might be interested in:
Everything you need to know to keep cycling through winter