A new range of kids bikes – Wild Bikes – has just been launched. Available exclusively at Go Outdoors, the range features lightweight aluminium kids bikes in sizes 14″ through to 24″ wheels and includes a model with the relatively rare 18″ wheel size.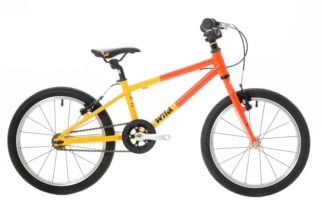 Specification of Wild Bikes
Now, I want to be clear here – we've not seen these bikes in the flesh as they were only launched at the end of last month. So, what can we surmise from the specification?
The design claims to be child specific, with shorter crank arms, lower centre of gravity and child proportioned brakes all mentioned in the specification. The two smaller sizes both come with chain discs to protect clothing and little fingers. Seat posts are quick release to cope with ever growing riders.
Unfortunately, the specifics of the specification are pretty vague for bike geeks like us. For example, we're told that there's 8 speed Shimano gearing on the 24″ wheel bike (and 6 speed on the 20″), with easy reach thumb shifters, but we're not told the gear ratios. Not a problem if you live somewhere flat, but this might be of importance for people who live at the top of a steep hill!
A sneeky close up on the pictures of the 20″ and 24″ bikes reveals Tektro brake levers and calipers plus a Shimano Tourney rear derailleur, which is budget but perfectly capable. The 20″ and 24″ wheel bikes are also running Kenda tyres that look to be small block 8 or similar, whereas the smaller size bikes are purely stated as being "grippy" and "air filled", which is encouraging to know!
We can't comment on the quality of items such as the shifters and wheels as there's not enough information supplied. However, given the pricing (which we're coming to in a moment) we can expect them to be towards that lower end of the specifications. Saying that, with named brands being used – such as Tektro, Shimano and Kenda – they should certainly be reliable and of a standard to provide safe braking and easy gear changes.
Design of the Wild Bikes
Looks wise, the paint job reminds me of Pinnacle Bikes (available from the troubled retailer Evans Cycles), with a two tone block colour scheme.

However, the Wild bikes have a modern look about them, with the low spoke count and frame design. On the 20″ and 24″ wheel bikes there are two colour blocks on the wheel rim, which again looks strangely familiar:

The bike on the right is from Squish Bikes, who also have the same feature on their 20″ and over wheel bikes. Seems that Go Outdoors have been taking "inspiration" from a number of existing quality bike ranges….. Let's hope that this doesn't mean that people stop supporting their local independent bike shops and move to just buying bikes from large warehouses.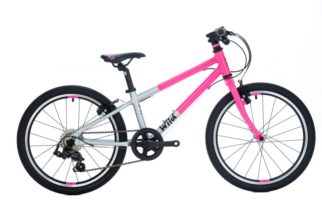 Wild Bikes are marketed as kids bikes rather than suitable for boys and girls. I know this will please many of our readers, some who have boys who would love the pink 20″ wheel bike shown above, and others who have girls who wouldn't!
Weight of the Wild Bikes
Wild Bikes claim to be very lightweight indeed. Whilst the weights are not stated on the Go Outdoors site, there is an associated Wild Bikes website which does give details. The 14″ wheel bike is stated as just 5.8kg and the 24″ wheeler at 8kg.
The 14″ wheeler is towards the lighter end of the majority of other lightweight kids bike manufacturers, which is good to see, as at that age kids want as light a bike as possible.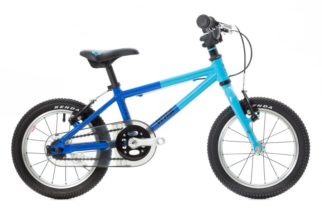 However, the 24″ wheel bike is claiming to be 1 kg lighter than the Islabikes Beinn and 1.25kg lighter than the Frog 62. This is even 600g lighter than the new Hoy Bonaly 24, which is one of the most lightweight 24″ bikes currently on the market. If correct, this an impressively light bike, and does beg some questions about the robustness of the frame (or the accuracy of their website claims).
It's worth noting that the guarantee on the Wild Bikes is only 1 year, and on the Islabikes and Frog Bikes is 5 years for frame and forks – so obviously the Wild Bikes aren't expected to handle the same sort of terrain as their more expensive counterparts. However, if you're not intending to hurtle your bikes down off road trails, then these could be very good value for money.
I've contacted Go Outdoors to ask a few more questions about the range, and I'll update you as and when I hear back from them. Unfortunately we don't have a store close to us, so I can't pop in to see them, but I'd love to hear if anyone else has either bought or seen these bikes. Do drop me a comment in the box below.
How much do the Wild Bikes cost?
Price wise, these bikes are really very impressive. You have to remember that pricing at Go Outdoors is slightly confusing. A retail price is stated, but if you purchase their discount card, you get a massive reduction (in this case 29%). Given that it's only £5 a year for a discount card, you'd be foolish not to get one before buying a bike. Also, as you can't buy these bikes anywhere else, the stated retail price is somewhat negligible!
The 14″ wheel bike is currently priced at a discount price of £175, so with the £5 membership, that's £180. At the other end of the price spectrum, the 24″ wheel bike is £240 – which is £245 if you need to buy the card. Home delivery is free, or there's a click and collect service if you prefer.
This is definitely at the lower end of the price spectrum for a lightweight aluminium bike, particularly one with more modern styling.
Price wise, Wild Bikes (on the prices currently offered) are around the same as the Pinnacle Range at Evans Cycles and the Carrera range at Halfords (the latter varies in price a lot). In my opinion, they're much better looking than both these ranges, and (if weights correct) the Wild Bikes are several kilos lighter.
Where to buy the Wild Bikes Range:
The Wild Bikes Range can be purchased exclusively from Go-Outdoors, who offer an instore Click and Collect service or free home delivery.
I'd love to hear what you think about this new range – do drop me a comment in the box at the bottom of the page, or on our Facebook page. Thanks, Karen
Other posts you may be interested in:
Affiliate disclosure: Cycle Sprog belongs to a couple of affiliate marketing schemes that mean that if you make a purchase after clicking some of the links on this page, we may get a small commission. This doesn't affect what you pay, but will help us to (hopefully) keep the website going.