Frog Bikes have today (8th February 2018) launched four new kids bikes, in their "PUSH THE LIMITS" range aimed at older kids wanting a more grown up looking bike, but who aren't quite ready to move onto an adult bike. There are four bikes in the Push The Limits range (aka Frog PTL) – three mountain bikes and a large hybrid. All the PTL bikes have a much more mature branding, loosing the "splodges" that have become synonymous with the smaller size Frog Bikes. Here's the Frog MTB 69 – one of their 26″ wheel offerings.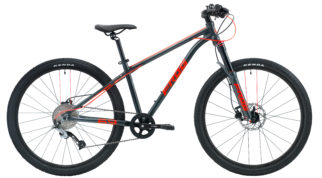 Components on the Frog PTL kids mountain bikes
Dr Tom Korff, Head of Research and Development at Frog Bikes (what a great job!) says "We have spent considerable time developing this range and have paid particular attention to child specific components, such as the brake levers and air suspension forks with lockout and damping control. The MTBs have also been ISO tested to adult MTB standards, so we can be confident of their quality and endurance."
The lightweight oversize handlebar and stem promise to reduce flex and provide better control, and the Tektro junior specific hydraulic disc brakes should make it easier for smaller hands to brake whilst remaining control of the bike – very important when you're hurtling down a red route with your parent trying to keep up behind you (not quite pictured in this promotional photo Frog kindly sent us!!!)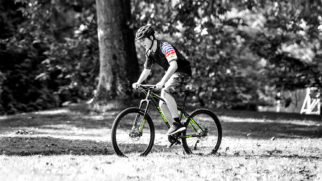 The Shimano rapid-fire 9 speed shift lever will hopefully help to reduce the whinging on the way up the hills, whilst keeping things simple with a single chain ring. Frog have fitted a Shimano Alivio HG-400, 9-speed, 12-36t cassette, paired with Shimano Acera RD-M3000 Shadow RD rear derailleur. Tyres are Kendra K1153 1.95 MTB.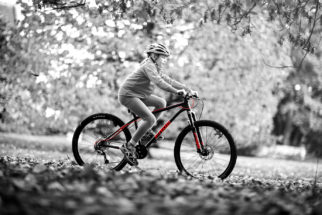 Frog Bikes have designed a lightweight frame specifically for junior riders, to increase stability whilst improving control. There is a 5 year warrantee on the frame.
The pedals are innovative – an inhouse designed, eco-friendly FrogFit Technology® rice husk composite pedal. We're going to be interested in how this performs, as we've heard that some of the rice based pedals on the market can be a bit slippery when wet. From the picture they certainly don't look like the cumbersome ones we've seen in use previously, so hopefully Frog have managed to resolve this, as it would be a step forward in bringing eco solutions to the wider cycling community.
Suspension on the new Frog junior Mountain Bikes
All the Frog mountain bikes come with junior specific air suspension forks, complete with lockout and damping control, to enable optimal performance for lower weight riders. Travel on the 24″ bike is 65mm, with 100mm on the two 26″ wheel bikes.
We're pleased to learn that Frog have worked with a hand-picked specialist fork manufacturer to develop these junior air suspension forks. This means that they are Frog branded, but come from a manufacturer which has many years' experience making forks for global bike brands.
Frog claim that these adjustable air-sprung forks are very responsive at the low pressure levels allowing for an appropriate amount of travel for lighter riders, which is very good news. One of the problems we've come across with some junior mountain bikes is that the suspension forks are not designed to cope with the low body weight of young riders (our two boys were both under the 10th percentile weight wise and over the 90th percentile on height, so very tall and light!)
A choice of Frog MTB sizes for growing kids
We've written a number of times on this website about the limited number of good quality, reasonably priced 26″ wheel mountain bikes for kids, and we're particularly pleased that Frog are doing two Push The Limits MTB's in this size – the Frog MTB 69 (£600 / 11.4kg 26″ wheels)for those aged about 10-12 years, and the Frog MTB 72 (£610 / 11.5kg / 26″ wheels) for those older kids who have an inside leg of 72cm. It's fabulous news as many manufactures have failed to realise that just because a child is tall, they don't necessarily have the hand span or arm length to control a full size adult bike, or the weight to make the suspension work properly. Here at Cycle Sprog we foresee the MTB 72 being popular with the younger teen market as a result. It certainly looks the part: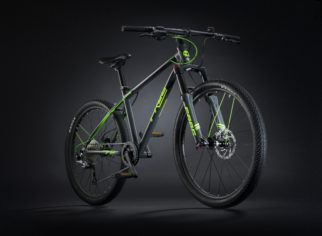 The third mountain bike in the PLT range is a smaller 24″ wheel – the MTB 62 (£590 / 11.3kg / 24″ wheels)– aimed at 8 – 10 year olds (with an inside leg of 62cm).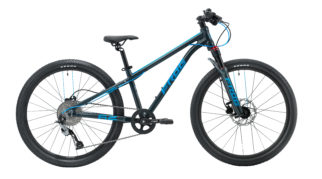 The obvious question is whether, at any stage, Frog will extend their mountain bikes down to a 20″ wheel bike, with the traditional branding – either with or without suspension.
A larger Frog hybrid for the teen market
The fourth new bike in the range is a larger hybrid bike – Frog 78 (£370 / 10kg / 26″ wheels). This is the third 26″ wheel hybrid in the Frog pond – the 69 and the 73 will take a child up to the age of about 12 or 13 with the original branding, with the 78 being aimed at the early teen market.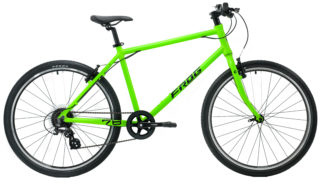 This is welcome news for families who have grown up with the Frog Bike range, and are finding that the bikes were just about to run out. This extension onto the older age range comes after Frog extended their smaller bike range, to cater for younger cyclists, and is a reflection of the increasing demand for quality kids bikes with components designed specifically for the age of the child, at every age and size.
The Frog 78 would be a great choice for those looking to bike to school during the week and ride trails at the weekend. There's a good range of colours available – Neon Red, Neon Green, Dark Grey and Team Sky Black.
The spec of the Frog 78 is very similar to all the other Frog hybrid bikes, and it comes with two sets of Kendra 26″ tyres – for on and off road riding. Most importantly, it has all the child specific geometry and components that Frog are renowned for, which mean that it's proportioned for the size and strength of a child, rather than a small adult.
Priced at a very reasonable £370 we will be interested to see if this bike leads to other manufacturers responding with a larger 26″ wheel hybrid offering.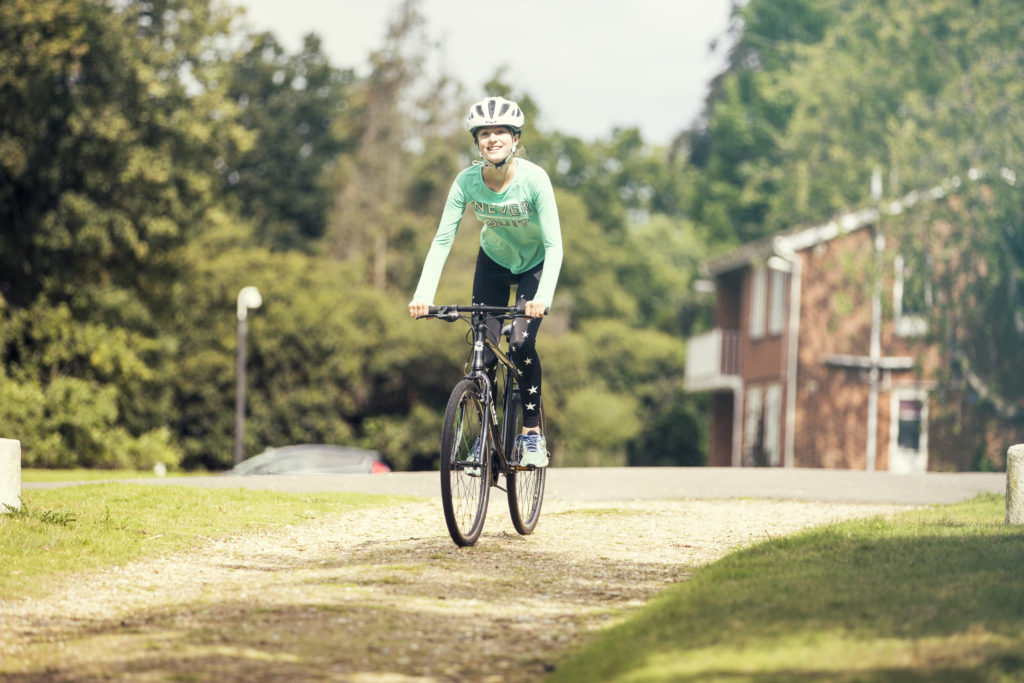 Prices and colours of Frog Mountain Bikes
The Frog MTB 62 (24″ wheel) is available in Metallic Grey with either Neon Blue OR Neon Red detailing and has an RRP of £590.
This price compares favorably to the competition – coming in over £200 below the Islabikes Creig (£800) but comparable to the Scott Scale (£599) and the Saracen Mantra (£579).
The Frog MTB 69 and MTB 72 (26″ wheel) come in Metallic Grey with either Neon Red OR Neon Green detailing. The smaller bike has an RRP of £600, with the 72 coming in £10 more expensive at £610.
The youth 26″ wheel mountain bike market is growing quickly. The two Frog MTB's seem reasonably pitched for a lightweight hard-tail mtb, although performance will be the critical factor.
Further details, including full specifications, are available from the Frog Bikes website.
The new Frog bikes are available from on-line stockists of Frog Bikes, such as Rutland Cycles and Leisure Lakes Bikes, as well as from Frog's network of local bike shop stockists.
Other articles you may find useful:
Affiliate disclosure: Some links on this page contain Affiliate links. This means if a purchase is made after clicking, Cycle Sprog may get a small commission. This doesn't affect what you pay, and helps us keep the website going. Thanks!