Frog Bikes have announced two new bikes in their range – the Frog Tadpole Mini and the Frog 52 Single Speed. Both bikes are aimed at supporting young children who are keen to start cycling, so we were eager to learn more.
A new balance bike – the Frog Tadpole Mini
The Frog Tadpole Mini is the smallest bike in their range – a balance bike aimed for younger/smaller riders. As the name suggests it is a scaled down version of their standard Tadpole balance bike.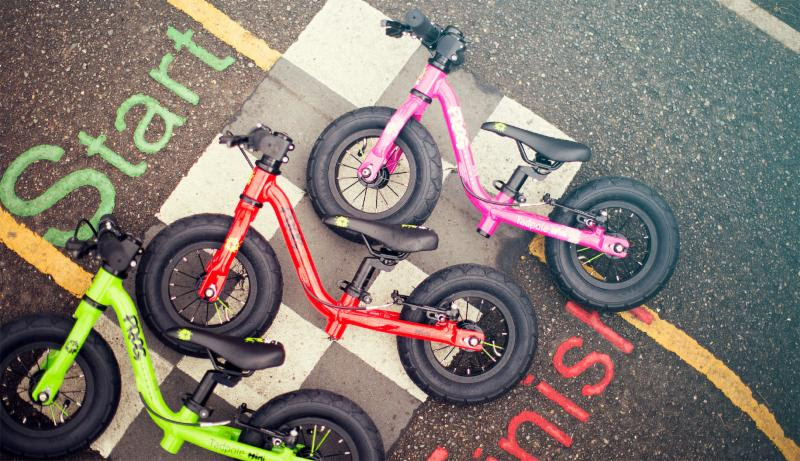 With a smaller frame but the same pneumatic tyres, rear wheel brake and steering lock (to prevent oversteer by over enthusiastic arm movements), the Tadpole Mini has all the features we've come to expect from a Frog Bike, but in a package for smaller riders.
The Tadpole Mini balance bike is suitable for children with an inner leg measurement of 24cm, which means this balance bike will appeal to parents of younger children (1 year and over depending on height) who are desperate to get on a balance bike.
It's also ideal for those with small children, whose legs aren't long enough for a standard size balance bike, but are developmentally ready to move onto one (usually about 3 years and over).
It adds to the Frog Balance Bike range, which also includes a "standard" Tadpole 12″ wheeled balance bike, and the Tadpole Plus, which has 14″ wheels for taller riders (inside leg of 38cm).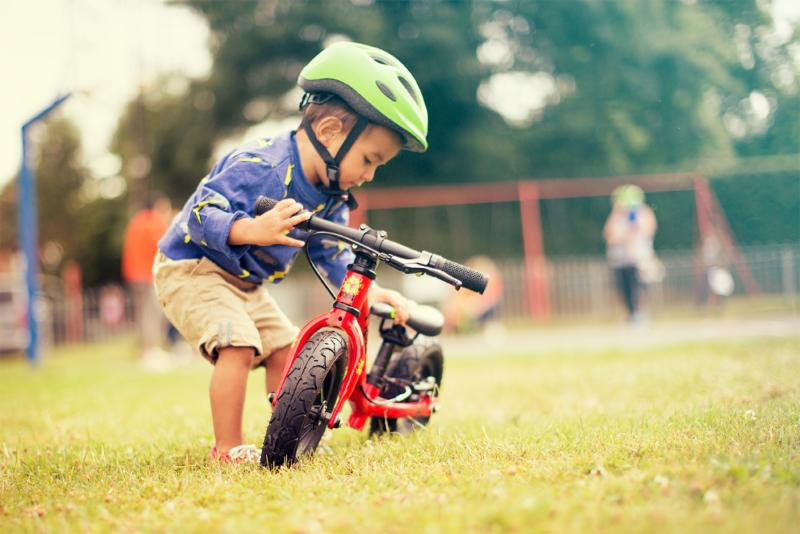 Here at Cycle Sprog we are really pleased to see Frog offering something for this size of rider, as we never cease to be amazed at how many little kids have fantastic balance biking skills. Of course, as these children develop their skills, they will be wanting to move onto pedal bikes earlier than previous generations, and we're predicting a demand for the 14" wheel Frog 43 pedal bike, and possibly even something smaller as the years progress.
The Frog Tadpole Mini comes in three colours (green, red and pink), weighs in at a very respectable 3.45kg and has a retail price of £110. It's available on-line at retailers such as Tredz Bikes and Rutland Cycles, or you can order through your local Frog Stockist.
A new single speed 20" wheel bike
Up until now, Frog's pedal bike offering has introduced gears from the 20" wheel Frog 52 upwards. Whilst this is great for encouraging kids to get up hills and ride on more challenging terrain, it does prove problematic for some young riders, as gears can be confusing and distracting.
Realising that some children have grown in height, and require a 20″ wheel bike, but don't yet possess the skills required for using gears, Frog Bikes have launched the Frog 52 Single Speed bike.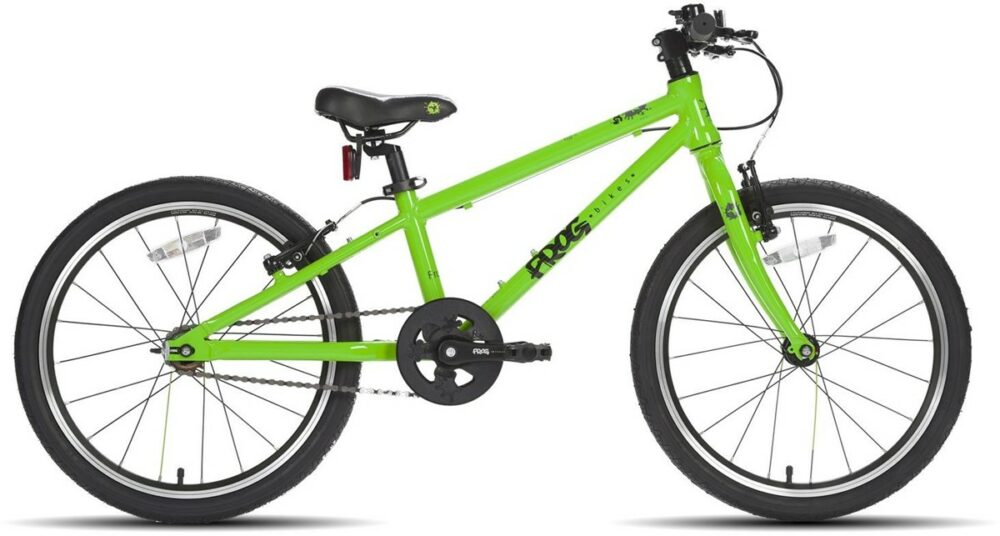 It's a natural progression from the 16" wheel Frog 48 pedal bike, and has all the same features, including easy reach Tekro brakes offering greater control, child sized cranks to improve comfort and efficiency of riding. It also comes with two sets of tyres (for on road and off road riding, a mudguard and 5 year warrantee on the frame and forks).
Currently available in green and red, the Frog 52 Single Speed is suitable for children with an inner leg measurement of 52cm, who aren't yet ready to cope with gears on their bike. It weighs in at 7.76kg (making it lighter than the standard Frog 52 which is 8.75kg) and has an RRP of £280, compared to £300 for the Frog 52).
The Frog 52 Single Speed is available on line from Tredz Bikes or direct from your local Frog Stockist.
Other articles you may find useful:
Follow Cycle Sprog on Facebook to keep up to date on all the latest news and reviews on kids bikes and family cycling
Disclosure: This article contains some links that use affiliate marketing. This means that we may get a small commission if you make a purchase after clicking on the link. It doesn't affect what you pay, but helps us to keep Cycle Sprog going.
If you've enjoyed reading this article, please do sign up for our newsletter - we'll keep up updated when we have new articles which may be of interest. Thanks!