If your child is going to head out cycling on rough terrain it's wise to make sure they're wearing a pair of kids size cycling gloves so they've got their hands protected from blisters and falls. This review is for the Polaris Tracker 2.0 kids cycling gloves that have RRP of £21.99 They've been tested by "T" who was aged 8 at the start of the review period, and is now 9 years old. He's a keen mountain biker who rides blue and red graded trails and does a weekly Go-Ride skills session.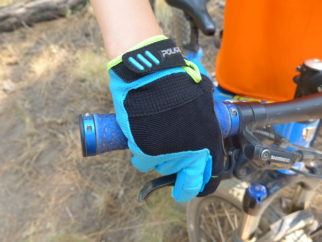 What type of glove is the Tracker 2.0?
The Tracker 2.0 is a full finger kids mountain bike glove with a useful velcro loop cuff that enables a snug fit to be achieved. I'd say it is probably a three season glove that you could possibly also get away with on dry, mild winter days. They're not waterproof, so aren't designed for riding regularly in torrential downpours. T has also used the Tracker for road riding when conditions are too chilly for fingerless mitts.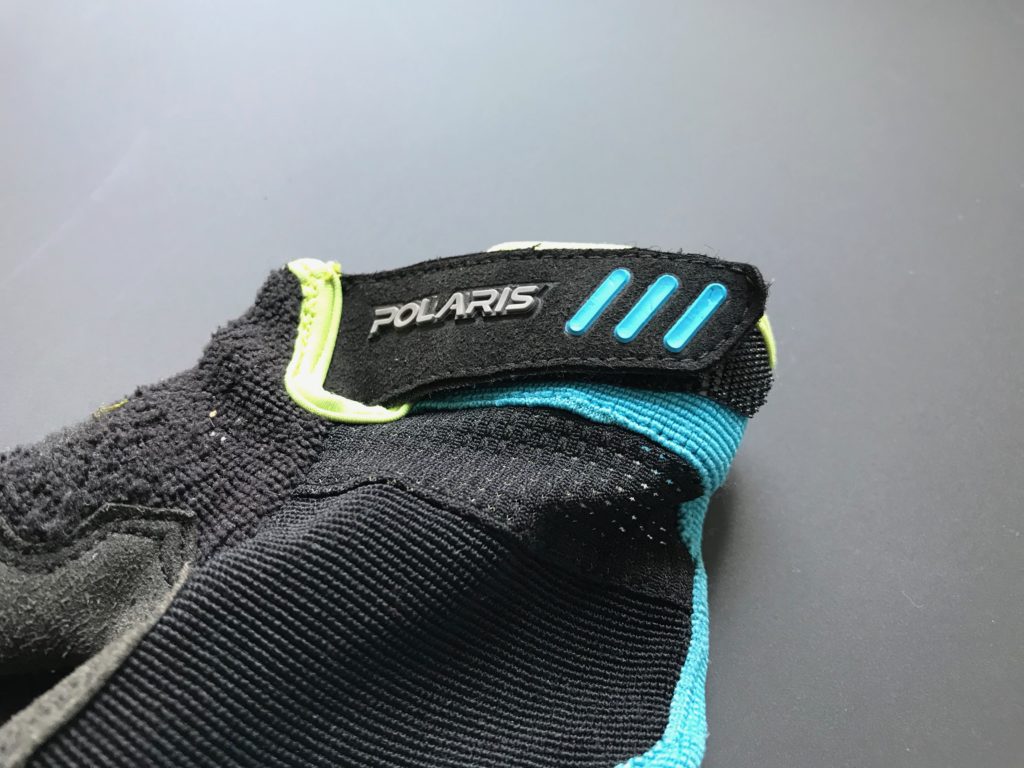 What age is it aimed at?
The Tracker comes in sizes from 'Small' through to 'Extra Large' . Polaris state the following circumference of hand sizes:
| | |
| --- | --- |
| S | 11.5-13cm |
| M | 13-14.5cm |
| L | 14.5-16cm |
| XL | 16-17.5cm |
To give you some idea, Tester T (very tall and slim – hands likewise!) measured up as a size 'Large' aged 8 and is still wearing them in comfort a year later.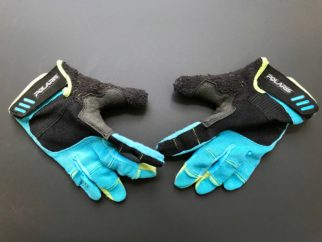 What is the Tracker 2.0 made from?
The Polaris Tracker 2.0 kids cycling glove is made from several materials that have been selected to perform a particular function. For example, the fingers and back of the hand are constructed from a mesh weave material to give excellent breathability.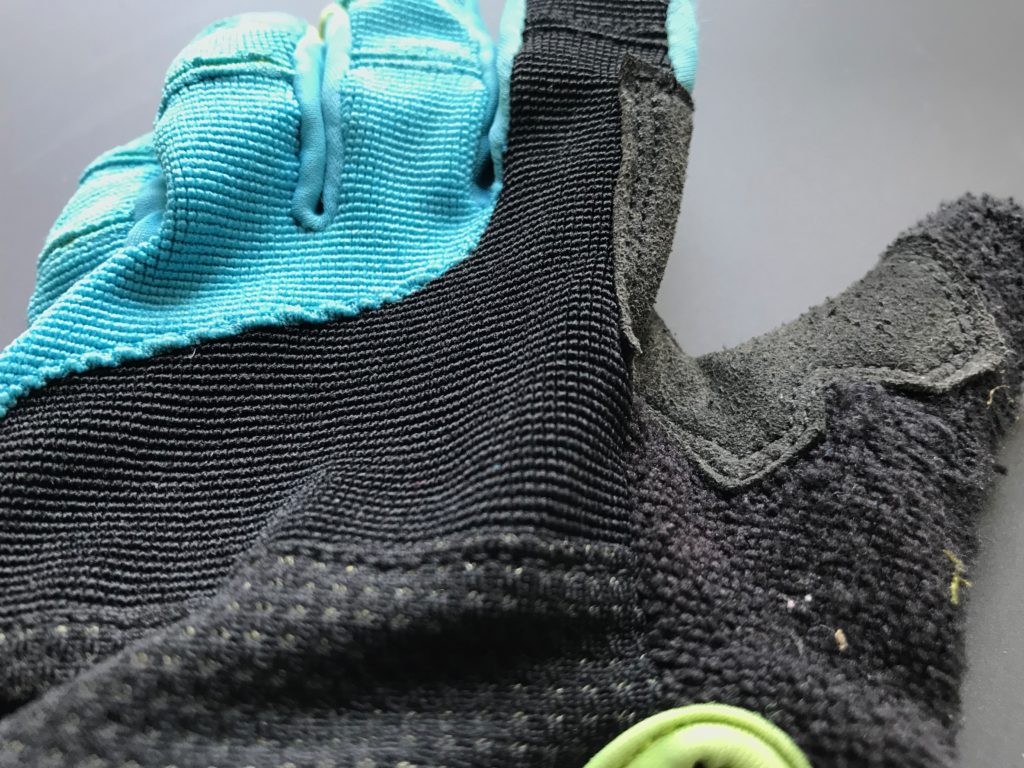 Each thumb is made of a Terry type material to provide a useful device for wiping noses. The palm is made from a rugged Alcantara style fabric, with Polaris logo in a tacky finish that provides good grip on the bars. The area between thumb and index finger has a double layer to give additional durability.
What colours do they come in and how much do they cost?
The Tracker 2.0 is available in two colour options – red and black or the cyan/grey and lime as shown here. The RRP is £21.99.
How have the gloves been used?
T has used these gloves for mountain biking – both trail centre (up to red standard) and cross country. They took in a tour of the USA and Canada which involved biking in a variety of very dry and dusty conditions where his hands were well protected from the all pervading sand, and didn't get too hot and sweaty in temperatures which were well above 30C.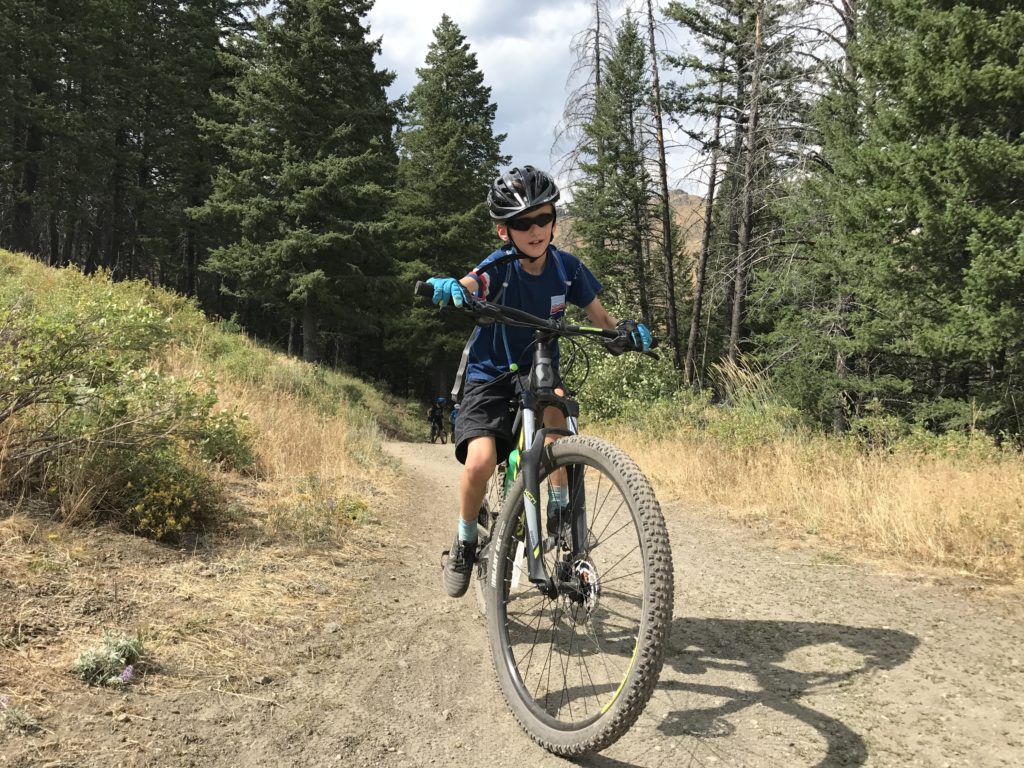 Upon returning back to the UK, the Polaris Tracker 2.0 gloves have been expected to cope with sunshine, drizzly rain and mud – typical UK mountain biking conditions really! And it's fair to say that they've managed the job of protected hands out on the trail and the glove has proven to be durable with a little fraying at the ends of the fingers and some bobbling of the Terry material the only thing of note.
Please note that T doesn't do downhill MTB and these gloves don't have hard protectors for this type of riding.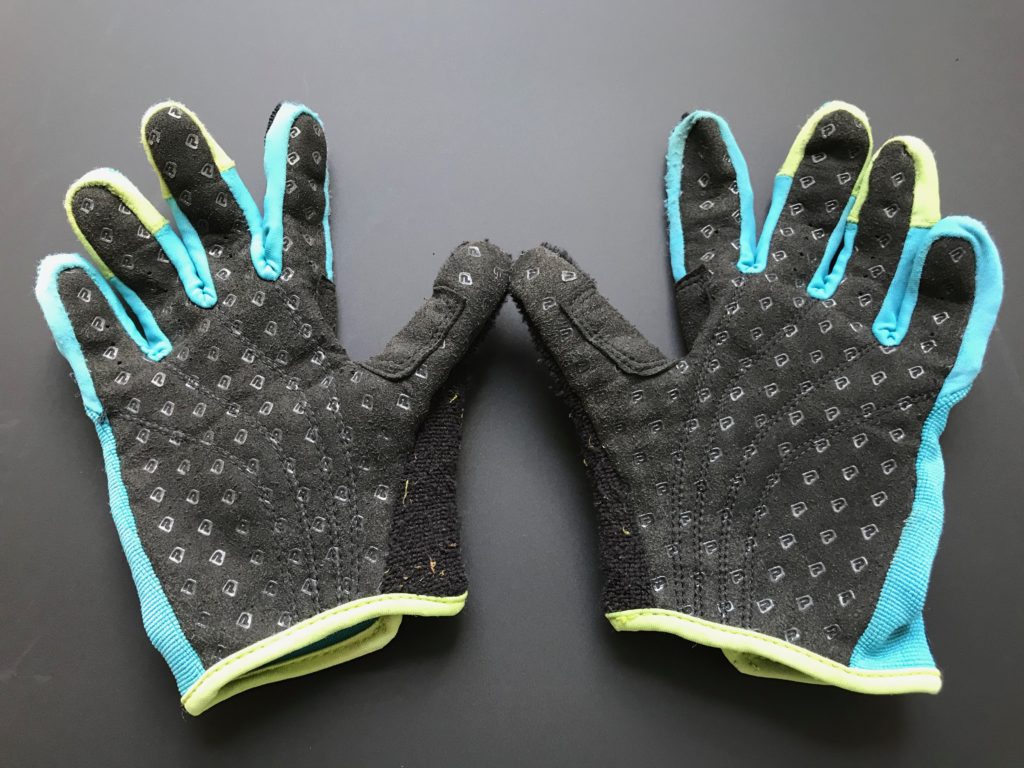 The palms look as good as new, which considering they've been subjected to a variety of handlebar grip materials, plus worn by T when digging (don't ask!) is pretty impressive. The only real issue is one caused wholly by T – a chewed through finger top when he was going through an 'ooh, let's munch on my glove' moment. Well, more couple of weeks than moment to be honest!
Review of the Polaris Tracker 2.0 kids cycling gloves – final verdict
The Tracker 2.0 is usable for three seasons plus on mild, dry winter days and is a well constructed trail glove with adjustable cuff to tailor the fit so that it is snug and secure. It comes in a variety of colours and has proven to be very durable, with very little wear (chewed finger aside) to show over the 12 month review period. They've definitely become firm favourites and are still the 'go to' glove for Tester T, so as an endorsement I can't say fairer than that.
The Polaris Tracker 2.0 kids cycling gloves – RECOMMENDED BY BUTTERFLIES
Oh yes, they're popular with wildlife too!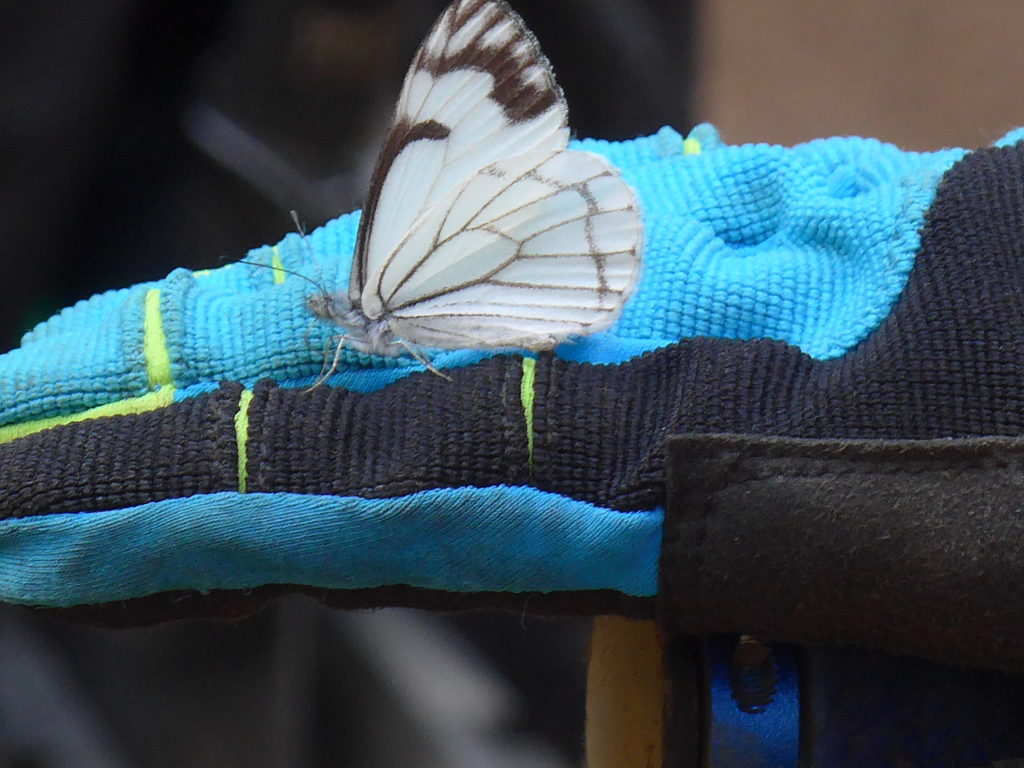 Where to buy the Polaris Tracker 2.0 kids mountain biking gloves
The Polaris Tracker 2.0 is available for purchase at Tredz and Amazon
Disclosure: Cycle Sprog were sent the Tracker 2.0 gloves to review by Polaris. We fund our website through the use of affiliate links, so if you're going to buy these gloves, then please use the links about and we'll make a very small percentage of the price, which will help cover our costs. Thanks!
Other articles you may like