Finding kids sized long fingered cycling gloves that are easy to get on and off can be tricky. I was very interested therefore to be sent a couple of pairs of Cube's junior performance long finger cycling gloves for us to test out. We gave the gloves to two keen riders – 9 year old T (wearing the S) and 7 year old Harry (wearing the XS).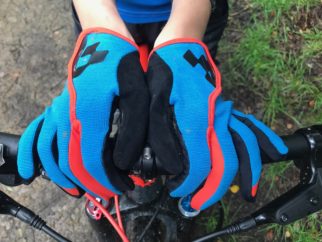 The first thing I noticed was the really large velcro fastening on the front of the glove – ideal for opening up and making space for little hands to fit inside.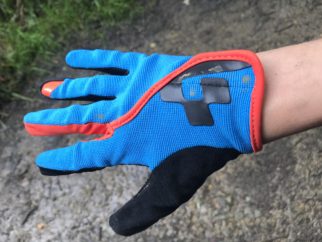 The size of the velcro also means it's easy to fasten back up again – too many kids gloves have tiny fastenings, which are difficult for little hands to operate, especially once they have the gloves on. Harry confirmed this, telling me "They fitted very well because they didn't slide. The Velcro was very strong."
Thankfully, we didn't suffer an excess of velcro, which can happen on some products, resulting in it getting caught on other items on clothing. All in all I was very impressed with how easy these gloves are for kids to get on and do up easily.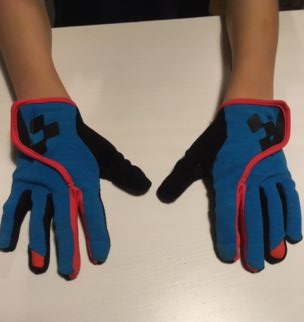 Fit wise the gloves do come up slightly on the small size, so if you're wondering whether to go up or down a size I'd recommend going up a size.
The gloves are probably best described as three season. The long fingers means they're ideal for spring, summer and autumn riding.
For summer the breathable upper will stop too much over heating on all but the hottest days. The top of the thumb is made from absorbant fabric, so is ideal for wiping away sweat. T wore the gloves on many mountain bike rides during the school summer holidays, and didn't complain of overheating. It was good to know that his fingers were protected in case of any tumbles as he spent a lot of time at bike parks and riding quite challenging routes, including fending off scary wild beasts!!!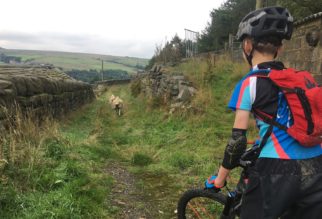 Harry wore the gloves on a mild November day and his verdict was "I went to do a lanequest (orienteering on bikes) and wore the Cube gloves. They felt warm and cosy." The gloves aren't thermal lined or waterproof, so not for riding in the depths of winter, or for kids who really feel the cold during the autumn.
Whilst mountain biking T found the palms to provide enough grip, and the padding sufficient to soak up the bumps in the trails.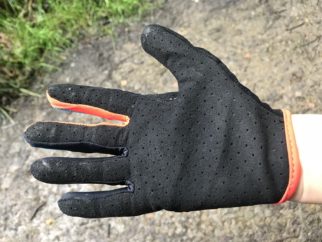 Overall, the gloves have performed well, withstanding many bike rides. They're easy for kids to get on and off themselves, which is a real plus point.
Kids tastes obviously vary, but the look of the gloves certainly appealed to them both, with 7 year old Harry telling us "I thought that the gloves looked colourful because my favourite colours are orange, blue and black."
The boys have been testing the 2018 model of Cube Junior performance gloves, and some of these are still in the shops. However, the 2019 stock is now available and is slightly more subdued in the colour scheme, whilst the specification has been upgraded to be touch screen compatible. This is what you're looking out for on the rails: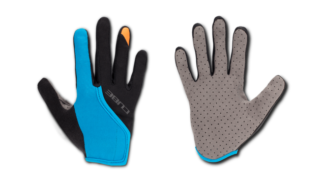 Harry's final verdict was "I would recommend these gloves" – you can't say better than that really!
Buy Now: Both designs of the Cube long fingered kids cycling gloves can be ordered from Tredz. They have an RRP of £16.99
Sizing is thus:

Cycle Sprog were provided with two pairs of Cube junior performance long fingered cycling gloves for the purpose of this review.
Other articles you should read whilst you're here: