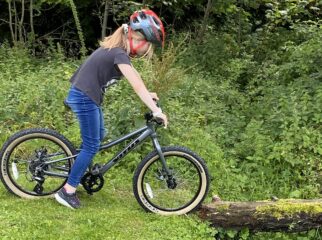 Find out how much fun our 8 year old reviewer had testing out the Vitus 20+ kids bike
Last year Vitus Bikes sent us one of their (then) new Vitus 20+ kids bikes to review.  At the time we did a detailed review of the specification of the Vitus 20+, and gave you our thoughts on this great looking bike.
Cycle Sprog is an family run, reader supported, website. We belong to several affiliate schemes so may receive a small commission from sales made from links on our site. We do our best to be impartial and recommend products on their quality not whether they are in a scheme.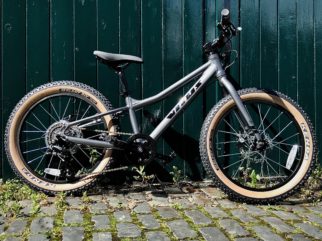 We really liked the styling and the specification of the Vitus 20+ and were intrigued with the idea of plus sized tyres. 
We then handed the bike over to our 8 year old tester Kathryn to put it through its paces for a number of months, as we really wanted to see how this bike would perform. 
Is it all looks and no substance? Or would it stand up to daily commuting plus weekend fun?
Now over to Kathryn's dad to tell us more.
Vitus 20+ review
The first thing to say about this bike was the first impression.
Katherine just loved the look, the styling, the big fat chunky wheels, the whole effect. She said it looked like a "proper grown up's bike". Praise indeed from someone who's just starting to notice such things. It also helps when the older "cool" kids regularly say positive statements about its looks.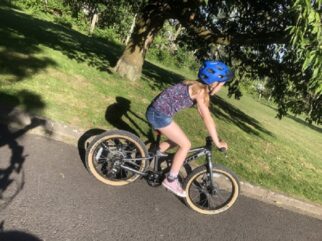 The bike has been ridden in all weather, rain, sleet, cold, hot, and sunny climates.
It has been ridden on many surfaces, from roads to pavements (where allowed), shale, dirt, grass, and anywhere Katherine wishes to take it.
There have been crashes, near misses, up-hill and down-hill, at high speed and as slow as is possible to frustrate the accompanying parent. Each one has given a different challenge, and not once has there been a complaint from its rider.
Sizing of the Vitus 20+
The riding position has been excellent, the frame size more than a good match. Katherine has grown somewhat whilst reviewing the Vitus 20+, and the adjustments have been easy.   
The measurements of the bike are:
Top tube to floor (standover height) – 46cm
Top of saddle in lowest position to floor – 57cm
Top of saddle in highest position to floor – 72cm
At the end of the review period Katherine (age 9) has an inside leg measurement of 58.5cm and is 137cm tall.  She's now approaching the upper limit for the bike and I'd estimate she's got about another 6 months left before she outgrows it completely.
Her younger sister Jessica occasionally sneaks a ride (started at age 6 and is now 7), and I could therefore see this bike fitting very well between the ages of 6-9 years old.
Tie this with a very comfortable seat (rides of 3 hours plus have been undertaken), and the ability to adjust the seat position with such ease, have all made for an easy ride, whatever the terrain or weather.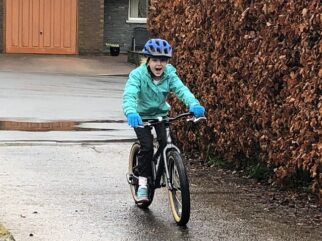 The handlebars have been dropped to the ground a few times, and they still look as good as new.
Katherine has used the 7 gears (14-28t cassette / 32t chainring) on the Vitus 20+ more than any other bike she has ridden, due to the increase in ride difficulty, the knowledge of the effects of changing gear, but most of all the simplicity of use. No more shouting up the road "change your gears!"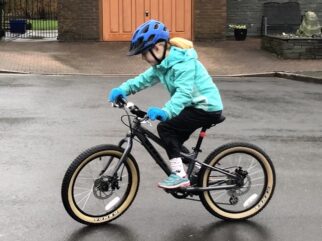 This is the first bike Katherine has ridden with disk brakes (Tektro M300 Mechanical disc brakes with 6 bolt, 160mm rotor) , and the sharpness of the response has been positively noticeable over previous traditional v-brake braking systems.
This has been particularly evident when needing to stop quickly on the road in traffic, where there have been dangers at speed – or if she has just been day-dreaming out on a weekend ride.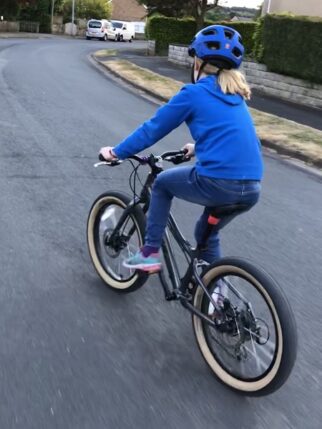 The Vee tyres, whilst at 2.6″ are much wider than Katherine is used to, have not inhibited her performance in any noticeable way.
The turning circle is tight, the speeds achieved are good, and the general stability and balance whilst riding have been regularly tested, and come out well on all counts. She can easily mount pavements.
The bike looks as though it should weigh a lot more, but at just 9.8 kg it has proven easy to carry for Katherine when needed, and as a parent it's easy to load into the car or onto a bike rack.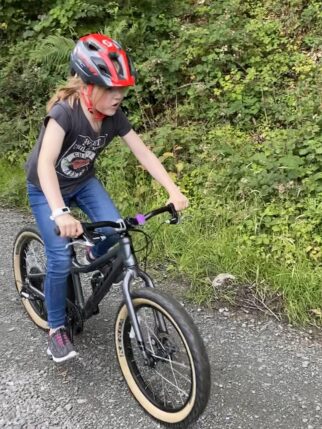 The general wear and tear on all materials has been low, and the Vitus still retains its looks despite a good bashing.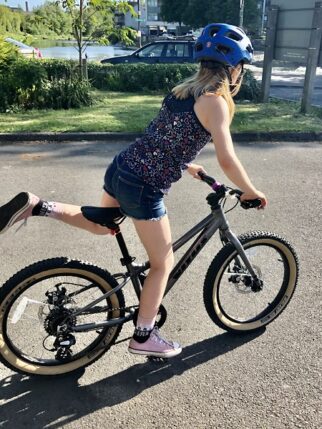 Katherine's overall assessment of the Vitus 20+ has been very positive. The technology and styling on this kid's bike has meant more use, more confidence, and no doubt some considerable satisfaction that she looks great whilst out riding.
Now, what can be more important than that to a (nearly) 9 year old girl?
Overall verdict on the Vitus 20+ kids bike
The Vitus 20+ is highly recommended by both child and parent and one we would certainly consider buying for ourselves following this review period.    We've really liked the simplicity in adjusting saddle height, ease of removing wheels for punctures and travel, plus the willingness to get out and ride from our daughter!
Buy Now
Disclosure:  Vitus were supplied with this bike for the period of the review. We were not paid to write this review, and all opinions are our own, or those of our reviewer
Other articles you ought to check out whilst you're here:
Support Cycle Sprog!
If you've found this article useful you can buy us a virtual coffee (or two!) to say thanks and help us keep the Cycle Sprog website going.