UPDATE: November 2020 – 12 months have passed since this article was published and we can now confirm that Strider Sport Balance Bikes are available at The Bike Club on their popular monthly lease scheme.  You pay a monthly subscription fee and get to use a Strider balance bike until your child outgrows it. You then return it and either cancel your subscription or upgrade to one of the quality pedal bikes from their fleet of new and used kids bikes.
UPDATE January 2022 – We can now confirm that Karen and Gary Wood have launched a new balance bike company, KidVelo.  You can read more about their plans for the future here. 
______________________________________________
Strider Bikes are one of the most popular brands of balance bikes here in the UK but for how much longer we're not sure.   The UK distributors of Strider – Karen and Gary Wood – have announced that they will no longer be carrying on with their franchise after the end of the year.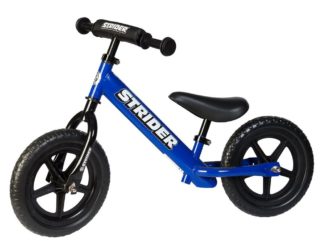 In a blog post on their website they state:
"Gary and Karen, the directors of Learning Early LTD, have made the decision to part ways with the Strider Brand going into 2020. From 31st December 2019 we will no longer be acting as their UK and Ireland Distributor.

We have dedicated the last 10 years to selling only Strider Bikes and are very honoured that we have been so warmly welcomed by our peers in the cycling industry and the long-lasting relationships we have built. We are proud of the manner in which we have built the brand's reputation here in the UK, especially through the last 5 years acting as exclusive distributors.

We feel the time is right for us to move onto other opportunities and would like to thank each and every one of you for the support, the recommendations and letters of thanks (wine and flowers) we have received over the years."
Strider balance bikes have always been a favourite for balance bike racing, as well as for those just wanting a good quality, lightweight balance bike for their child to learn the basics of riding.
In addition, Strider offers larger teen and adult-sized balance bikes which are popular with people who can't use a pedal bike, or haven't yet learnt to ride.
We're not yet been able to ascertain whether Strider have found another UK distributor for their bikes, but we'll let you know as soon as we hear back from them about their plans.
We wish Karen and Gary all the best for their future venture.
If you've enjoyed reading this article, please do sign up for our newsletter - we'll keep up updated when we have new articles which may be of interest. Thanks! 
If you're looking for inspiration for a balance bike check out these links: