The brains behind the popular Toddlebike have launched a new pre balance bike for 2 year old's – the Toddlebike2 (which is also known as the Lena on the continent).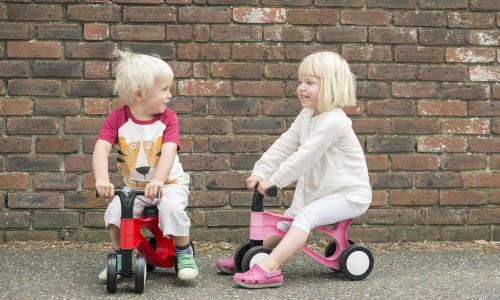 Designed to help toddlers learn the basics of independent riding, the Toddlebike has been a really popular choice with cycling parents since it's launch in 2012, as it is suitable for children as soon as they are confidently walking (usually around 18 months) – long before Toddlers are ready for balance bikes, pedals or scooters but after they grow out of their baby ride-on toys.
Toddlebike also work with childcare and cycling organisations (such as SureStart, Sustrans, Early Years Cycling Projects, Cycling Festivals) to provide the building blocks to cycling for children as soon as they can confidently walk.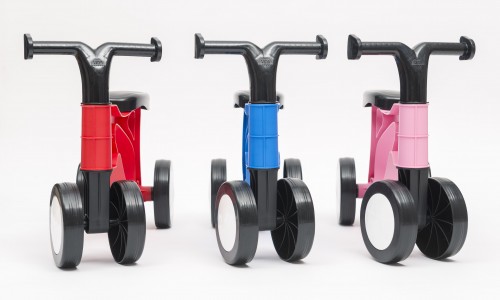 With the Toddlebike 2 the original concept has been improved, to give it a sleek, modern look and making some physical improvements. It includes all the key features that have made it such a success, such as its light weight (about one third of a balance bike), and compact design with narrow wheels, so young children can learn to steer and balance effectively at their own pace indoors around the home (although it can also be used outdoors).
Toddlebike founder Jo Hockley explained to Cycle Sprog how the the Toddlebike2 has changed:
We've changed the style slightly to make it look more 'bikey' . Improvements include a slightly more central seating position (handlebars are slightly further back, saddle slightly forward) so it should be more stable front to back, but maintaining the all important in-line wheels so that the Toddler still needs to master balance in their riding.

We've also brought the crossbar up so that it's almost in-line with the saddle – we know that most Toddlers start out sitting on the crossbar but hopefully now the step back to the saddle won't be such a reach!

The dimensions and weight (less than 1kg) stay the same as does the 3 year guarantee – hopefully we've taken all of the best parts of Toddlebike and made it a little bit easier for Parents and Retailers to understand, and for Toddlers to enjoy!
Toddlebike2 is available to purchase through independent bike shops and on-line at Amazon
.
Other articles to check out whilst you're here:
If you've enjoyed reading this article, please do sign up for our newsletter - we'll keep up updated when we have new articles which may be of interest. Thanks!