Kathryn and her family (Alice 12, Tom 9 and husband Richard) were on a family cycling holiday bikepacking in Indonesia when their trip took an unexpected turn. They'd flown to Bali with their 4 bikes, and ridden a "Volcano to Sea" route from north to south of the island. After a few days rest and recuperation they'd taken the boat to the island of Lombok to continue their cycling adventure. Unfortunately, things didn't quite go as planned on Lombok.
Our Indonesian family cycling adventure reaches Lombok
The first thing we noticed on arrival in Lombok is that it's a lot quieter and not as developed as Bali. The second was that because the community are Muslim, the call to prayer echoed out from tannoy systems wherever we went.  Little did we imagine that a few days later they'd be used for another purpose.
Our initial few days were spent in Selong Belanak, with its white sand beach and mountain backdrop.  There's a good selection of warungs (local restaurants) where you can eat, rent surfboards and even have a surf lesson. It was all very low key and the perfect place for me to catch up on writing about our family cycling adventure in Bali.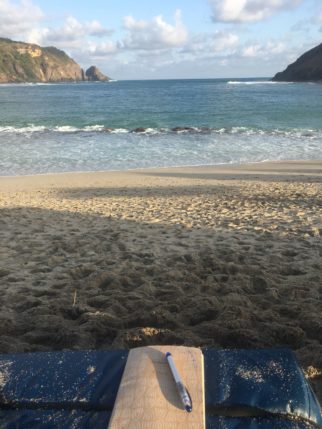 If you stay in the village you can be the first to surf in the morning. The sea is calmer and the scooter crowd have yet to arrive from Kuta.  You can then catch the sunset more or less alone, after they've gone.
We stayed at Jo's Place which was functional but clean, with a large pool and 5 mins walk to the beach. If you can pull yourself away from the beach, there is some great (but hilly) cycling to be done along the south coast (both ways).
Cycling Sembalum Valley and Senaru, Lombok
Our next bikepacking adventure was to be a two-day cycle inland through rural Lombok. We started at the pass, which as you can see had breathtaking views:
The ride was downhill to the valley floor, and we stopped to pick and eat strawberries on the way!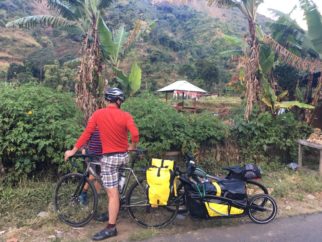 Lombok's roads were generally very good quality for cycling.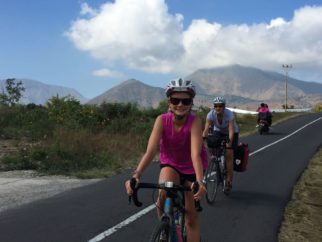 Although not always!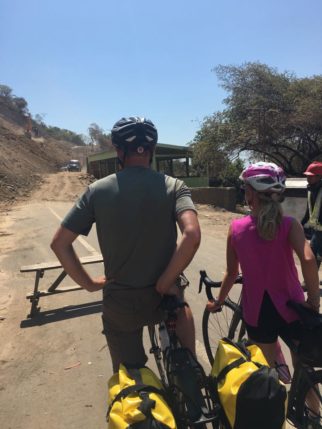 We stayed the night at Sembalum, near to the entrance of the Rinjani National Park. The second day was an undulating ride along the valley, until we reached Banyan where the road ascends steeply to Senaru.  It's a tough but worthwhile climb – or you can always hitch a lift.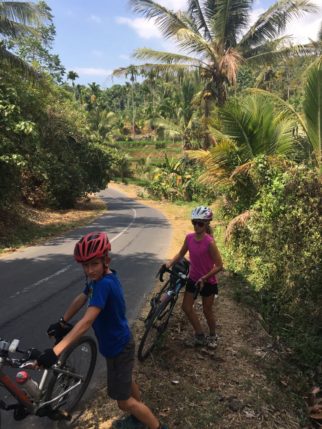 We quenched our thirst at the Rinjani Lodge and swam in their infinity pool whilst taking in the magnificent view of the Rinjani Volcano.

We were so excited to arrive in tranquil Senaru and found some perfect accommodation at Guru Bakti with stunning views of Rinjani and the valley below. It was our perfect spot to rest and rejuvenate after two days of arduous cycling through the Sembalum valley.   We went to bed and crashed out. It was Saturday 28th July 2018.
Lombok earthquake
At just before 7 am on the Sunday morning we were woken by loud rattling. My split-second thought was that it was the troupe of black monkeys we'd seen the day before jumping around on our roof, but then I realised the room was actually shaking. My next thought was the kids. Richard and I ran from our room to their room next door. Alice and Tom were sat up in bed, huddled together, screaming. We tried to calm them down but also knew we needed to get outside – and quickly.
Grabbing their hands we ran out of the room together,  where we met our fellow residents in various states of undress. Everyone was in a state of equal shock. What just happened? Was it really an earthquake? Was everyone out? Was everyone OK?
Two Dutch girls were particularly badly shaken and were crying. The roof of their room (unlike ours) was tiled and many tiles had fallen off and the centre of the roof collapsed.
Mr Di, the Home Stay owner confirmed it was an earthquake, though he couldn't say where.  His advice was that we should remain outside the building as more earthquakes were predicted to follow. Another guest recommended we grab our passports and money. She had received an SMS that told her a 6.5 earthquake had occurred in the area of the Rinjani Volcano.  We could see it in the distance, and think about all the people we'd seen yesterday.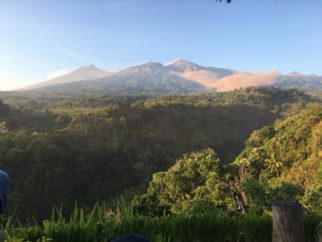 For the next hour or so we sat looking out over the volcano, as aftershocks made the ground shudder and sounds of landslides rumbled through the valley, followed by loud chattering of monkeys. The air was full of birds (and dust). Miraculously during this time breakfast of fried rice was served!
Around 10 an announcement was made over the tannoy system of the local mosque. The Indonesian government had predicted a further earthquake of 8.9 within the next hour.
Although our instincts and knowledge of earthquakes (which until Sunday was pretty limited!) told us that it was extremely rare for earthquakes to increase in size and they largely couldn't be predicted, we had no other information. Suddenly the mood changed.
People who had been calm were now panicked. Everyone was nervous. As we made our way up the road to a larger open space, directed by locals, we were all thinking the same thing. If the last earthquake was 6.5, what was 8.9 going to feel like? And how would we fair? The next hour was a waiting game……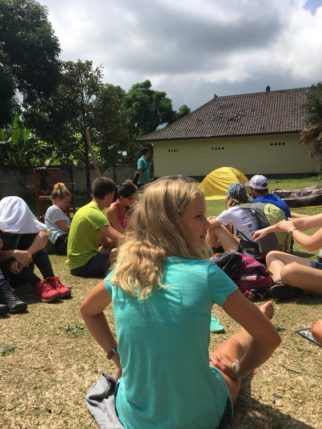 The hour passed, then some more. Apart from a series of aftershocks nothing happened. A tourist who had been on the mountain when the earthquake happened returned. He looked shocked and covered in dust,  jumped on his motorbike and rode off. People in the group start to talk about leaving too.
I venture up the hill to try and get a feel for what is going on, and to see if anyone has any better information. Restaurants and shops which yesterday, when we arrived, were bustling, are closed and there's an eerie silence about the place. The only traffic on the road are motorbikes carrying tarps, bamboo and tents. Other groups of tourists and locals are gathered like us in make shift 'camps' in open spaces in front of buildings.
Rinjani Lodge, where we swam in the pool the night before, has been badly damaged and is trying to evacuate their guests. All the drivers are coming from the coast because the drivers from this area won't risk driving on the road. They want to stay near their families and seem fearful of possible landslides.
The only way out is west along the coast, as the east road and the road through the National Park are closed. Some people seem keen to arrange transport, but the official advice is to stay put for 24 hours. We discuss it briefly in the group. All but one couple, who were heading west to Sengiggi, decide to stay.
The day passes in a blur of card games, swapping  travel stories, checking the internet for updates when connection allows.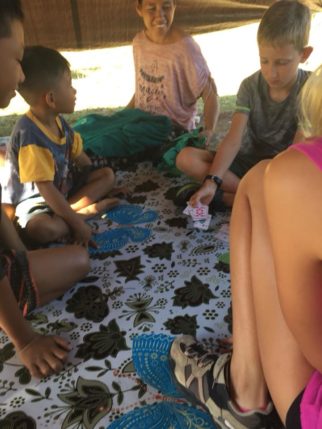 I manage to borrow someone's hotspot to send a quick message home that we're safe. The call to prayer happens as usual. Mr Di and his family supply us with water and noodles so we don't go hungry or thirsty. A tarpaulin gets erected to keep the sun off.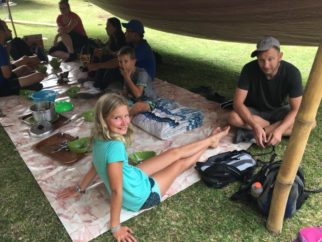 As dusk arrives we gather bedding from our rooms and settle down to try and get some sleep. The full moon is burning orange in the sky just above Rinjani. We share a thought with those still up there (anything between 400-600 trekkers, guides and porters).
During the night the ground shakes often. We hug each other, but it feels safer being in the open. Richard and I doze, the kids sleep. At some point the electricity returns, though they may have just found a generator.
At sunrise we get up, gather our things and say goodbye and good luck to our new found friends.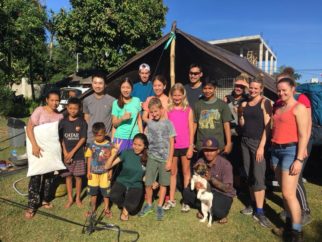 We cycle out down the hill towards the coast with the aim of getting a ferry to the nearby Gili Islands. The road is passable and seems unaffected, but either side people are sleeping outside their homes in makeshift shelters and tents. At Banyan, the fire brigade has arrived to supply water.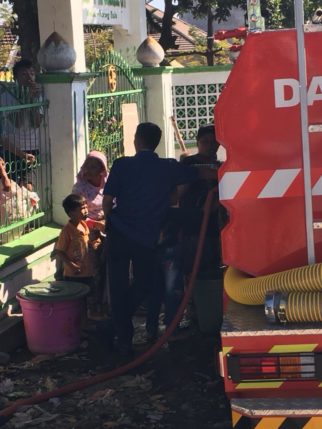 There's more evidence of police than we've seen for our whole time in Indonesia. After an hour or so we spot a van parked up on the side of the road and after some negotiations (the driver asks us to pay extra as 'danger' money) we load the bikes of the roof and set off for the harbour.
On the road we pass a convoy of diplomats (maybe the president?) and frequent ambulances. We can only assume they are heading to the Sembalun valley.
It's only once we've taken the boat off of Lombok and reached the safety of the nearby island of Gili Air that we link in to the international news and begin to process what we have just been part of.
Thankfully everyone was eventually evacuated off the mountain to safety. Our thoughts remain with the local people who now have to rebuild their homes and their livelihood.    All we have to do is replan our trip to ensure we can still catch our flights home in a weeks time.
You can read about the next stage of our bikepacking trip on Gili Air here.
Editors Update:  Kathryn, Richard, Alice and Tom had continued their cycling holiday on Gili Air, and then took the boat back to Bali. A second earthquake struck Lombok and the Gili Islands on Sunday 6th August, with severe aftershocks, felt on Bali. The family are safe and will be flying back to the UK within the next 24 hours.
About Kathryn:  As well as enjoying family cycling adventures, Kathryn runs an intercultural learning consultancy called Up+ Thrive and also provides advice and support to ex-pat partners through Kathryn Relocated.
Other posts you'll find useful: