It's Day 2 of Kathryn's family cycling holiday in Indonesia. She arrived on Bali by plane with her two children (Alice aged 12 and Tom aged 9) along with husband Richard and their 4 bikes. Whilst on Bali they did a "Volcano to Sea" route from the north to south of the island. Day 1 of cycling was from Penelokan to Sidemen. Their adventure continues with the second full day of cycling, from Sidemen to Pandangbai.
Bali family cycling holiday – Day 2 – Sidemen to Pandangbai
Today we set off on day 2 of our Bali cycle tour in search of the sea. Much like the day before the cycle is either downhill or flat and on good tarmac.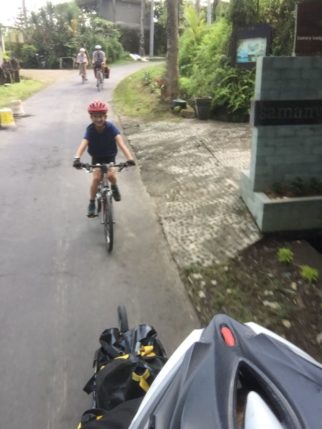 The ride starts in the lush green landscape surrounding Sidemen, but after 9 km we say goodbye to the rice terraces. We meet little traffic until we hit the main road. Here the landscape changes, the road flattens out and we travel through farmland and coconut palms. After a few miles in amongst the traffic we turn off to find a quieter route, weaving our way through a series of small villages.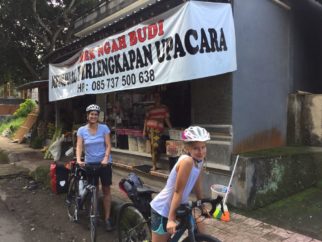 We stop for mangoes, coconut water and bananas along the way, all of which are growing around us and bought with our very rudimentary Indonesian.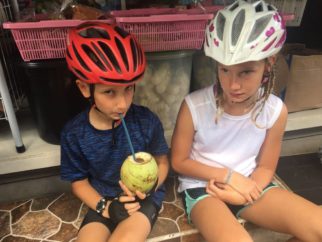 We've just mastered the numbers 1 to 5, hello and thank you! We also try snake fruit (named after its peel which looks like the skin of a snake). Inside you find a hard cream coloured fruit which tastes a bit like a sugary pineapple. Google it!
We join the main road again for a short 'head down ' busy stretch along the coast road. The only thing keeping us going by this stage is the view of the ocean to our right. As we approach Pandangbai we become part of Bali's equivalent to 'Operation Stack' (the trucks that queue up at Dover waiting to cross the channel).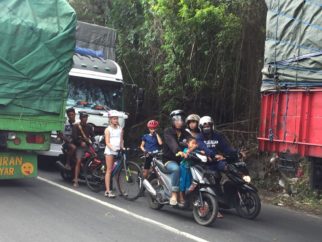 Only here they are waiting to cross over to Lombok. It's hot (we should have set off earlier!), the kids are running low on energy (coke break sugar injection) and it's hard not to breathe in the fumes (I do wonder sometimes how healthy this option really is as our lungs are filled with carbon monoxide?!) as we cycle down the side of the idling trucks.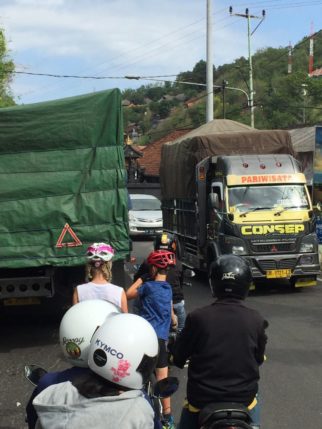 Just in time (I mean before anyone totally looses it!!) we reach our turning and the beach road! We've made it. Volcano to Sea – HURRAY!!!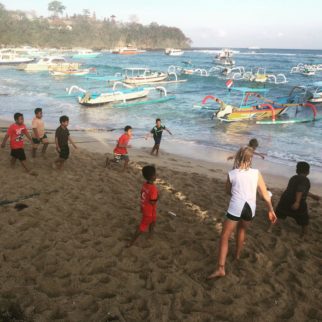 We enjoyed 3 nights in Pandangbai which is a low key working harbour where travellers – Indonesian and western hang out mainly doing one thing – sorting out and waiting for a ferry to their next destination. Ours is Lombok …..
Keep tuned for Kathryn's next post – things don't quite go as planned on Lombok.
About Kathryn: As well as enjoying family cycling adventures, Kathryn runs a intercultural learning consultancy called Up+ Thrive and also provides advice and support to expat partners through Kathryn Relocated.
If you've enjoyed this post, you must read these: