E-bikes (aka electric bikes, or e-assist bikes) are becoming increasingly popular – they're a great way to make cycling more accessible to a wider population, especially in areas where there are hills, or for people who for whatever reason find riding a normal pedal bike difficult. However, the focus to date has been on adult e-bikes – probably due to a mixture of the cost and complexity of creating a children's e-bike, so we were really excited to see a 24″ wheel kids e-bike at the 2018 Cycle Show – the Cube Acid 240 Hybrid Youth.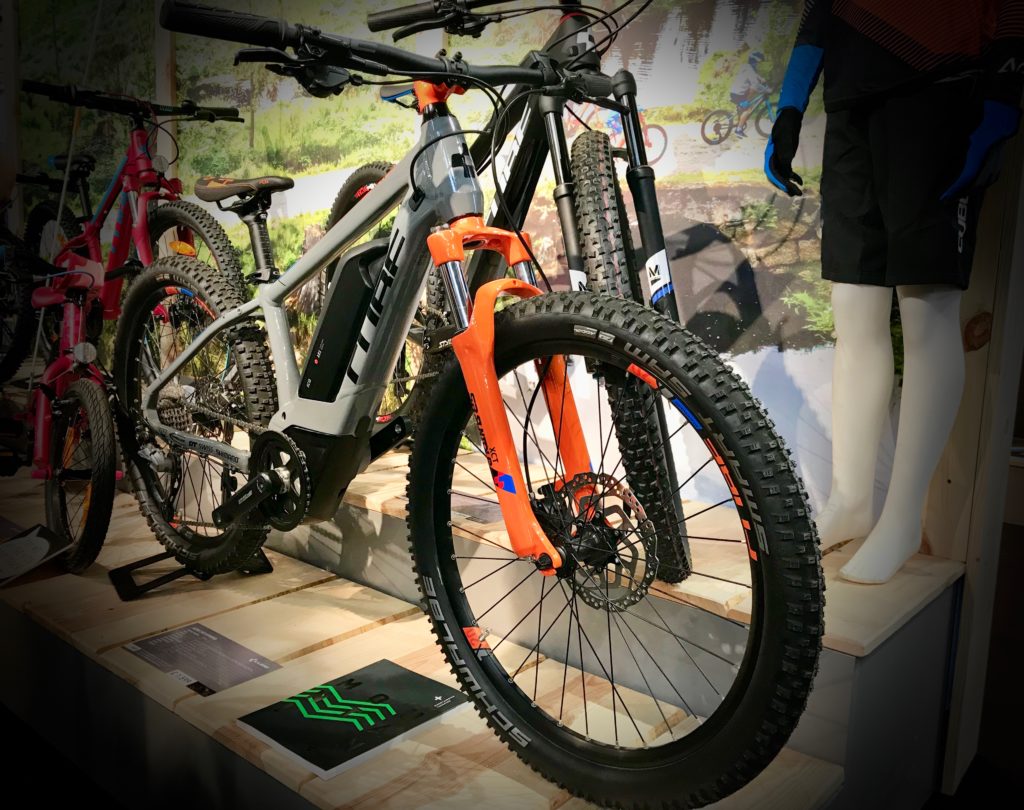 The Cube Acid 240 Hybrid Youth on display was an early model for demo purposes as it's not due for release until April 2019, so unfortunately we couldn't get a sneaky ride on it this time – but we were able to ask lots of questions about the bike.
Cube are making use of the same technologies and design features on the 24″ wheel kids e-bike as on their full size adult Acid Hybrid bikes, which means it uses a Bosch Active drive unit with a Purion controller, and a 400Wh battery.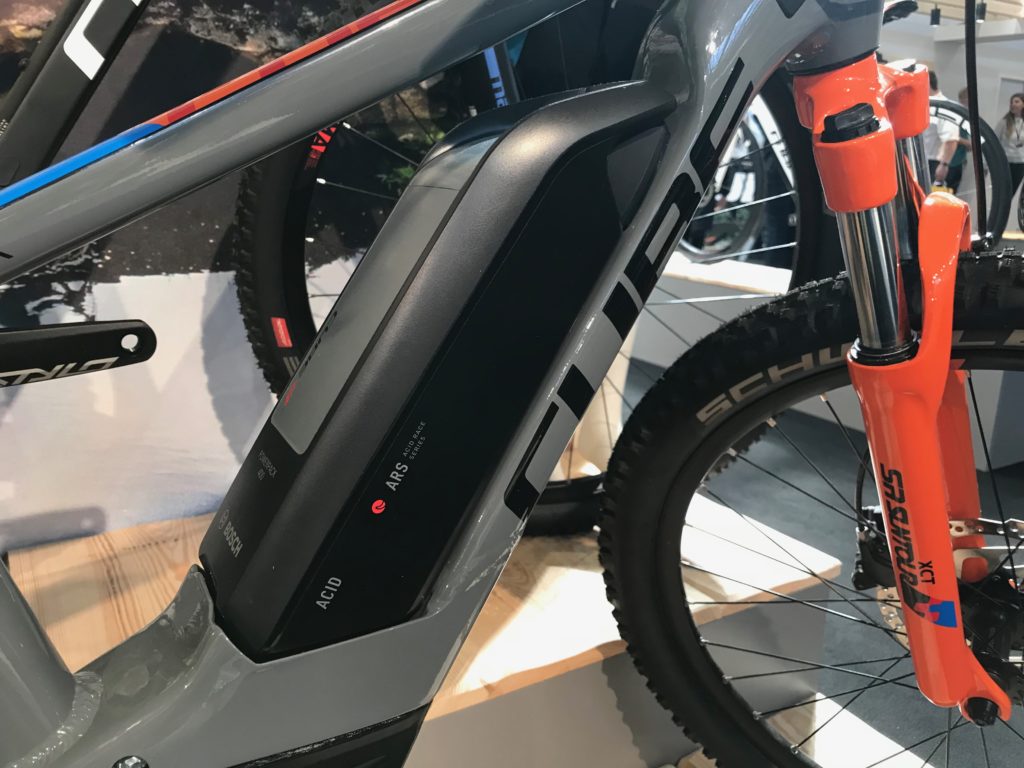 As a total novice to e-bikes, I have to confess to not having a clue what this means in terms of performance, so after a bit of questioning, this is what I learnt from the team at Cube.
The Cube Acid 240 Hybrid uses Shimano's easy-shifting 9 speed transmission mated to a 40 Nm Bosch Active motor, which puts power to the rear wheel. The power on the 24″ wheel bike is less than that found on the equivalent adult bike, but the lower power to weight ratio of the rider should mean that the battery performance is about the same on the adult and kids bikes.
I'm guessing a big concern that parents will have about an e-bike is battery life. Cube told us that the estimated battery life is about 3 and a half hours on undulating trails, or else it's capable of one climb of 1,500m. Given your Cycle Sprog won't need the motor for the descent back down, this should be enough for a decent spin out.
The Cube Acid 240 Hybrid Youth will be supplied with a 2 amp charger, which should provide a full charge in 8 hours, but Cube also sell a 4A charger for £50 which would halve the charging time.
I was slightly concerned about the weight of the e-bike (18.5 kg) and whether a child would be able to manoeuvre it. However, the Acid 240 Hybrid comes with a 'walk assist' mode for this purpose. This is obviously all well and good when there is still charge in the battery, so you'd have to be very careful not to be out on the trail for too long.
Given that the UK law prohibits kids to ride e-bikes on the public roads under the age of 14, any 24″ wheel kids e-bike is going to have to be for purely off road use. As with the majority of e-mtb bikes, the centre of gravity should be low giving a stable platform from which to have fun with.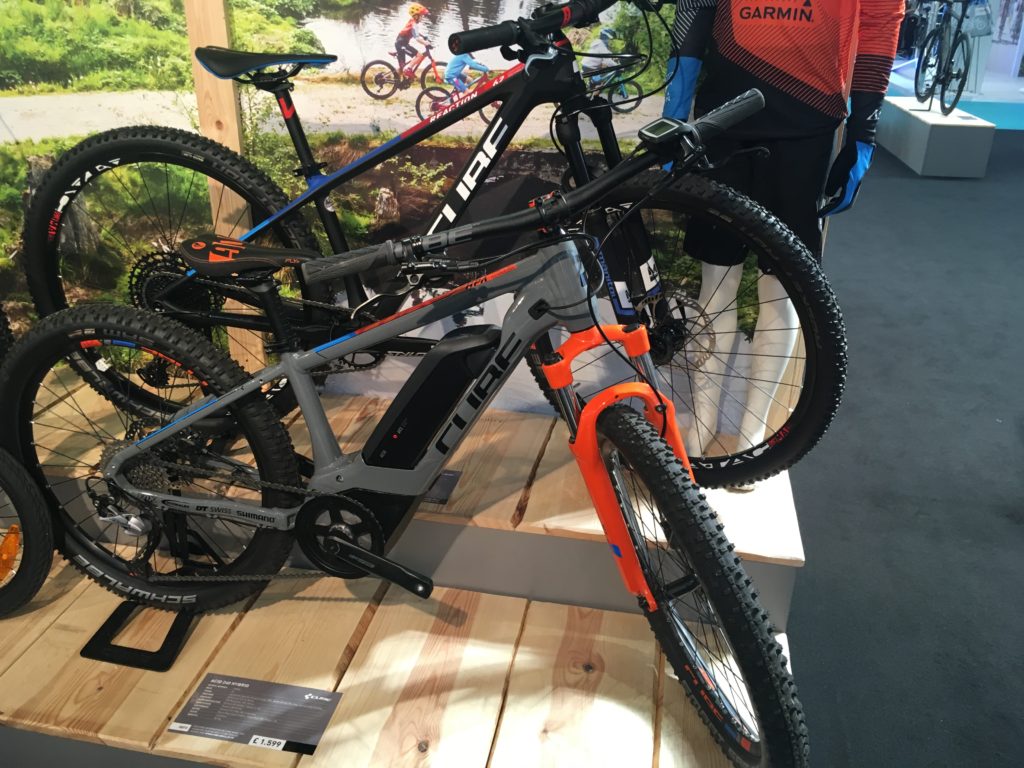 The bike itself is built around a Cube aluminium Superlite frame, with Shimano MT200 disc brakes and SR Suntour XCT JR forks which give 80mm of travel. There's an FSA Metropolis 38-tooth chainset with appropriate length crank arms that hooks up to a 9 speed Shimano drivetrain using an M3000 Acera rear derailleur and M2000 Altus shifter to change between the ratios on the Shimano 11-36T cassette.
The Cube Acid 240 Hybrid is planned to go on sale in April 2019, with a price of £1,599. If you follow us on Facebook or sign up for our newsletter we'll let you know when the bike becomes available in the UK.
I'd love to hear what you think about this bike. Are you tempted to get your Sprog one? Or do you prefer good old fashioned pedal power? Do leave a comment below. Thanks!
Other posts you should read whilst you're here: