Hire a kids bike trailer, rear seat of bike car rack this Summer and get out riding with your child!
This post includes affiliate links:
Affiliate disclosure: Cycle Sprog may get a small commission if you make a purchase from the links in this post. For more information please see our affiliate policy
Have you always wanted a kids bike trailer so you could cycle as a family but didn't want to commit to a big expense?
For many of us, it doesn't make sense to go out and buy a brand new kids bike trailer. Kids grow up and out of things so fast. The equipment takes up so much storage space in the garage (that is if you have a garage!) and it requires time to invest in maintenance and repairs. It can also be harmful to the planet to buy things unnecessarily.
So, imagine my excitement when an email popped into my inbox telling me all about a NEW kids bike trailer & seat rental website new for summer 2021!
After a successful pilot scheme last Summer (which Cycle Sprog helped with) Kids Bike Trailers have now officially launched and are the UK's first dedicated online website for kids bike trailer and seat hire, designed for families nationwide to enjoy great adventures together!
Kids Bike Trailer Hire offer a range of children's bike trailers and seats for hire. Kids Bike Trailers are offering parents the opportunity to try out cycling experiences; whether needing a short-term rental for a long weekend, or looking for a season-long rental, the hire period is flexible to the family's needs. There is even the option to purchase the product after use!
They also offer cargo trailer hire and car rack hire – as well as a doggy trailer hire too! We can't forget about our four-legged friends can we? Check out the Burley Tail Wagon!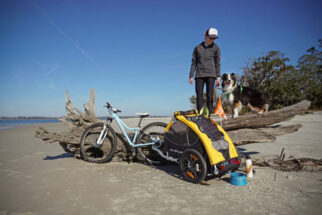 Going on holiday? Rent a kid's bike trailer for your family holiday
From a long weekend to a full summer staycation, the items can be delivered straight to your accommodation – hassle free.
This is one of the features of the hire scheme I really like. They will deliver a trailer of your choice to your holiday destination address, so you do not even have to worry about the faff of getting a trailer the boot of your car! I think back to when our two Sprogs were of a trailer age, and how useful this service would have been. There were several holidays where we would have loved to take our bikes on our car rack and ridden with the boys in a trailer. However, there was no way we could fit our own trailer in the boot of our car along with all our holiday kit.
On occasions, we ended up hiring bikes and seats from hire places which worked out a lot more expensive for a single day of fun. Have you seen the extortionate prices holiday parks charge for day hire!! For a standard days trailer hire at a venue, kids bike trailer hire offer you 7 days hire for the same price. A two-week hire equates to less than £5 per day…you can't even buy ice creams for the family for that price!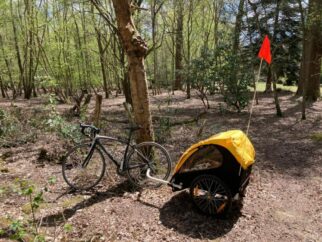 Why risk buying and only using it a few times? The ultimate try before you buy!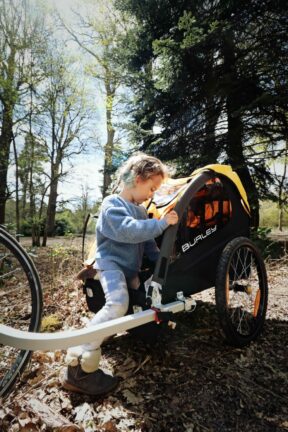 Top-quality bike trailers can be pricey items to purchase outright without trailing, and there are so many makes and models on the market to choose from.
You can rent various branded kids trailers and at the end of the hire period, you can decide to send the trailer back, extend the hire, or buy the trailer.
Sarah tells me that over 50% of customers choose to either buy or extend their hire period.
I think this is a brilliant idea and I would have really appreciated being able to test out a quality trailer on our daily commute and would have probably realised instantly the difference all the added features make compared to the cheap and flimsy trailer we started out with.
What children's bike trailers are available to hire?
With top brands to choose from including Burley, Hamax, Avenir and Shotgun, Kids Bike Trailers stock only the trusted quality brands.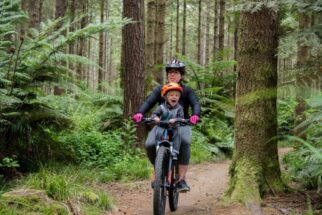 The platform was the first to stock the new Burley D'Lite X Single Trailer and Burley Bee Single Trailer, available now.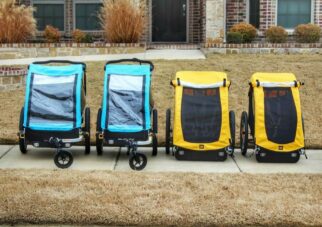 If you can't decide if you need a bike trailer or a child seat? Hire both and see what suits your lifestyle.
The experts at Kids Bike Trailers will take customers through a personal step-by-step to ensure they receive the items to suit their needs and get set-up to take full advantage of time in the saddle outdoors with the children.
To complete the family cycling adventure package, Kids Bike Trailers also hire out Saris car racks, starting from as little as £10. The racks are also available as a "try before you buy".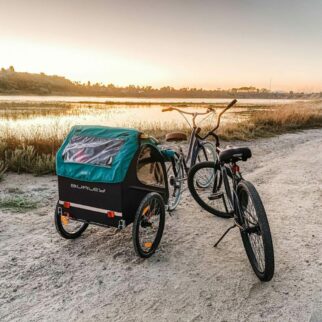 How does delivery and return work?
Obviously, the practicalities of the scheme are really important.
Kids Bike Trailers offer door to door delivery, with flexible hire periods.
Kids Bike Trailer Hire deliver nationwide (UK mainland) using a signed for courier service. Or if you are local, you can arrange to pick up and return in person, saving on delivery costs. Kids Bike Trailer Hire are based in Surrey, close to Gatwick.
Booking on their website is really easy. On the checkout page you can select 'delivery only' or 'delivery and return'.
What age children are the trailers suitable for?
The age range for the trailers is 12 months to about 6 or 7 years. Burley's official advice is:
"To ride in a Burley trailer behind a bicycle, the industry standard is to wait until a child is one year old. While each child's physical development is unique, we recommend that a child should be able to sit upright unattended and hold his or her head up while wearing a bicycle helmet. Please check with your paediatrician if you are in doubt about your child's neck strength. For strolling or jogging in a Burley trailer, a child should be able to sit upright unattended, which generally occurs around six months of age. The Burley Baby Snuggler™ is recommended for extra support and comfort for children ages 3-12 months. Please check with your pediatrician if you are in doubt about your child's neck strength."
Kids Bike Trailers hire out the Burley Baby Snuggler – which keeps your littlest traveller secure when out and about.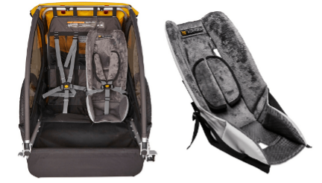 At the upper age range, then again this does depend on the weight and height of your child. Burley's advice on this is:
"Children typically are able to ride in the trailer until about age six, or until they become too tall for their helmet to fit below the internal roll bar. The max age will depend on the child's development. Burley manuals say a maximum age of 7 years old. However, the maximums to consider are more related to the height and weight that a trailer is rated to accommodate. All Burley kid trailers have the same maximum height recommendation of 41.25 inches. The weight capacity for a double trailer is 100lbs. The recommended max weight per child is 40lbs."
To convert to metric – 40lb is just about 18kg and 100lb is 45kg. 41.25 inches is 104.7cm.
Of course, all this depends on whether you're fit enough to haul 45kg behind you!!!
How do I know whether the trailer I'm renting will fit my specific bike?
This is where the personal service of a small business comes to the fore.
Kids Bike Trailers will work with you to check that the trailer or seat is compatible to your bike. When you book online you have to fill in a form with your bike details and if they require more details they will be in touch. If you have any questions they will be happy to help.
Sarah the founder, set up her first rental business, Tri Wetsuit Hire three years ago. Wetsuits come in all shapes & sizes and so she knows the importance of customer services and realises not every customer will have the same bike!
I'm interested in renting a trailer this summer – what do I need to do now?
If, like me, you are really excited to hear that it's now possible to rent bike trailers anywhere in mainland UK then all you need to do is head to the website and book your hire in!
You can contact Sarah directly on 07801 758722 or via email on [email protected]
We predict that this service will be super popular, especially with more and more families seeking to limit their car usage and get out on their bikes more, whether on a permanent basis or just during their holidays. You would better book early to avoid disappointment!
Other posts you may like to read whilst you're here: