FollowMe Tandem have updated their range to reflect the changes being made to kids bikes over the past few years.  The Islabikes Version is being replaced with the "FollowMe Tandem Hollow Axle Version" which has different adaptors for smaller bikes.  For those of you who haven't come across a FollowMe Tandem before, it is an ingenious contraption which allows you to pull your child's bike (with them on it) behind your bike.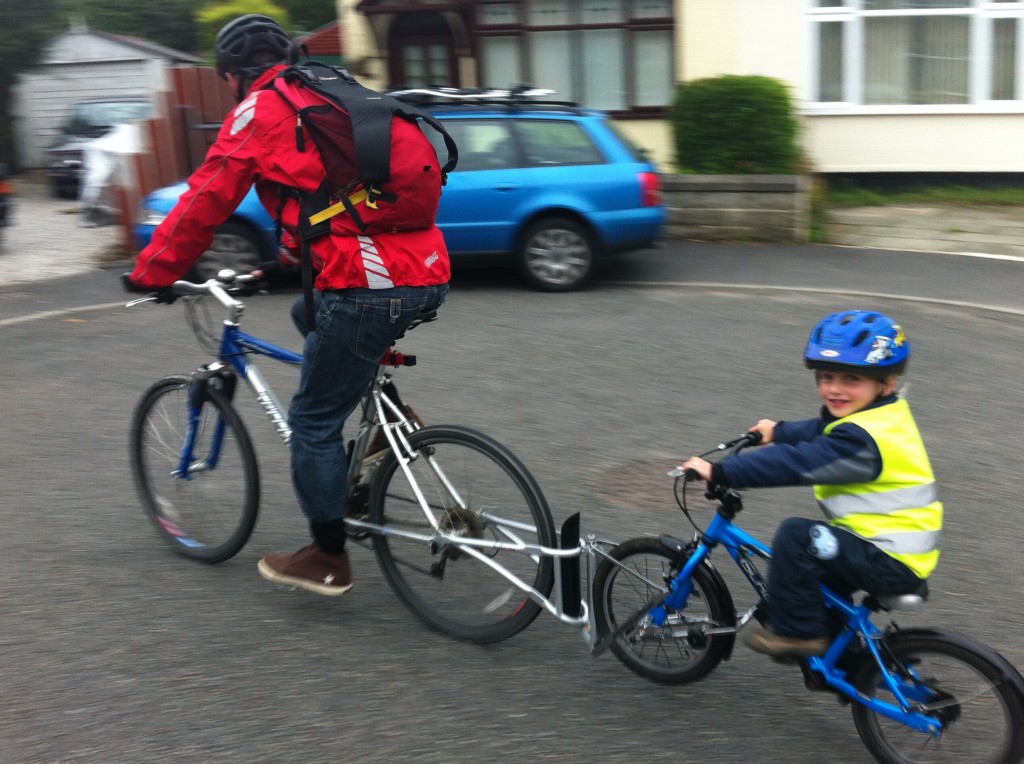 When you want your child to ride their own bike you unhook them and away they ride, and you just hook up the FollowMe to your seat post and continue riding.  They're not cheap, but are a great way to keep cycling during those tricky years when your child wants to ride themselves, but doesn't have the strength and stamina to go as far as you need them too. They're also good if you're having to ride part of your route in traffic.
For more information, you can read our full review of the FollowMe Tandem here.
Rename of the FollowMe Tandem Islabikes Version
When the FollowMe launched it was only possible to use with bikes with solid axles. This proved a problem for Islabikes riders, as they were the first kids bikes to be fitted with hollow axles.  A special adaptor was required to bolt through the axle, rather than the more traditional wheel nut system used on heavier kids' bikes with solid axles.  Therefore FollowMe created a separate version they named the "FollowMe Tandem Islabikes Version".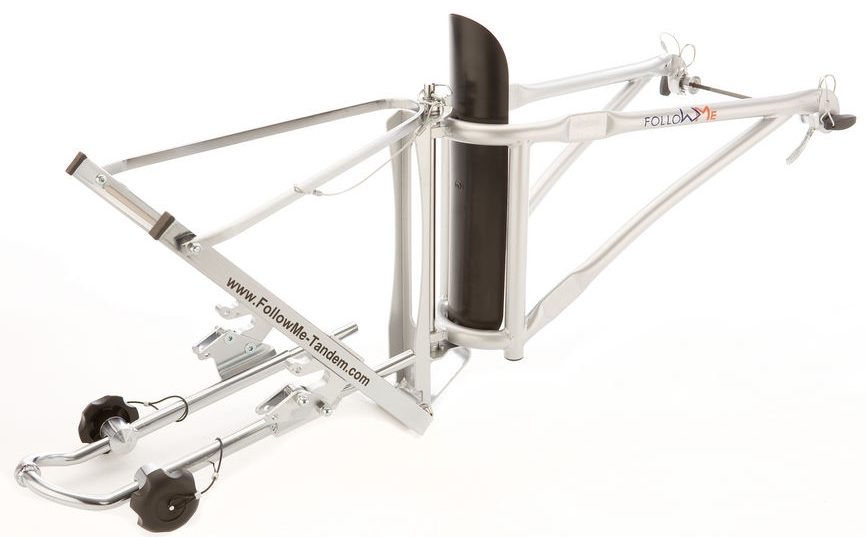 However, as more and more lightweight kids bikes are being released this was starting to get confusing. Does the FollowMe Islabikes Version work with a Frog Bike? Or with a Wiggins Bike? Or a Dawes Academy? etc etc – you get the picture. So they've renamed the Islabikes Version to be the FollowMe Tandem Hollow Axle Version to avoid confusion.
New FollowMe adaptor for smaller hollow axle bikes
In addition, FollowMe have also developed a new part for kids' bikes with hollow axles. This part is specifically designed for smaller starter bikes with 14″ and 16″ wheels and provides a more secure fit.
For kids' bikes with 20″ quick release wheels the adaptor will remain the same as in previous years.
When ordering the Hollow Axle Version, customers will now be able to choose which size child's bike it's for to make sure they receive the correct adaptor.
How to tell which FollowMe Tandem you need
You need the Traditional FollowMe Tandem if your child's bike has wheel nuts.
You need the hollow adaptor version  if your child has:
a) a 14″ or 16″ wheel kids' bike with hollow axles which have allen or hex key bolts or
b) 20″ wheels with hollow axles which are secured by a quick release skewer
You then need to confirm which size wheels they have, so you get the correct hollow axle version.
If you are unsure which version you need, or whether the FollowMe will fit with your (adult) bike you can contact FollowMe at CycleSense who will help you out.
The FollowMe's are available online from www.followmetandem.co.uk or from a small network of approved suppliers.
Other articles you may find useful:
If you've enjoyed reading this article, please do sign up for our newsletter - we'll keep up updated when we have new articles which may be of interest. Thanks!