The problem with having a front mounted kids bike seat is that when the weather is bad your child takes the brunt of the bad weather – be that rain, snow, hail, sleet or wind. 
As they are not moving, they will get cold very quickly so it's really important to try and protect them as much as possible. 
A bicycle wind shield is a great way to protect them from the elements whilst they sit in their front seat, meaning you can continue to cycle all year round. 
Affiliate disclosure: Cycle Sprog may get a small commission if you make a purchase from the links in this post. For more information please see our affiliate policy
Cycle Sprog was provided with the Polisport Front bike seat windscreen for review. We were not paid to write this review and all opinions are our own. 
Polisport bicycle windscreen review
The Polisport bicycle windscreen has been fixed firmly to the front of our school-run commuter bike all through the winter.
We added it to the bike as a way of protecting T from the elements, as he sits on a front-mounted bike seat and so takes the brunt of any poor weather.
Fitting the Polisport windshield was a painless process, involving nothing more than a few tools and a careful read-through of the instructions.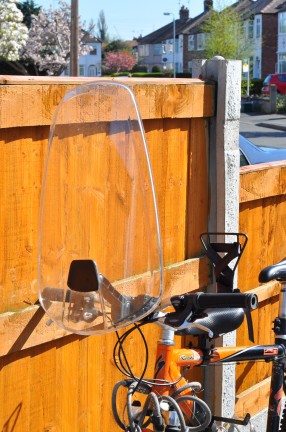 There is plenty of adjustment, to allow the windscreen to be set up to suit your child's dimensions, and we were able to position it so that wind was deflected away from hands, body and head – perfect!
If you want more details on this check out my article on  fitting the Polisport front seat windscreen.
Once in place, it looked rather odd. An accessory you would expect to see on a motorbike or scooter, not on a road bike laden down with children.
So to be honest, I wasn't sure what to expect in terms of it's usefulness.
If you've found this article useful, why not sign up to our newsletter
Other posts you should read whilst you're here:
This review was published in spring 2013 and updated in Autumn 2021 to reflect availability of the front bike seat windscreen