Once upon a time, a long long while ago, Chris and I used to go camping and cycling at the weekends. We had a Wild Country two man tent
with a porch just big enough to contain our matching his and hers go steady Specialized Rockhopper Mountain Bikes.
We'd finish work on a Friday, leap in the car and head off for a weekend of adventure – the Peak District, Keilder Forest and the Lake District were our favourite destinations.
We'd arrive at the campsite, pitch the tent and head to the pub. The tent was just big enough to sleep in, and we had a tiny Primus stove to boil up water for a cup of tea the next morning.
Two days of mountain biking later, and we'd get back home on the Sunday night, exhausted, exhilarated and fortified for the week ahead. I'd share some photos with you, but it was such a long time ago we used something called "film" and got our photos "developed" (yes – I really am THAT old!!!)
Then, one day the little blue line finally showed in the pregnancy test window, and before we knew it we were Mummy and Daddy.
The tent is now in the loft – stored behind the Christmas Tree – a relic of a previous life remembered briefly each December.
Time moves on
Our youngest is now 4 years old, and I've finally got to the point where I can contemplate camping again.
Last year Chris bought a family tent with a footprint I swear is bigger than a one bedroom house we rented in London many moons ago. It took half a day to put up in our back garden!
A couple of nights "camping" which resulted in one or other of the boys back in their bed each night, combined with the perusal of catalogues and websites highlighted the fact that camping with young children requires a wide array of equipment. We don't have table, chairs, stove, sleeping mats, crockery, cutlery, lamps, cool box etc etc etc. Camping with a young family is expensive, and also takes a huge amount of energy and organisation.
My mind kept going back to my very early camping days. We never camped as a family, so my view is somewhat clouded. I grew up with Guide camping, where we would make our own bedding roll holders and washing up stands out of wood and string at the start of each camp, and cook on open fires.
I then moved on to Duke of Edinburgh where a group of us would wild camp each college holiday. We'd carry everything we needed on our backs. To me, this was "Proper" camping.
I recall clearly one day in the Lakes as a know-it-all 18 year old. We ended up walking onto a campsite for some reason, and I was truly shocked to see people driving up in their cars and getting their tents, tables and chairs out the boot – this was surely cheating!! I'd never ever camp like that!
Can we go camping and cycling with the kids?
The "rock up in the car, pitch the tiny tent and go cycling" years duly came along, but I still didn't have the table and chairs. My 18 year old self would have surely approved, given the circumstances – wouldn't she?
Back to the here and now. In the year since our attempt at garden camping the debate has raged. Chris wanting to buy all the gear, and head off for a camping adventure.
Me arguing that I don't have the energy or mental capacity to contemplate this (or the space to store everything we'd need to purchase).
It's been a crazy year for me work wise, I'm travelling all over the country and feel exhausted . I need my holiday to have some form of rest and relaxation, and time to enjoy being with my family. I have (rightly or wrongly) convinced myself that I cannot do a camping holiday and retain my sanity.
And so I found myself suggesting a compromise solution that would have my 18 year old self totally and utterly flabbergasted.
We're going glamping!!!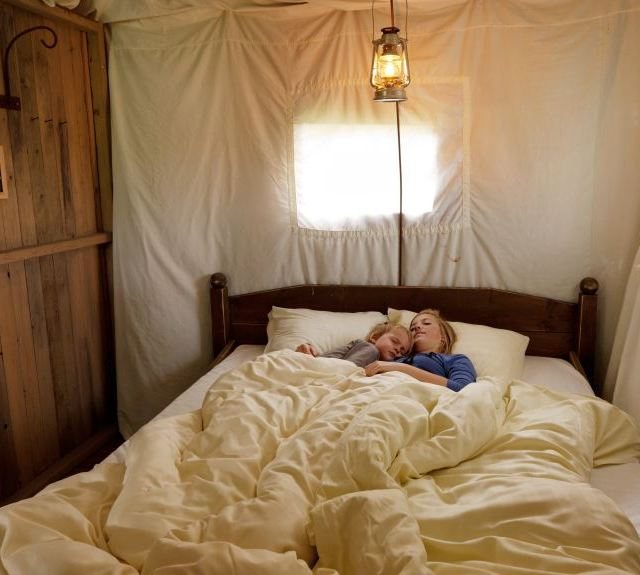 A chance conversation on a train with a guy who'd just come back from a Featherdown Farm glamping holiday set me thinking, and it seems like the perfect solution for our current situation. The boys get to enjoy the joys of camping, whilst I get to rest and relax, and sleep in a bed.
And so we're off to Sunninglye Farm, near Tunbridge Wells in Kent (a LONG way from home!)
I'm really really excited about going glamping (although if the truth be told I'm more than a little nervous about being surrounded by beautiful home counties yummy mummies and their Boden clad offspring).
We will spend time away from the madding crowd, and if the weather is nice we'll roam free, and perhaps hire some bikes and explore the surrounding area. If the weather turns wet and dreary before then, we can cozy up inside our enormous mobile home and not worry about how the hell we're going to dry the tent out when we get home.
But perhaps the best thing is that I've finally put that naive 18 year old girl's view of the world to rest – what the hell did she know about anything anyway??
I'd love to hear how you've changed your lifestyle since your Sprogs came along – do drop me a note in the comments below.
Other articles to check out whilst you're here:
If you've enjoyed reading this article, please do sign up for our newsletter - we'll keep up updated when we have new articles which may be of interest. Thanks!