It's one of life's only certainties – life moves on and we all get older. I'm becoming increasingly aware of time's march forward at the moment, especially as we've just passed the "becoming a teenager" milestone!!!
As the Cycle Sprog boys get bigger, stronger and fitter in their abilities on a bike (and generally more knowledgeable about the world in general) it's a fine line between battling to keeping up with them, and gracefully realising that at some point they will possibly surpass my abilities in certain areas.
Some changes are obvious. I am never going to ride a black graded mountain bike trail. Frankly, it would be dangerous to even try and I'm happy to be relegated to camera mum as they make their first attempts.
Some changes are more subtle – I am starting to relinquish my ability to keep ahead of the boys in terms of stamina and endurance. I'm going to keep on trying to hang in there, but to be honest, at some point in the next couple of years I'll be seriously slowing them down (unless I embrace the e-bike technology).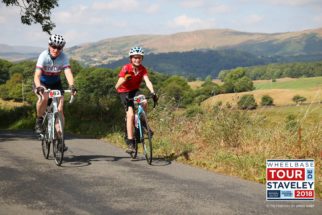 It doesn't mean I can't keep cycling and trying new things, but they need to ride on ahead and find the limits of their own abilities.
However, some changes are much more fundamental. The moment you realise that you're children are just SO much more talented at something than you, and that it's time you bowed out gracefully.
I give you the new Cycle Sprog presenting and music composition team! I'm off to lie down for a much needed rest……………..
Cycle Sprog is an family run, reader supported, website. We belong to several affiliate schemes so may receive a small commission from sales made from links on our site. We do our best to be impartial and recommend products on their quality not whether they are in a scheme.
If you'd like to buy the Giant ARX 20 now you've seen the Cycle Sprog boys unboxing video you can do so at Tredz.
The bike retails for £299
Disclosure: Cycle Sprog have been loaned the Giant ARX20 to review by Giant Bikes UK. We have not been paid to make this video and all opinions and comments are our own. We are however affiliates of Tredz so may get a small commission payment if you make a purchase after clicking on the links on this page.
Other posts you may like to read whilst you're here:
If you've enjoyed reading this article, please do sign up for our newsletter - we'll keep up updated when we have new articles which may be of interest. Thanks!