Last week we were very excited to be asked to review the new FollowMe Tandem.  This is a brand new entrant to the UK market, and allows you to fix your child's bike to your own bike extremely securely. 
At over £200, it's not for the casual cyclist (a trailgator or towbar will do the job if you're only riding a few times a year!) 
The FollowMe Tandem is much more aimed at those parents doing a lot of on-road cycling or those planning long weekend and holiday rides with a little one who starts to flag part way through the ride.  
As Chris is the technical writer, he'll be writing a full review of the FollowMe in the coming days, so do come back for the full details. 
(Editors update – you can now read the full review of the FollowMe Tandem here – but carry on to read our 3 year old's first impressions of the FollowMe)
Today, however, we fitted the FollowMe to our 14″ wheel Islabike Cnoc, and T went for his very first ride.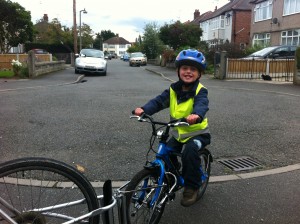 Affiliate disclosure: Cycle Sprog may get a small commission if you make a purchase from the links in this post. For more information please see our affiliate policy
The first ride out using a FollowMe Tandem
At not-quite-four, T still hasn't mastered riding the bike, and instead whizzes round on his balance bike. 
He's not been on our tagalong, as it's reserved for getting N to school (and we need T to sit on the front seat or our logistics fail!), so today was the first time T has ever been on a big boy bike, been able to pedal and go somewhere!
"Somewhere" was actually coming back from Nursey.
He was picked up by Chris, and when he got home he was ecstatic! 
I had to go outside and watch him do demonstration circuits around our cul-de-sac, and take numerous photos. 
He was pedalling like mad, something he's not had to do before, and his grin was from ear to ear.
He was also delighted to have tried something out before his big brother, so there was a bit of gloating over the tea table this evening!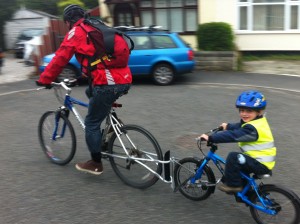 The FollowMe was the last thing he was talking about as I tucked him up in bed this evening too, so it definitely gets the thumbs up from this happy 3 year old.
As for Chris, on this first, admittedly short, ride out, he was extremely impressed with the handling and robustness of the FollowMe, following his efforts getting it fitted.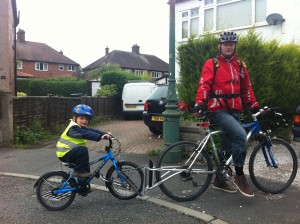 My main concern at the moment is how we're going to stop the boys fighting over who uses it – wish me luck……
Disclosure: Cycle Sprog were sent the FollowMe Tandem to review in September 2012. We were not paid for our time in reviewing the article.
Follow up articles:
Other articles you may want to check out whilst you're here:
If you've enjoyed reading this article, please do sign up for our newsletter - we'll keep up updated when we have new articles which may be of interest. Thanks!