The Barracuda XC Sport 24″ junior front suspension bike (also known as the Cuda XC Sport 24″ Mountain Bike) is an alloy kids bike designed for recreational off-road cycling. It's sized for kids aged from about 7 (if they are tall) through to the start of the teenage years (if they're not so tall).
The RRP for the Cuda XC Sport 24 is £250, but it can be picked up for about the £200 mark if you shop around.
Here, mum of two Sarah tells us how her daughter gets on testing the pink (i.e. girls) version of the bike.
Who was testing the Baraccuda Cuda XC Sport 24″ Mountain Bike?
The Cuda XC Sport 24″ front suspension mountain bike
was reviewed by Grace, a seven year old girl, of average height (130cm), who weighs 4 stone. She's a competent cyclist, but until the Cuda XC Sport 24 arrived for review had never ridden a 24" wheel bike before, and was stepping up from an 18" wheel.
This change from a 18″ to a 24″ wheel was quite a big step up, and she had a few initial wobbles. However, she soon got the hang of the Cuda's larger frame size, and now rides it with ease.
The Cuda XC Sport 24 was delivered as you would expect in a large strong cardboard box. The bike we were sent for review unfortunately had a damaged right hand rubber grip, but had we been purchasing the bicycle in our local bike shop, this would hopefully have been picked up and replaced.
How easy is it to build up a Cuda XC Sport 24″ kids bike?
Once removed from the box the bike took approximately 15 minutes to set up and adjust to suit Grace's size. The rear reflector had to be removed from the seat post to allow us to reduce the seat height. The Tektro V-brakes come with with short reach levers, which we needed to adjust to their fullest position to bring them closer to her hand grip – this is a very simple operation that only requires a suitable screwdriver.
If you're not comfortable setting up a bike, then it would be best to buy the Cuda through your local bike shop and they will be able to assemble it ready for your child to ride away.
What's the Barracuda Cuda XC Sport 24″ mountain bike like to ride?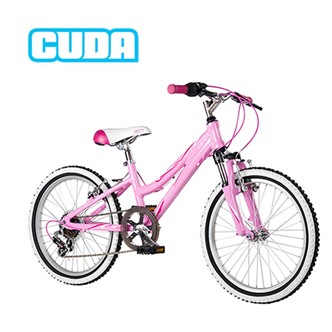 The Cuda XC Sport 24″ front suspension bike appears to be well made and comes fitted with reliable Shimano shifting equipment. Initially, our 7 year old reviewer was (as you'd expect!) desperate to try out all 18 gears, and she was able to change gear efficiently in the smallest chainring, with all gear changes smooth and quiet. In all our rides out she never really needed to use the multiple chainset.
My daughter found the bike very comfortable to ride, probably partly due to the front suspension, something she didn't have on her previous 18″ bike. Whilst the suspension adds comfort, it also adds additional weight, and she did find it a bit heavy to manoeuvre at very slow speeds, or when parking up in the garage.
She tested the Cuda XC Sport girls bike both on the roads around our village, and off road on forest tracks and paved paths (including a holiday at Center Parcs). It rode well on all surfaces, and she had no problems negotiating the odd tree root or slippery leaves.
As is usually the case when your child goes to the next size kids bike, the Barracuda was much faster than her old bike, so our rides have become quicker as a result.
What did our 7 year old reviewer think of the Cuda XC Sport 24″ mountain bike?
Grace liked the pink colour, but felt that there was a bit too much pink and that there should be some more white towards the front of the bike potentially the front forks and at the head of the frame. She liked having so many gears, and found the suspension on the Cuda made the bike comfortable to ride.
Parents review of the Barracuda
Cuda XC Sport Junior 24″ front suspension mountain bike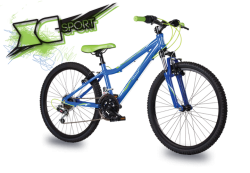 My husband's view was that the adult sized pedals on the 13.5″ frame don't look quite right proportionally but this is standard practice on most children's bikes, for some reason, and didn't noticeably affect the ride.
The Barracuda XC Sport comes in two colours – pink and blue. While Grace likes the pink at the moment, I would be concerned that she may think it a bit too "girly" as the years pass.
Also, as we have a younger son, as parents we need to consider that any kids bike we buy needs to appeal to both boys and girls.
It would be good if the Cuda range was available in more unisex colours, as other than that the Cuda XC Sport 24″ is a great bike.
Where to buy the Barracuda Cuda XC Sport Junior 24″ front suspension mountain bike
To find out if your local bike shop is a Barracuda / Cuda stocklist, click here.
Alternatively the Barracuda Cuda XC Sport 24″ front suspension mountain bike
can be bought on-line at Amazon.co.uk in both the pink and blue
Editor's note
The Barracuda Cuda XC Sport 24″ Pink Junior Front suspension bike was provided to Cycle Sprog for review. You may have noticed that this review doesn't have our usual standard of photos of the bike in use – this is due to what I'm calling a "technical hitch". Unfortunately we didn't realise this until after the bike had been returned to the supplier, but I'm sure you'll agree that in this case the words are able to paint a picture instead.