Unless you've been living the life of a hermit for the past 5 or so years you can't have failed to notice the rise in popularity of balance bikes. A decade ago if you wanted a bike for your toddler you took the pedals off of a small kids bike.
Then a few manufacturers realised this was a great way to teach kids to ride and suddenly it was possible to buy a balance bike – simply a small bike with no pedals or brakes for helping kids master balance before they progressed to a first pedal bike.
In a matter of years the world has gone balance bike crazy, and manufacturers have been getting more and more adventurous in their designs. Here's a selection of the coolest balance bikes available today.
Early Rider Road Runner 14″
Early Rider bikes are designed, built and tested at Henley-upon-Thames in the UK, and have really taken the design of balance bikes to a new place. Having started out making wooden balance bikes, their move into aluminium heralded a massive step up in desirability, reaching a pinnacle with this drop handlebar version which weighs in at just 3.5kg. I remember first seeing the Early Rider Road Runner in a shop window – a really jaw dropping moment not usually associated with balance bikes.
The Early Rider Road Runner 14″ has a seat range of 37.5cm to 47.5cm, which makes it suitable for slightly older riders aged about 3 to 5 years. It's available online at Evans Cycles and at many independent bike shops around the UK.
The Phantom light up balance bike
When we featured this balance bike on our Facebook page, it got more comments and likes (from parents!) than any other bike we've featured, many with the comment "When are they bringing out an adult one!). What more do we need to say?!!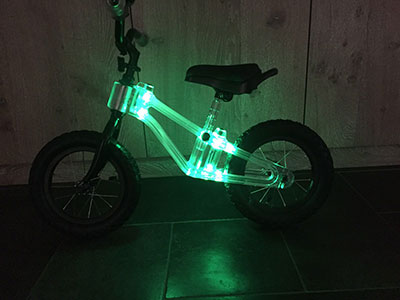 The Phanton light up balance bike is available from Amazon and independent bike shops around the UK.
Early Riders Bonsai Balance Bike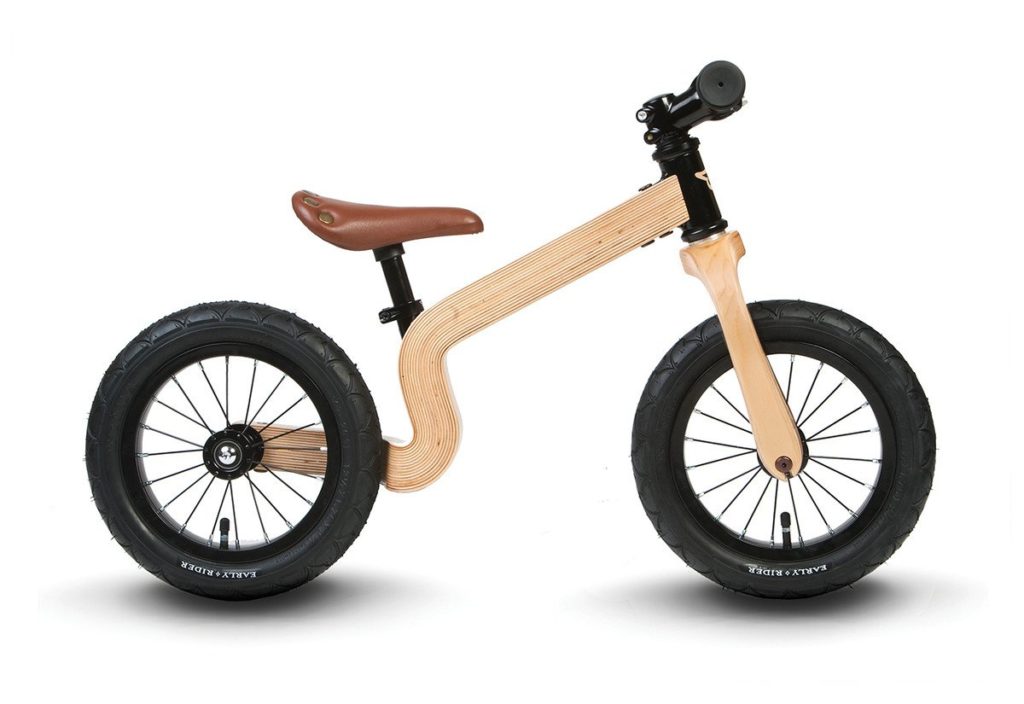 Early Rider have gone back to their wooden frame beginnings with their latest offering, the Bonsai. I found it hard to choose between the Road Runner and the Bonsai, so I've included them both! The Bonsai's frame is made from FSC Grade birch veneer and the steerer and headtube are lightweight 6061 aluminium. The result is a stunning balance bike that weighs in at 3.75kg.
The Early Rider Bonsai is available to buy from Tredz Cycles and many independent bike shops around the UK
Wiggins Pau Single Sided Balance Bikes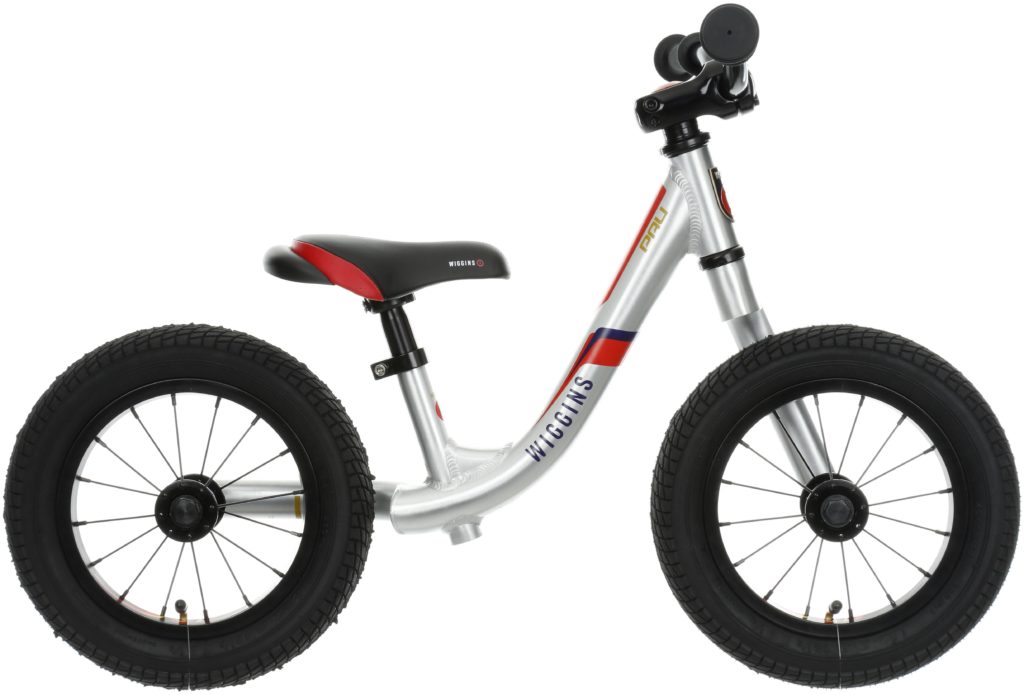 Sir Bradley is known for doing things differently and his new Wiggins Pau Single Sided balance bike is no exception. As the name suggests, the frame is single sided with a single fork at the front and rear. The Pau is the smallest in the recently released Wiggins Kids Bike range that uses a cool "mod" branding throughout.
The lightweight aluminium frame and forks result in a balance bike weighing only 3.6kg, which can be carried by the useful grab handle on the back of the seat if required.
The Wiggins Pau balance bike is available exclusively at Halfords
Kiddimoto Karbon
If you ride a carbon fibre bike, you'll know how lightweight it feels compared to its metal and aluminium counterparts. The same applies to balance bikes, and if money is no object you can provide your toddler with the same experience for a mere £999.99.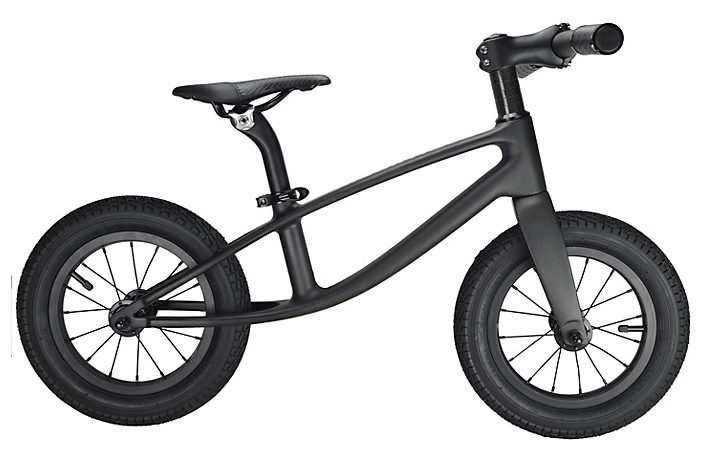 The Kiddimoto Karbon comes with Carbon Fibre frame, forks and handlebars and a specially designed gel saddle to provide the most comfortable of experiences for your bottoms. Available exclusively at John Lewis, the Kiddimoto Karbon will really make your child the envy of all other parents at the local bike park!
Bobbin Bikes Gingersnap Balance Bike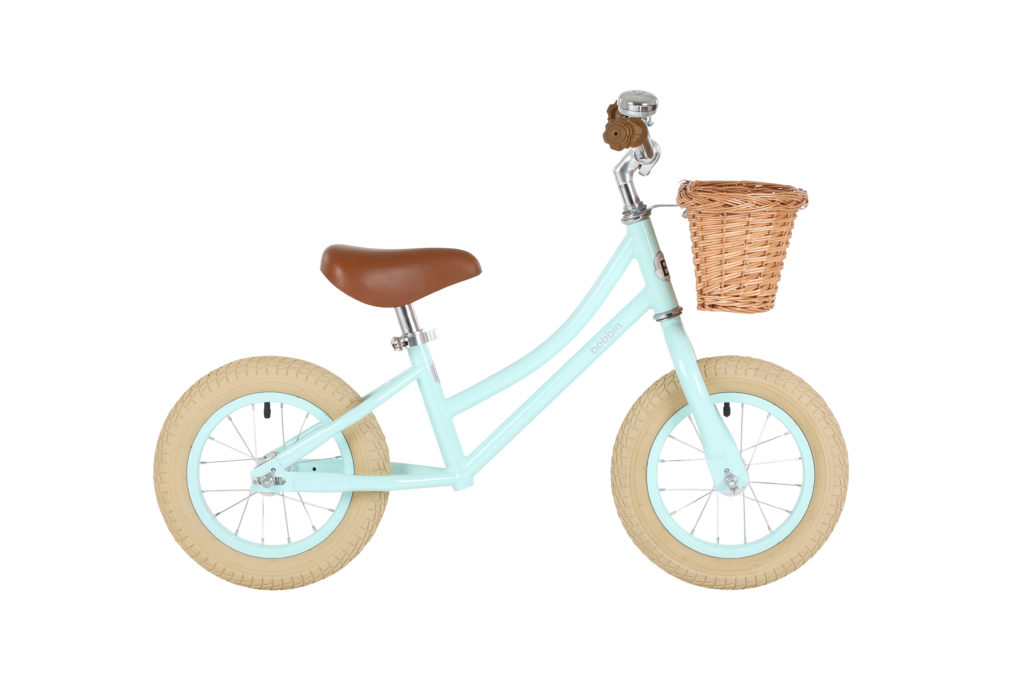 There is something so relaxing about riding a Dutch style city bike – you can pedal along in an upright position wearing your best clothes, dreaming of being fully segregated from the traffic! Ever since a cycling holiday to Holland with the kids I've been converted to the ease and comfort of riding city bikes, so I was very excited to see the new Bobbin Gingersnap balance bike. Bobbin Bikes are a small independent bike company based in London and are gradually expanding their kids bike range.
Dutch bikes aren't renowned for their lightweight materials, and as such the steel framed Bobbin Gingersnap weighs in at 5kg. The little basket on the front will be excellent for transporting favourite cuddly toys and snacks, while the cream tyres and brown vinyl saddle complete the stylish look.
The Bobbin Bikes Gingersnap is available from Wiggle
Wishbone recycled balance bike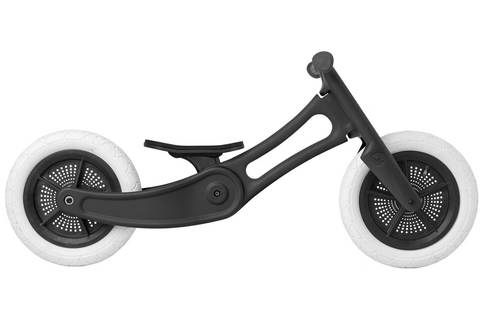 This balance bike is quite incredible – not only is the Wishbone made from recycled carpets it also grows with your child. There are two versions – the 2 in 1 allows expansion from a seat height of 23cm (shown above) all the way up to 51cm using Wishbone's patented "Rotafix" system. The 2-in-1 version weighs in at 4.8kg .
The slightly more expensive 3 in 1 version starts out as a three wheeled trike and transforms into the balance bike, which means it can be used from age 12 months and over. As expected the extra wheels add a little weight, so whilst in trike mode it weighs 8.3kg.
The Wishbone balance bike can be customised with colourful seat covers, frame stickers and handlebar grips, all of which are available at Tredz bikes
If you've been tempted by any of these bikes, or know of any other fabulously designed balance bikes we'd love to hear from you, either in the comments section below or via our Facebook page. We're also on Twitter if you prefer to keep things short and sweet!
You may find these other articles useful:
Disclosure: Cycle Sprog may get a small commission via affiliate links to products mentioned on this page. This is used to help fund the website hosting – thanks for your support.