Creating a literary based fancy dress costume for World Book Day is now an annual ritual for most families with primary school aged children. Here at Cycle Sprog we love seeing what cycling based characters are chosen for World Book Day costumes each year, and 2019 was once again an inspirational year.
Here's a few of my favourite outfits I saw throughout the day – I hope they help inspire you for future World Book Day characters. After all, what's more fun than going to school in your cycling kit? (And hopefully on your bike too!)
The best cycling themed World Book Day Costumes 2019
Not suprisingly, Flying Fergus was the most popular cycling themed character for WBD costumes. The series of 10 books, by Olympian Sir Chris Hoy, is enjoyed by so many children it's not really a shock that so many fans want to dress up as the main character. We also saw ET, Geraint Thomas and Danny MacAskill out there. I've been struggling to find many female cycling based characters, so if I've missed you out and you want to be included, do let me know, either via email or Facebook.
The best Flying Fergus World Book Day costumes
Phil Moss sums up the anxiety felt by many parents as World Book Day approaches – which is why being able to go in your cycle kit is such a relief!
I love everything about #WorldBookDay but it can be an anxious day for parents finding an outfit their children want to wear. Nothing pleased me more with George's choice this year with his love of sport and reading colliding with the greatest of role models Sir @chrishoy. pic.twitter.com/2FyIIAIxX4

— Phil Moss (@filjmoss) March 7, 2019
There was also the relief that you don't have to go out and buy a whole load of single use plastic items……
Feeling a little bit smug as I didn't have to buy anything new for #WorldBookDay2019

Slightly disappointed I've had to 'ruin' a T-shirt though.#sustainability #saynotoplastic @chrishoy #FlyingFergus pic.twitter.com/FvQZ5lJPP7

— ImperfectEco (@ImperfectEco) March 7, 2019
One Flying Fergus even decided to look like the author too:
World book day, when you go as your hero @chrishoy @SarraHoy pic.twitter.com/cqg8dVvpjv

— deborah mcmurray (@deborahmcmurra5) March 7, 2019
And this one even got the freckles correct:
Thanks for the inspiration @chrishoy ….Flying Fergus ?? #worldbookday2019 pic.twitter.com/3ht3y4evHk

— Liz Wilcox (@LizWilcox83) March 7, 2019
Fergus usually cycles for the Hercules Hopefuls, but for this World Book Day he's been riding second claim for Sutton Cycling Club: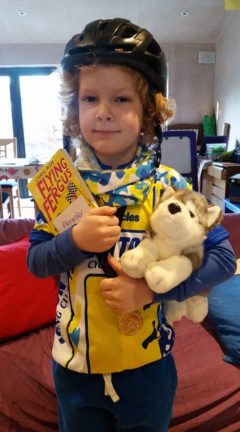 Quite a few people have specially made Hercules Hopefuls tops:
World book day and Nathan's off to school as flying fergus. He loves these books!! @chrishoy #worldbookday #cysticfibrosis #flyingfergus #cycling pic.twitter.com/Ir8WotoIVn

— Jamie Brown (@Jamie8Brown) March 7, 2019
@chrishoy guess who Dominic chose for #WorldBookDay2019 ? pic.twitter.com/PV1aszmDvI

— Mike Khan (@MikeKhan9) March 7, 2019
https://www.instagram.com/p/BusyVYdh3at/?utm_source=ig_web_button_share_sheet
This costume even has a front and a rear review – very impressive:
— Louise Baker (@loubyloubaker) March 7, 2019
Geraint Thomas World Book Day costume
Given his amazing victory in the 2018 Tour de France, it isn't surprising that Geraint Thomas was another choice for World Book Day, especially as he has also written a new book called "The Tour According to G"
Here's Geraint and Fergus together:
Flying Fergus @chrishoy and @GeraintThomas86 for these two @MaindyFlyersYCC @TeamSky #WorldBookDay2019 pic.twitter.com/DkBp87HlFt

— Elen King (@ElenKing) March 7, 2019
Danny MacAskill World Book Day Costume
Cycle Sprog follower Kim got in touch to share this great photo of her son going to school in his Danny MacAskill World Book day costume, clutching the book "At The Edge".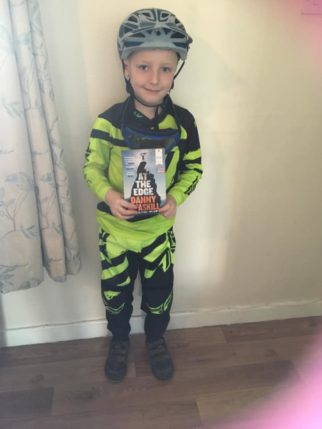 Kim told me "My son hates dresssing up but was happy to go in his cycling gear as Danny MacAskill".
ET on a Bike World Book Day Costume
I absolutely LOVE this costume – it took me right back to my childhood, crying my eyes out as ET tried to phone home. And of course the film has one of the most iconic cycling moments ever! I think I'll revisit it with my Sprogs and see if they enjoy it as much.
Knights and Bikes World Book Day Costume
There's a new series of children's books about cycling recently been released, called Knights and Bikes, and I suspect that in future years we'll see more World Book Day costumes featuring the main characters of Nessa and Demelza. Here's a few ideas on how this could look.
Looking for a homemade @WorldBookDayUK Costume? Nessa and Demelza have you covered! #WorldBookDay2019

Join THE KNIGHTS AND BIKES REBEL BICYCLE CLUB ?⚔️ pic.twitter.com/HoHLphdAD4

— Knights Of (@_KnightsOf) March 6, 2019
Mary Poppins World Book Day Costume
Remember those fabulous cycling scenes in Mary Poppins Returns? Well, here's a great Mary Poppins costume from Jenny, who is the Bike It Officer for Southampton. She has been going round delivering Sir Chris Hoy's non-fiction children's book "On Your Bike" to schools in the area.
Today I have been "Poppin" into a few schools with a special delivery for #WorldBookDay. I have seen Cats in Hats, wizards a and I found Wally! Fabulous book I donated is by @chrishoy and a great read for pupils and staff! @MyJourneyHants @sustrans @SustransSE pic.twitter.com/PAuFuPPbZL

— Bike It Southampton (@BikeItJenny) March 7, 2019
Harry Potter on a Bike costume
Ray is the Bike It Officer for South Hampshire, and he went dressed as HarRay Potter to deliver cycling related books to his local schools – complete with a NimBUS 2000 attached to the rear of his bike!
Haray Potter ?✨? has been out on his #onthebus2000 delivering 1 of his favourite books ?@chrishoy #flyingfergus @WorldBookDayUK
Keep On Rollin' & Keep on Readin' Muggles…opens up a whole new world ?@MyJourneyHants @sustrans @SustransSE #worldbookday19 #WorldBookDay2019 pic.twitter.com/m8WAKUdhJ1

— Bike It Ray (@bikeitSH) March 7, 2019
If these outfits have inspired you to have a cycling themed World Book Day costume next year, but you can't quite decide which character to choose, why not check out these posts for more ideas:
If I've helped you out of a stressful situation with this post, then why not buy me a coffee to say thanks- it will help keep me going onto the next World Book Day! Thanks, Karen
Affiliate Disclosure: We are an affiliate of Amazon, through which all these books are available. This means that if you make a purchase after clicking on one of our links we may get a small commission. It doesn't affect what you pay but really helps us to keep the website going. Thanks for your support