The Dutch manufacturer of the popular Babboe cargo bikes, used by an increasing number of parents here in the UK, have issued a safety warning about some models of their "City" cargo bike.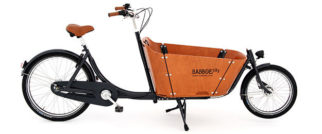 The warning applies to their two-wheel cargo bike model CITY with Frame numbers starting with GB10, GB11, GB12, GB16K, GB16L, GB17,GB18, U17, U18, WSP3 and WSP4.
What's wrong with the Babboe City cargo bikes?
After quality testing, Babboe found that the CITY model frame parts, produced between 2010 and 2012, have a manufacturing error. In addition, front frame parts produced between 2017 and June 2018, may have welding defects.
In a statement on their website Babboe advise "Intensive use may possibly cause hairline cracks in the affected frames. These cracks may lead to the frame sagging and therefore create an unsafe situation. This means the frames do not comply with the high quality standards they set for our cargo bikes. We won't take any risks and will replace the above-mentioned frame parts free of charge."
The safety warning comes just days after Babboe City user and blogger Diane Farrell (aka Mummy's Gone A Cycle) wrote a blog about the problems she'd had with her Babboe City E-Cargo bike snapping in half whilst she was riding it.
For more details of the Babboe recall and how to check whether your bike is affected by this recall visit the safety notice on their website.
Other posts you may find interesting: