IF YOU'RE PLANNING TO ATTEND THE 2022 CYCLE SHOW AT ALEXANDRA PALACE GET YOUR 20% DISCOUNT CODE HERE
The 2013 Cycle Show took place at the Birmingham NEC last weekend (27th to 29th September), and Cycle Sprog's very own Karen Gee was there to find out what's going on in the world of family cycling.  Here's a few of the things that caught her eye…..
Kids Bikes
At this year's Cycle Show there were two exciting new entrants in the UK kids bike market on show – Frog Bikes and BMW.
Frog Bikes launched at the start of 2013, with bikes aimed at ages 3 through to about 14.  Having already reviewed the Frog 55 here on Cycle Sprog, it was good to see the entire range, including the new Pudsey Bikes sold in aid of Children in Need.
I was pleased to learn that Frog Bikes have responded to feedback on the early models by introducing longer seat posts, meaning the bikes will last that bit longer before needing to upgrade to the next size.  They're also sticking to their green credentials by introducing a used bike scheme, where Frog Bike stockists can buy back a bike that is no longer needed, refurbish it and then sell it on.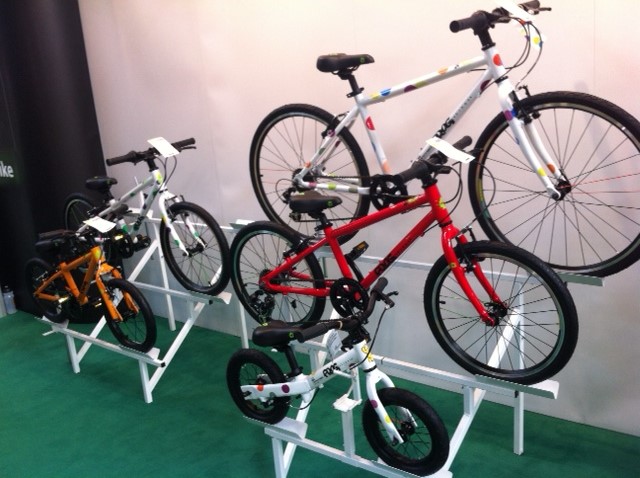 BMW have been selling their Kidsbike
and Cruise Bike Junior on the continent for a number of years, but these uniquely styled bikes have only recently become available in the UK.  The BMW Kidsbike (RRP £245) starts off life as a balance bike, but once the young rider is ready to move onto pedalling for themselves, a chain and set of pedals can be added, which then allows the bike to grow with the child, meaning it could last one child from under 3 to over 6 years of age.
For older kids, the BMW Cruise Bike Junior is a 6 speed, front suspension bike designed for 6 – 9 year olds, which retails at £429. I could wax lyrical about the design of these bikes, but here's a picture of the Kidsbike instead!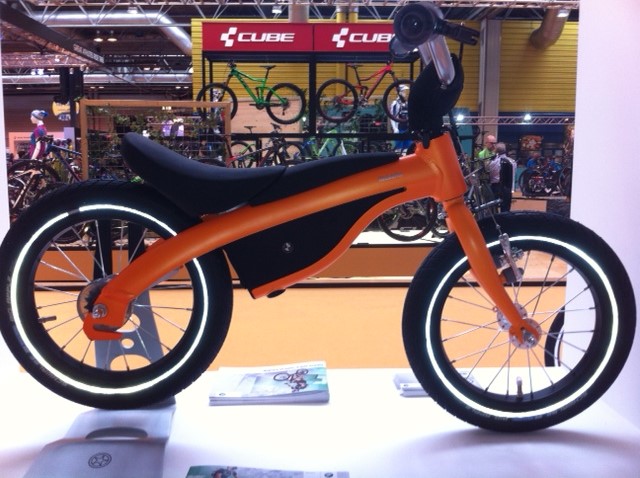 Elsewhere, a wide range of Bumper and Cuda bikes 2014 models were on display. Unlike the unisex Frog and BMW kids bikes, the majority of Cuda bikes have different frames for boys and girls, as well as colour schemes that appeal to the different genders.  The range starts with the Cuda Blox stabliser bike, and progresses through the 20″ Mayhem and Energy to the 24″ XC Sport (click here for Cycle Sprog's review of the Cuda XC Sport 24), Kinetic and Jump models.
Bumper Bikes
are aimed at younger riders, with fun insignia. This 14″ Goal Bike, with a special attachments for carrying your football got the verdict of  "Well Cool" from my boys!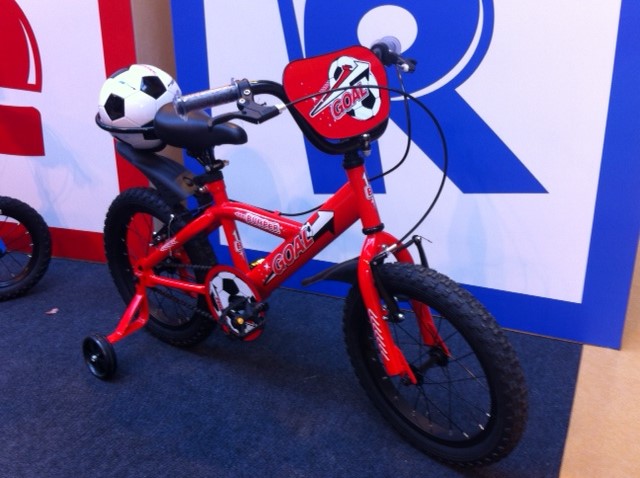 Balance Bikes
Kiddimoto
have long been one of the market leaders in wooden balance bikes. Their range includes a huge variety of designs to appeal to preschoolers, and all their wooden bikes teach young riders to brake with their feet. However, this year Kiddimoto were proudly displaying their new range of metal balance bikes – the KMXPRO and the Kiddimoto Junior. There is also a Junior GT coming soon, which is the first Kiddimoto balance bike to be kitted out with a brake.
The KMX PRO is a sturdy aluminium bike designed for outdoor use, and retails at £99.99, whilst the Junior (£39) and Junior GT (£49) are more suited to round the home and garden.  All models come in a range of neon colours, with helmets to match.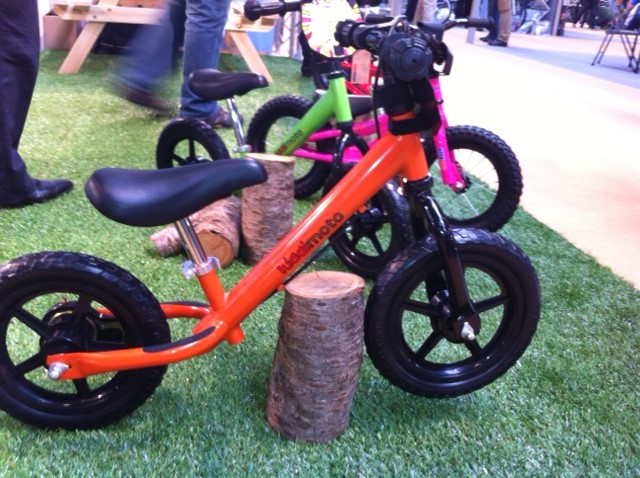 Also at the Cycle Show, Frog Bikes announced a reduction in price of their Tadpole Balance Bike to £100, whilst Strider will be selling a limited number of their Balance Bike Snow Ski's from next month (yes – you read that right – ski's for a balance bike – lets hope it's a white Christmas!).
Trailers and tagalongs
Burley Trailers, one of the best known names in children's bike trailers, have just signed a deal with Raleigh, who will be their new UK distributor, so expect to see more of these on the roads and trails come 2014.
There were three Burley trailers on display at the Cycle Show, and it was interesting to see how the quality of the fixtures and fittings of the trailers improves as you move up the price bands from the Burley Bee to the D'Lite.
There was also a chance to see Burley's Design Plus
, which is a great way to extend the life of a Burley Piccolo or Kazoo tagalong.  It's a front wheel and handlebars attachment that fits onto the tagalong, turning it into a kids bike.
Inclusive Cycling
At the Inclusive Cycling Hub Quest 88 had a range of bikes for all ages and physical abilities, with the chance to give static hand cycling a go.  You can click here to read about how my boys got on testing out some of their bikes last year.
Kids Cycle Clothing
Pere Performance Clothing were at the Cycle Show for the first time, debuting their collection of children's sized performance cycle and triathlon clothing. The unisex range starts at age 5, and includes everything a budding racer would need, including cycling shorts (£34), winter jackets (£65) and cycling bib winter leggings (£49).  This is serious kit, and I was particularly impressed with the quality of the fabrics and the finish on the garments, which are made in the same factory as Rapha kit.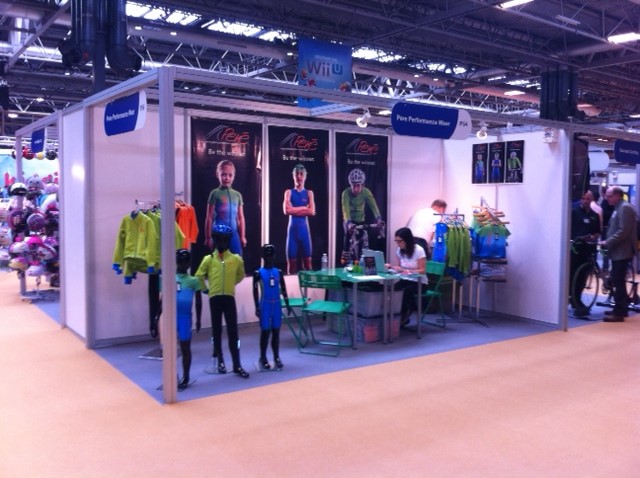 Those looking for slightly cheaper kids cycling clothing will welcome the news that Dare 2B will be launching an updated range of kids cycle clothing in Spring 2014.  They didn't have any samples, but confirmed the range includes jerseys, two different jackets and some t-shirts.
Whilst at the show I bumped into Richard and Ruth from  Trail42.  They don't currently have any kids sized clothing in their recently launched range of ethical MTB clothing, but as parents themselves embarking on a cycling based venture it was good to compare notes and discover we're not the only ones up all night!
Kids bike helmets
There were several kids bike helmets at the 2013 Cycle Show that really caught my eye.
Raskullz helmets
 come in some really great designs, including Mohawks and Spikes, which could well help out anyone who has difficulty getting their kids to wear a lid.
The Video Head contains a small camera in the edge of the helmet, allowing your daredevil to capture great footage, whatever they're up to.  The camera angle can be altered to focus either straight ahead or down, so it can capture all the action whether it's cycling, scooting, skateboarding or skiing.  It could also be a good way to teach road safety, as you can play back the journey you've just been on.
If you're fed up with the constant battle to keep your child's helmet correctly fitted to their head, the Lazer P'Nut and Nut'Z' helmets have a revolutionary answer. Their Autofit System automatically tightens to fit the head each time, using a tension based system, removing the need for any manual adjustments. Sounds like a good way to speed up the school run!
Yummy Mummy Cyclists
The problem with cycling once you've had a child is that certain bits of your body are never the same again.  There's your back for starters – pregnancy followed by years of picking up children, toys and dirty clothes take their toll.  When I saw Nirve bikes, I immediately thought how comfortable the upright riding position looked. The well proportioned and padded saddle beckoned too.  These bikes, which have come over to the UK from California, are about as feminine as they come – with saddles, handlebar grips and baskets to accessorise with every outfit.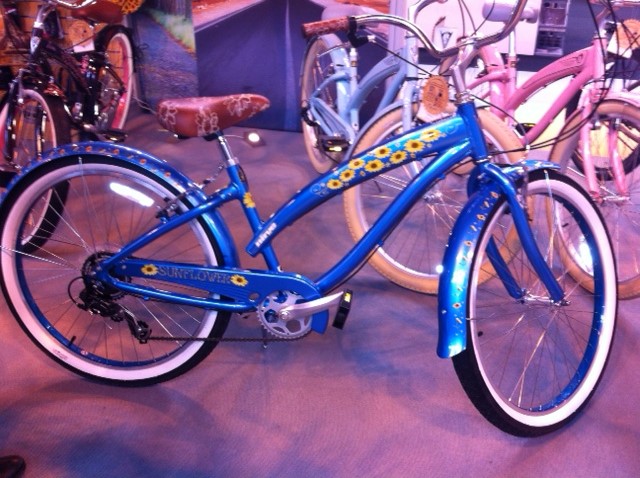 I'm always reminded of those first few bike rides after childbirth when I see the Hoo Ha Glide Ride stand at the Cycle Show. Their blurb says  "A feminine chafing cream, Hoo Ha Ride Glide
protects your Hoo Ha from saddle sores, chafing, friction burns, irritation and inflammation", which makes me squirm and sigh with relief at the same time!
Cargo Bikes
Some of the most interesting bikes at the 2013 Cycle Show were on the Dutchbike stand. They even had a cargo bike shaped like a clog!    Looking at all their cargo bikes and tandems really brought home to me the difference between cycling in the UK and the Netherlands.  If I was bringing up my children in Amsterdam, these bikes would be an everyday part of our lives.
Unfortunately, whilst reflecting on the state of cycling infrastructure in the UK, I realised I had to run for my train and didn't get a chance to take any photos, so check out their family cycling website at http://schoolruncentre.co.uk/# for more details.
Cycle Show 2013 – something for all the family
Finally, a couple of things that don't really fit any other category. Handlebar Heroes
 are a fun way to transform your bike or scooter from a boring mode of transport into a magical unicorn, or a brave knight's trusty horse.
I loved the Ginger & French stand. They've just launched a fun range of bike wallpaper, wall stickers and birthday cards, which would look wonderful in the bedroom of any cycle crazy kid!
As well as the bikes and accessories there was plenty to keep the kids entertained at the Cycle Show, including the test tracks and BMX display.  To read my other review about visiting the NEC Cycle Show for a family day out please click here.