Buying your child a bike can be an expensive business, especially when they keep growing. But a quality bike will out last it's owner (and any siblings) if looked after properly. It's no wonder then that many parents choose to buy a used bike for their child. You can often get a real bargain buying a second hand kids bike, but it can be a bit nerve wracking, especially if it's your first time buying a used bike.
Dad of three, Steve, shares with us his years of experience of buying used kids bikes over the years.
Affiliate disclosure: Cycle Sprog may get a small commission if you make a purchase from the links in this post. For more information please see our affiliate policy
Buying a used kids bike – what having 3 kids has taught me over the years
Children grow ever-so-quickly. They always seem to be growing out of something or other, especially if you have 3 as I do.
A good quality kids bike can be passed-down, especially if you have a couple (or more!) of the same sex. I find a very satisfying glow inside when I manage to convince our younger daughter to accept her elder sister's hand-me-downs.
My current issue is my eldest daughter needs a new bike. She has grown like topsy this last year and is ready for a small-medium woman's size bicycle. My normal instincts are to go with a used purchase. What's not to like about the idea?
A used bike is cheaper and it fits ethically in terms of re-using something that otherwise might end up in land-fill.
Last time I bought a used-bike was off eBay several years ago. The bike is still going strong, in the possession of my middle daughter. I'm quite pleased with that purchase looking back at it.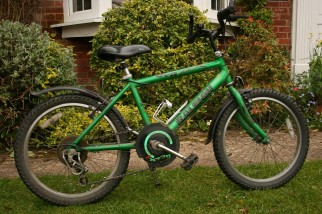 I'm also particularly proud of a unisex bike I bought about 7 years ago from a local free-paper, which is still going strong on its third child. In fact it will do for another family as it fits ages 6-9, it doesn't do a lot of miles (though it does get dropped a lot) so could last for years (should I keep it for the grand-kids?!).
Where to buy a second hand kids bike
Ebay is obviously most people's first choice for buying a secondhand kids bike – your problem may be narrowing down your choice!
However, there are a number of options other than eBay for used bikes. Asking or keeping an eye open at local bike shops sometimes turns up trumps. Both my and my wife's commuting bikes came via that route, and they are still going strong.
Bike shops tend to sell bikes that are in reasonably good nick, as there's no money in selling a fixer-upper for £30 once they've given a few quid to the original owner who's bought a new bike from them.
The other option, as mentioned above, is the local papers but you can also try local online selling forums such a Facebook Market Place or even a car-boot sale (although I've had little luck at the latter and lost several Sunday mornings!)
There's also a growing number of Facebook groups selling just one brand of quality kids bikes – just search in groups for the name of the brand you're interested in and something may pop up.
What to look out for when buying a used kids bike
If you are mechanically minded then you can put-up with a less than great condition bike, but note that anything truly mechanical (rear mech, brake mechanisms, gear levers, etc.) can cost £10's for replacements, even if you buy cheap non-name brand versions.
That adds significantly to what can initially seem to be a bargain, so where possible go for one that's been well maintained over the years.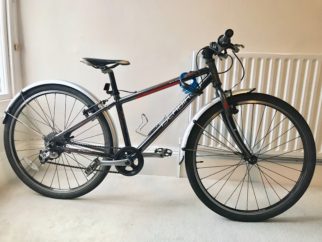 If money is tight, or you really enjoy tinkering with bikes then you might be able to find a real bargain which you can fix up yourself. Be warned thought that if you're not experienced at this you may might have to make a trip to your local bike shop rather sheepishly asking for help to fix it (and that costs too!).
While I am happy to put some new tyres on (though only if existing are truly trashed as tyres are £10+) and adjust brakes and gear mechanisms, I steer away from bikes that look obviously 'well-worn'. That means I pay more but then as soon as you get it the kids can be out on it instead of them waiting on Daddy ordering the bits and fitting them, which can take a few weeks if your lives are as busy as mine!
The right size is the other area fraught with risk when buying a second hand kids bike. Too big (hoping they'll grow into it) and your child may be too unstable and refuse to use it. That refusal can then remain with them even beyond when they are the right size.
Too small means it doesn't last very long and you back looking at Cycle Sprog much sooner than you had hoped.
Always carefully measure your child's inside leg measurement and check out the sizing guide for the brand you're buying before you part with your cash. All the quality brands should have sizing guides on their websites, although its worth checking with an online seller that an older version of the bike has the same minimum and maximum saddle height as the newer models listed.
The search for a "new old" bike for my daughter
So, the search continues for my eldest daughter's bike. I have a search saved in eBay for our specifications, but nothing has come up in my price range just yet. I restrict my search to <100miles from our home as bikes are generally collect (or courier for £20+) and again the true cost of mileage adds considerably to any bargain you thought you had.
Hopefully something will turn up soon and she can get back out riding again – her younger siblings are waiting in the wings for her old bike!
Have you found a second-hand bargain bike for your child? We'd love to hear your experiences of buying used kids bikes, and any hints and tips you have picked up over the years. Do drop your comments in the box below.
If you've enjoyed reading this article, please do sign up for our newsletter - we'll keep up updated when we have new articles which may be of interest. Thanks! 
Other articles you might find helpful:
This article was first published in May 2013 and updated in January 2021 to update the links