Cross Country Mountain Biking is one of the exciting sports to watch at Tokyo, but what is it, what are the rules, and what bikes do they ride?
Kids Guide to Mountain Biking
What is it?
Mountain bike Cross-country (MTB XC) is a form of mountain bike racing on a looped course that includes a variety of terrain such as singletrack, double-track, tarmac and gravel with a variety of technical features.
Where does it take place?
Outside, usually with a mix of woodland and open arena.
What bike is ridden?
Cross country mountain bike with either front suspension or full suspension. 
What are the rules?
Laps are between 4-6km in length with an overall riding time between 1hr 20mins and – 1hr 40mins for the Elite men and women.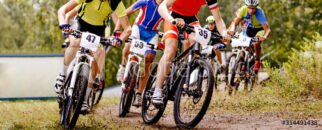 How do you win?
The first person to complete all laps.
Technical features to look out for:
As well as steep ascents and descents and jumps there are various technical features on the course that the competitors have to tackle:
Rock gardens – a series of rocks that are very hard to ride over. Good technical skill is needed.
Drop-offs – a sudden drop down on the trail – watch the riders shift their body position to get down them
Berms – a rounded corner or curve in the trail with a steep side which riders will approach at speed.
Roots – tree roots can be awkward to ride over, especially if they are wet and slippery.

What to watch out for?
Riders tackling "technical" features like big jumps and rocks.
Riders getting off and pushing over technical features
Mud if it's raining!
Other posts you might be interested in;