It's almost Father's Day what better way to show dad your appreciation than a cycling related gift?   Of course, there's two ultimate Father's Day gifts:
 A day of cycling – either with or without the kids!
I'm guessing that if you're reading beyond those two statements you're looking for a more affordable gift you can wrap up and give to him on Father's day morning. So here are a few ideas to help you find that perfect Father's Day gift for a cycling Dad. 
AFFILIATE DISCLOSURE:   When you buy through links on our page we may get a small commission if the retailer has an affiliate scheme. You can find out how this works in our affiliate policy. Thanks for supporting us in this way! 
Cycling themed Father's Day gifts
Fun 'Live to Ride' mug
This unique bike-handled mug is the perfect novelty gift for Fathers Day. Don't be fooled by the cycle shaped handle, it is still a strong and durable mug and will get plenty of use if purchased! It also comes in an awesome cycle themed gift box, for £10 you really can't go wrong! 
Buy Now
Men's biked-themed socks 
Why not get your Dad a 2-pack of grey and orange 'Purple Possum' patterned bike socks. Made from a soft bamboo and cotton blend fabric, giving Dad the comfort he needs in a fun-themed pair of socks! One size fits all (men's shoe size 8-12).
Buy Now
Garmin Edge 530 GPS Cycling Computer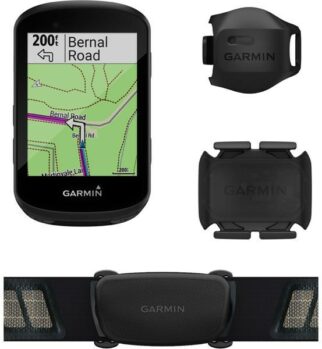 Help dad get the most out of his cycling with a cycle computer – as well as providing mapping tools so you never get lost on a family bike ride again, he can track all his vital stats, such as VO2 max, recovery, training load focus, heat and altitude acclimation, nutrition, hydration and more!
Buy Now
The Cycling Chef Recipe Book
'The Cycling Chef: Recipe's for getting lean and fuelling the machine' is a 192-page recipe book by the world-class chef, Alan Murchison. It's a great gift idea for any cycling Dad who loves eating or cooking! The delicious, easy to make, recipes will fuel him and boost his cycling performance! He will thank you for this! 
Buy Now
Magic Spanner: the world of cycling according to Carlton Kirby
Another book cycling Dad's will love! 'Magic Spanner' which was shortlisted as the 'cycling book of the year' for the Telegraph Sports Book awards 2020. This will really entertain Dad as he reads about legendary Eurosport cycling commentator Carlton Kirby sharing his tales from the road, taking him behind the scenes of the worlds greatest cycling races! A bestselling cycling book – this really is the perfect little gift for Fathers Day. 
Buy Now
Cool Dads Ride Bikes T-shirt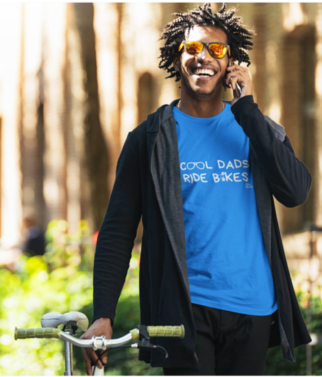 Why not buy your Dad a fun 'Cool Dads Ride Bikes' slogan t-shirt to wear on his cycling adventures! Available in 5 different colours; blue, grey, red, navy and pink. He'll be the coolest Dad around! They also have 'cool kids' and 'cool Mums' t-shirts if you want to be matching! 
Buy Now
Riding Through The storm: My Fight Back to Fitness on The Tour De France 
The newly released 'Riding Through The storm: My Fight Back to Fitness on The Tour De France' is a great gift idea for any Dad who loves football and cycling. A more serious, moving read as it follows the journey of former pro-footballer Geoff Thomas's heroic battle to overcome leukaemia, and then to take on the toughest sporting challenge – the Tour De France.
Buy Now
Bikepacking England: 20 multi-day off-road cycling adventures 
Here's a gift to get Dad all fired up for when the Sprogs are old enough to go bike packing (or to be left at home!) This new book by Emma Kingston will provide some armchair inspiration. Each route includes all the information your Dad will need to help him plan his ride, points of interest along the route, food recommendations and accommodation options, in addition to stunning photography and overview mapping. Available in paperback for £14.99. 
Buy Now
Cycling themed Father's Day cards and wrapping paper
If you're looking for a Father's Day card with bikes on it, then here's our pick that don't cost the earth, but you can get quickly in time for Father's Day. 
This Father's Day card is not only perfect for a cycling dad, it's also designed and printed in the UK using vegetable based inks and environmentally friendly printing processes, all under one roof. The producer says "All our cards & envelopes are recyclable and all board and envelopes used are FSC certified and have eco friendly packaging."
This funny Father's Day card is also designed and printed in the UK on recyclable card from responsible sources – they don't mention the packaging though.  It's blank inside so would also be a good choice for a birthday present. 
A great choice Father's Day card for those with younger Sprogs this card is printed on recyclable paper from well-managed forests.
Of course, if you're buying a cycling related Father's day present and card, you're going to want to finish the look off with wrapping paper with bikes on it!   This quality gift wrap features watercolour illustrations of various bikes by Ceinwen Campbell and comes with 2 co-ordinating tags. It's eco printed using vegetable based inks on sustainable produced paper in the UK and is recyclable.
If you want to keep up with all things Cycle Sprog then sign up to our newsletter and you won't miss a thing!
Other articles you might be interested in: