Beautiful mountains are aplenty in the land of the dragons, and luckily for cyclists great riding too!
During our summer holiday in Wales, we found areas of this insane natural beauty almost everywhere and luckily for us we had our mountain bikes to ride it (me and my brother using test bikes that Cube bikes and Vitus had sent respectively).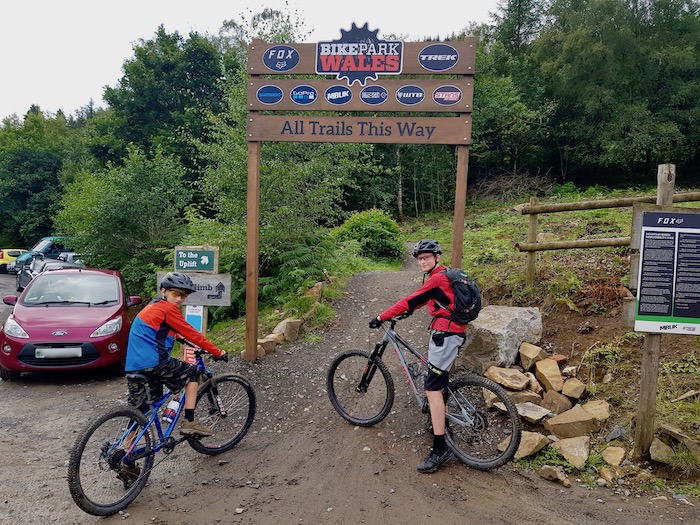 I love mountain biking so this holiday was dreamland for me. One of my favourite biking locations on the trip was Bike Park Wales.
Bike Park Wales is a mountain biking location situated in the South of the country. Merthyr Tydfil is the nearest town and is literally five minutes drive away. The Bike Park has incredible views and consists of a large number of trails, all descending with varying degrees of difficulty, distance and technicality.
Bike Park Wales is owned by a private company, so it's different to going for a ride at a trail centre run by the Forestry Commission. It's quite similar to a ski resort as you have to book a Ride Pass and then you have to pay another fee if you want to use the Uplift Service (Lift Pass). To get to the start of the trails, the uphill ride for our legs would be at least 45 minutes long and you would have to do this after every run down the mountain! We booked Uplift Passes!
When we visited, the Uplift Day Pass cost £36 per person (Mon-Thurs). On Fridays, it costs £39, and at the weekend it's £43.
Here are some of the pros and cons of Bike Park Wales:
PROS
Mini Bus service to the top of the mountain
Great trails all the way down
Cafe for well needed snacks
Wide variety of trails
Helpful staff
Plenty of trails – too many to ride in a day!
CONS
Hardly any!
Very male environment – but people were really kind
Very pricey so make sure you are there for the full day
Long queues for the uplift after lunch
The Facilities
There are great facilities at Bike Park Wales to make your time there a special one, such as:
Bike wash
Bike hire
Pad hire
Bike maintenance
Bike shop
Cafe
Uplift/minibus service
The Trails at Bike Park Wales
The trails at Bike Park Wales are split into two types of riding – smooth and techy.
Smooth trails are quick and packed with jumps and berms, and the technical trails are more rooty and rocky.
There are difficulty ratings to determine how hard a trail is and see if it is for you.
We normally ride red routes but chose to do blues here as we were there for the first time and so riding unsighted. Some of the 'qualifiers' at the start of the red trails are really hard and for a reason I guess.
Here they are:
Green
Blue – we rode these and they were epic – fast and flowing!
Red – WARNING YOU MUST BE ABLE TO JUMP TO RIDE THESE TRAILS!
Black- WARNING YOU MUST BE ABLE TO JUMP TO RIDE THESE TRAILS!
Pro line – all in the name! WARNING YOU MUST BE ABLE TO JUMP TO RIDE THESE TRAILS!
THE UPLIFT MINIBUS SERVICE
The 'uplift service' is a fleet of minibuses, each with a large trailer on the back that has racks fitted to hold 16 bikes.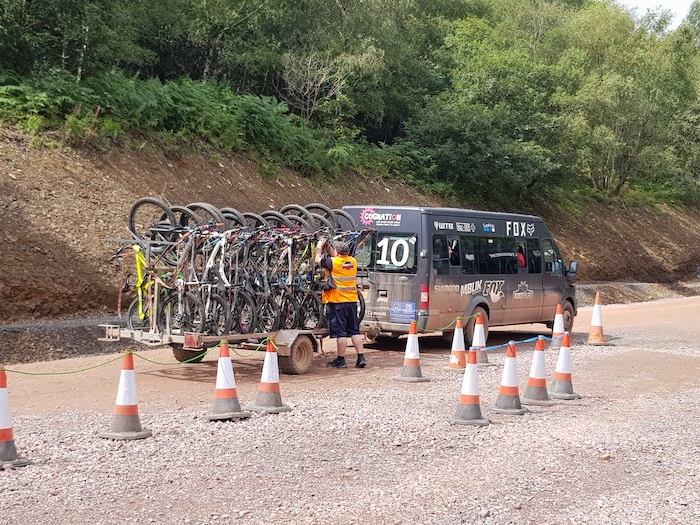 Sounds great – it is, however there is a separate charge to use the uplift ( and the minibuses are filthy, but who really cares?)
So all you have got to do is get your bike on the back and get driven up the hill!
My favourite trails at Bike Park Wales
I have two favourite trails at Bike Park Wales and both are blues.
The first one is Willy Waver which, thankfully for me, had reopened the day before. It was deadly quick and the numerous jumps were followed by epic berms and made for a cracking new trail.

The second is Terry's Belly – a 4.2 km trail which was well worth the battered arms and legs at the end. Apparently, it's the longest continual blue descent in the UK and takes 10 minutes for the fastest riders! This trail reminded me of some of the trails I've ridden in the US and Canada.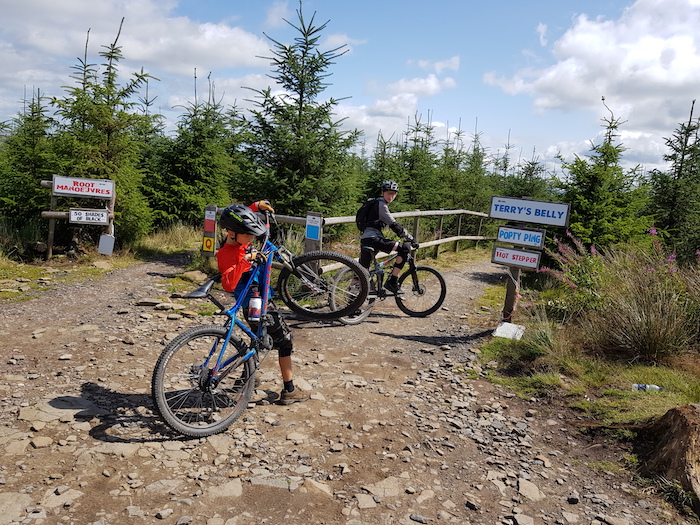 So summing up my day at Bike Park Wales the trails were great and I really can't wait to get back and ride there again!
If you want to go yourself, this is the link to their website.
Disclaimer – The 10 year old Cycle Sprog (who wrote this post) was riding a Vitus Nucleus 26 provided by Vitus Bikes for testing purposes.  The 13 year old Cycle Sprog was riding a Cube Stereo 140 Youth provided to us for review purposes – you can read our review of this bike here.
Other posts you may like: