Zigo Leader tricycle for cycling with a baby
How to continue cycling with a baby in tow can be challenging for many new parents. New mum Dawn Rahman shares with us her solution – the Zigo Leader tricycle.
"My husband and I began looking at bicycles that would be suitable for carrying newborns, soon after I became pregnant in late 2011. Cycling is such a big part of our lives, we couldn't imagine not being able to get around by bike.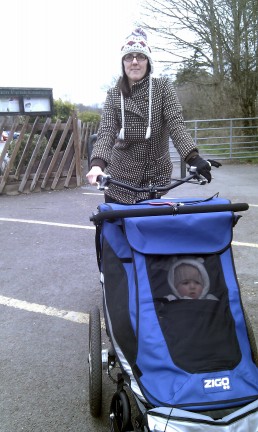 We did lots of research on the internet and narrowed it down to a couple of models. We test rode a couple of these bikes and decided instantly upon the Zigo Leader tricycle. The Zigo had the added benefit that not only was it a front-loaded tricycle with a 'pod' that can carry 2 children, but it can also be used as a pushchair, running buggy or simply a 2 wheel bike. As someone who dabbles in triathlons the running buggy element particularly appealed.
Although the guidelines on the manufacturer's website say that it should not be used in 'cycling' mode until the child is 6 months old, my husband and I (again after much research) decided to start using it with our son when he was 6 weeks old.
Cycling with a baby
To make it as safe as possible we bought a Weber baby seat and head attachment and fixed it into the front pod, and added some foam underneath for extra support.  Our first ride was very slow and cautious and I practically came to a halt if there was a bump in the road. Fast forward a few months and we now go a lot faster!
The bike takes a bit of getting used to riding, particularly turning corners. However, after about the 3rd time of riding it became really easy to manoeuvre.  The only main issue is that the turning circle is quite large. But it's easy enough to jump off and lift the back wheel to help get around particularly tight corners.

What's the Zigo Leader like to ride?
Major benefits of it being a front loaded tricycle are that I feel much more confident having my little boy in front of me. Plus it's very stable when riding. You are positioned nice and high with good visibility of what's ahead. And finally I can ride a bike and take both hands off the handlebars. This stability is also great if it's windy, although quite hard work riding!
We opted for the model with 7 hub gears, rather than just 3. Luckily, the terrain where we live is not especially hilly as I think I might struggle due to the weight of the bike and only having 7 gears to get up any major climbs.
The bike comes with a number of different covers to cater for the ever-changing British weather. There is a general 'environmental' cover which is great during summer months, as this is a sheer mesh that protects against flies. There is also a light showerproof cover and then a heavy-duty rain cover. Although we've not braved out when it's been pouring down!
Changing between the different modes is relatively simple.
The manufacturer claims that the front pod folds down compactly enough to take on public transport.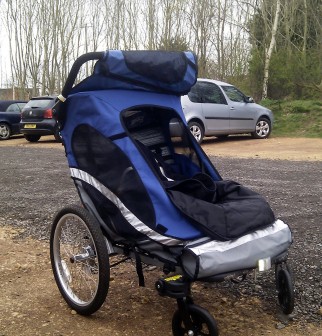 However, my view is that it would need to be a very empty train as it's still very bulky. We have transported it in the car a few times, where we've put the bike part on the roof rack and the pod then takes up the whole of the boot!
Personally, we've not used the Zigo Leader in pushchair mode as it is very big and you would struggle to weave in and out of shops in town with it. But it would be ideal if you wanted to cycle somewhere and then switch to pushchair mode and walk around a park perhaps. Instead, we tend to take a sling with us and put my little boy in that if we are parking up rather than using it in pushchair mode.
In terms of distances we tend to use the bike for shortish trips into town, approximately a 4 mile round trip. But we've recently taken the bike along the Bristol-Bath Sustrans route and cycled over 12  miles in one go.
My little boy tends to fall asleep in the bike, and I tend to time it so that he is due a nap when we go out. But he's also quite happily sat in it for a 5 mile ride and stayed awake for the whole trip. As he gets older we'll be able to get rid of the chariot sling and just use the provided seat. As the bike seats 2 children, we'll probably take his cousin for rides too, although I'll have to improve fitness levels to manage both of them. For now though, we're just waiting for the weather to improve so we can get out more often!"
The Zigo Leader is available to buy from a couple of specialist cycle retailers in the UK. Dawn bought her Zigo Leader from Kids and Family Cycles in  New Milton.
Other posts you might be interested in:
Dawn Rahman, works for British Cycling as Recreation Manager for the West Midlands.  A mum to a 9 month old son,  she's cycled for as long as she can remember and hasn't driven for over 17 years, preferring to use public transport or cycling as a means to get around (although, not adverse to getting the occasional lift from her husband!).