Every so often I come across a brilliant way to get kids into cycling – and I've just found another one! We all know that toddlers love anything that rocks, from traditional rocking horses to those rockers with huge springs you get in playgrounds. If you're lucky they'll go backwards and forwards for hours on end. Wouldn't it be great if they could be on a bike at the same time? A bike rocker is what's needed… even better, a balance bike rocker, so when they're ready they can actually ride the bike.
Cycle Sprog is an family run, reader supported, website. We belong to several affiliate schemes so may receive a small commission from sales made from links on our site. We do our best to be impartial and recommend products on their quality not whether they are in a scheme.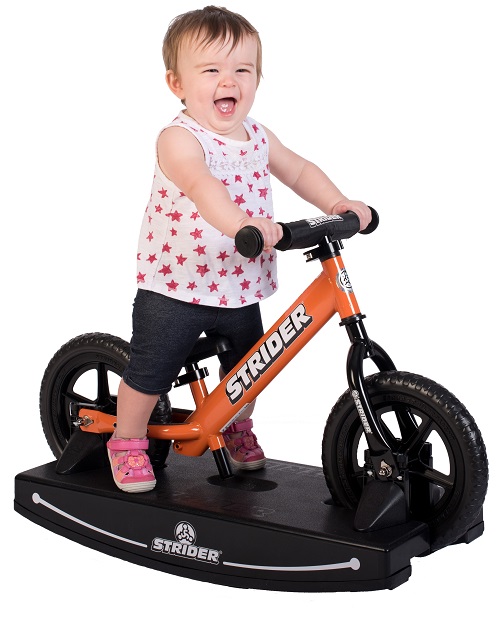 I was really interested when Strider Bikes got in touch to let me know about their balance bike rocker base. 
It allows you to attach a 12″ Strider balance bike so your child can rock away to their heart's content from the age of 12 months (the saddle can go as low as 22cm from the base).  They don't even need to be able to walk – just sit unsupported on the bike. 
Even better, there's no batteries, no flashing lights and no annoying songs – just good old-fashioned rocking fun, on a bike. When your child is finally ready to actually ride the balance bike, you already have one – you just need to release it from the base. Ingenious!
The Strider balance bike rocker base is safety tested to work with a 12″ Strider balance bike only (their Classic, Sport or Pro models).
It shouldn't be used with any other balance bike, as the safety features which secure the wheels in place may not work.
Strider Bikes UK launched the Rocker Base last year, but when Mark Cavendish spoke about how much his young son Frey loved the rocker live on TV the stock sold out almost overnight!  Here you can see little Frey in action…..
The stock has now been replenished and the base is available again in the UK.
Where to buy or lease a Strider Rocking Base
The Strider Rocking Base costs  £75 and the accompanying balance bike costs £110. 
Alternatively, you can lease the Strider Rocking Base, along with the Strider Balance Bike itself, from The Bike Club from a monthly payment of £3.50. 
Other articles you may like:
If you've enjoyed reading this article, please do sign up for our newsletter - we'll keep up updated when we have new articles which may be of interest. Thanks!