When my son started to cycle to school on his own bike, aged 7, it was a struggle to find a kids rucksack that was suitable for him to use. We started out with a cheap and cheerful black rucksack from the "Back to School" section of one of the major supermarkets.
Whilst this would be ideal for flinging in the boot of a car and then slouching from car to classroom, it turned out to be far from waterproof in wet weather, and much too big against his back for wearing as a rucksack.
I would cycle behind him and see it slipping from side to side as he rode. I was worried that it would upset his balance as he pedalled, and because it was high on his back it was not great for visibility when he was looking over his shoulder. The quality was poor, and before long the material was ripped and the zips difficult to use.
We replaced it with a small adult sized cycling rucksack, which turned out to have a flexible metal frame across the base of the rucksack to maintain the shape.
It would sit nicely on an adult's back, but on his small frame it was too big and rubbed him badly – open wounds aren't really what you want on the school run!
What features does a kids school bag need if you're going to be cycling to school?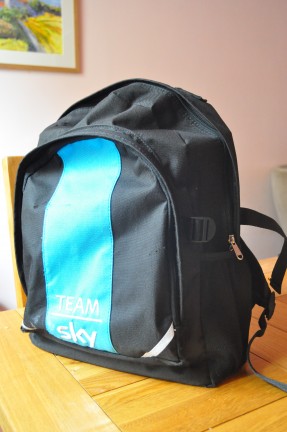 What he needed was a waterproof rucksack big enough to fit in all the paraphernalia that a Year 3 pupil needs to carry around – PE kit, lunch box, water bottle, reading book, A4 sized homework book plus the occasional cake, painting or science project – but designed for a child's body. It had to be suitable for year round cycling and comfortable on his small frame.
So it was perfect timing when Frog Bikes got in touch and asked us to review the Sky Kids Cycling rucksack.
First impressions of the Team Sky kids cycling rucksack
At first glance you can tell that this is a quality product, designed with a young cyclist in mind. The fabric of the bag feels durable, with straps that are well padded and reflective stripes to enhance visibility from the front.
Compression straps on the side mean you can expand the size of the rucksack for bigger loads, and compress again when not carrying so much. A useful rubber handle on the top of the rucksack is very well made, and makes holding the bag at the school gate (when your child has to return several times for forgotten items) more comfortable. The zips on the rucksack come with an external storm flap/hood over the top and the zip pulls are sturdy and large enough to be operated when wearing gloves.
There is also a name tag on the back of the bag, which is a very practical touch that shows this is a bag designed for children.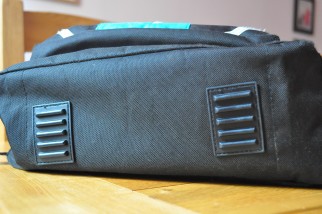 On the base are two rubber protectors which means the base of the bag doesn't get worn away whenever it's dropped on the floor – a common occurrence with kids of this age!
When my son tried on this rucksack, I was immediately impressed with how it fits onto his back. Designed for a child rather than an adult, it is curved to fit his small frame. This means it doesn't slip around when he's riding, plus the design (as with good adult cycling rucksacks) means that the top of the rucksack is tapered to ensure clear visibility when looking over the shoulder.
Obviously the first test of any product designed for the junior market is whether it is cool enough to use. When the Sky rucksack arrived it was greeted with great enthusiasm, both by my son and his friends –Team Sky definitely have the "Wow" factor. However, what I like is that the branding isn't in any way childish – this is a rucksack that I've been happy to wear myself when needed.
Is the Sky rucksack big enough to be used as a school bag?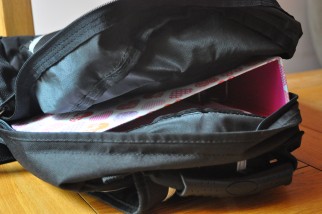 At 23 litres, the capacity of the Sky kids rucksack is such that my son can carry everything he needs on a daily basis (excluding end of term, when you need a wheelbarrow to struggle back with all the books, projects and clothing that kids come out the classroom door with).
With its wide opening main pocket, it is also capable of holding A4 folders (including a lever arch one), which makes it suitable for secondary school pupils.
Mesh pockets on the side of the bag hold a water bottle, removing the risk of accidental soaking of the contents of the bag due to bottle cap not being closed (been there several times with the first bag!).
There is an integrated wet bag within the rucksack that can be used to store the wet rucksack cover, over trousers or swimwear, depending on need.
There is a front pocket, which we've found very useful for keeping letters to and from the school separate from everything else in the main body of the school bag. It also has space for a mobile phone and pens if needed. Inside the bag itself is a zipped pocket which we use for money and keys.
The Sky rucksack is also perfectly sized for a weekend trip away – it can hold a couple of changes of clothes, nightwear, a coat and a couple of books or small toys quite nicely. My son has quite happily worn it all day when we've been on city breaks, which again is an excellent sign of its comfort.
.
He's also used it on family bike rides and hikes. It's great that at long last he's able to carry his own kit, and because he finds the rucksack so comfortable, there are never any moans or groans about him using it.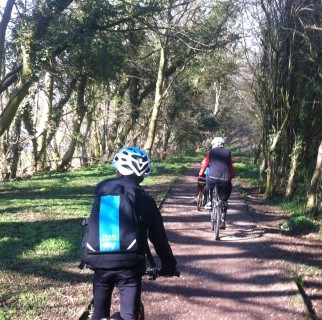 Is the Team Sky kids rucksack waterproof?
The heavy duty fabric has proved extremely durable, and copes with a light shower. A waterproof cover is available to purchase separately, which is a good idea if your child is planning to cycle in low light conditions, in rain, or at night. This slips easily over the rucksack, and comes with inbuilt LED lights for additional visibility.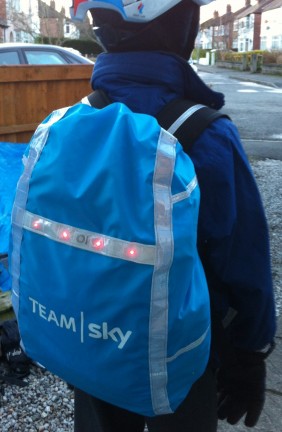 Is the rucksack worth the money?
Given the problems we'd had with previous rucksacks I decided to put the Sky rucksack to daily use for a full school year before writing this review. It's not the cheapest of rucksacks, and I wanted to know whether to recommend the investment. At the end of a year of daily use I can confirm that the rucksack is more or less as good as new. A quick wipe down and it'll be great for the next school year.
Sky kids cycling rucksack review – the final verdict
A durable and well designed rucksack designed specifically for the junior cyclist, it's ideal for the school run, but is equally useful at weekends and holidays both on and off the bike. Still in great condition after a year of continual use the Sky rucksack is a great investment for any young person who cycles or walks to school.
Where to buy the Team Sky Kids Rucksack
The RRP for the Team Sky Rucksack is £28, and the waterproof cover costs £16. You can purchase them both online at Rutland Cycling or The Little Bike Company, or alternatively if your local bike shop stocks Frog Bikes, they may well also sell these. You can check on the Frog Bike website to find your local Team Sky Frog Bike stockist.
Cycle Sprog were sent the Team Sky Frog Cycling Rucksack to review by Frog Bikes