The Cube Junior backpack has been designed for kids to carry their stuff with ease, be that while cycling, walking to school, or even taking to a friends house packed with goodies for a sleepover.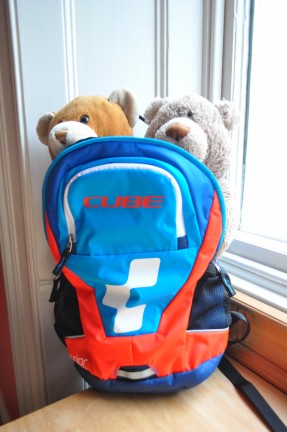 Cube Junior cycling backpack for kids – first impressions
Whilst aimed at primary school aged kids, the Junior kids cycling backpack has been designed to the same quality as all other Cube products. The Junior's capacity is a healthy 10 litres which allows for transport of two fully grown bears or any variety of toys, foodstuffs or clothing. Measuring 37 x 24 x 12 cm, it's a fairly compact size that lends itself to use by younger children.
The backpack comprises of a main section and a smaller, secondary compartment that has a key hook and plenty of space to stash fruit, sweets or a pencil case. The main compartment is large enough to take an A4 sized book or two, but there is not enough clearance for an A4 ring binder file.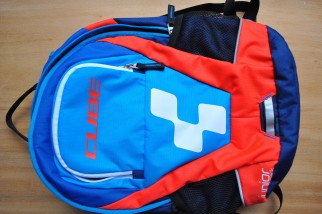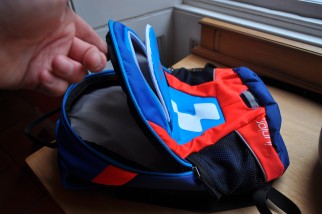 A light grey lining has been chosen for the inside of both compartments and its easy to pick out items against this backdrop.
Externally on either side, there are mesh pockets with elasticated tops to hold water bottles.
Constructed from 100% nylon, the Cube Junior rucksack has stood up well to the rigours of use (note, this usually involves some form of dragging and swinging around) expected by a youngster that has important things to transport.
Any safety features?
The designers of the Junior have made excellent use of reflective material at a number of positions on the backpack to cover the front and back, but also there is a length of reflective piping around each side. This is a welcome touch, as it really helps visibility when being approached by a vehicle from side on.
How heavy is the Cube kids cycling rucksack?
One thing that can be annoying is if a bag weighs in as a heavyweight before it's even been loaded, and this can be an added problem for children. Fortunately, the Cube Junior rucksack registers in at only 435g on the scales when empty, so is manageable for even the youngest of cyclists.
What are the zips like on the Cube Junior?
Zips for each pocket run smoothly, with sturdy tabs (that don't feel as though they'll pull off the first time they're used) that are helpful for making opening and closing of pockets easier, especially if wearing gloves.
Is the Cube Junior cycling backpack waterproof?
The Junior is made from 100% nylon and so should be water resistant. However, water will always find the path of least resistance, so points of stitching or the zip are where ingress will most likely occur. Most backpacks are not truly 'waterproof' but provide differing levels of water resistance depending on the requirements of the pack. With the Cube Junior, it would be expected that it keep its contents dry in a light shower, but you would likely end up with soggy contents should the heavens really open up.
If 'waterproof' is a requirement, then you will need to hunt down a bag specifically designed for that purpose, but remembering that no rucksack is 100% waterproof in heavy rain.
Water resistance test
Taking a rucksack into the shower is possibly overkill, but it is a good test to see how well it performs.
One thing we've noticed is the lack of concealed zips, where the zip has a fabric cover over it to protect it from the elements.
It is felt that this is likely to be the point at which any water will make it's way into the pack.
The pack was filled with brown paper as a visual aid to identify locations where water had got in as damp brown paper darkens in colour.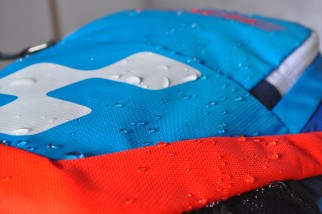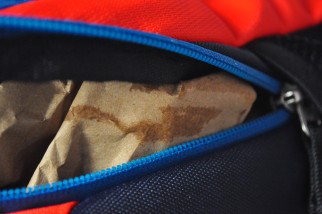 A hose down with the shower head revealed water beaded well on the surface of the pack. So far, so good.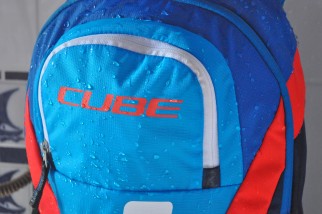 This was followed up with a good drenching with the intention of soaking the pack totally to see where and how extensive the ingress of water would be.
As expected, water eventually made its way through the zips and some areas of stitching, but overall the bag performed really well, with some damp patches here and there but not a bag full of water!
Size and comfort of the Cube Junior kids cycling rucksack
We've used several testers to try out the Cube Junior rucksack to determine if, with some adjustment, it's a one size fits all or if it's really only suitable for a certain age bracket.
Feedback has been great from kids aged six up to nine, who have found the bag very comfortable to wear whilst cycling. For younger children, it starts to hand down over their bottom, so perhaps not ideal for cycling, but doesn't put them off when walking / running. Once kids get into the teenage years the rucksack starts to get a bit small on their frames as they head towards adult sizing.
It is really good to see a rucksack designed with children in mind, proportioned such that it does not swamp them with it's bulk. A crucial benefit with this is that it allows the child to see over the top of the backpack when looking back over their shoulder whilst cycling.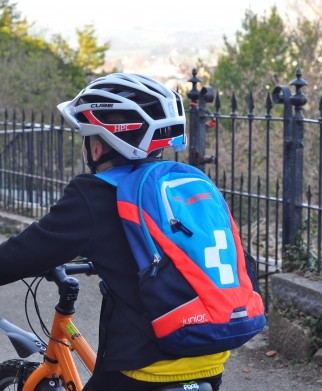 One feature that aids comfort is the use of Deuter Airstripes that sit against the back, either side of the spine. The idea of these foamstrips is to leave a passageway to allow the back to breathe and so aid comfort. A nice idea, and one seen on a number of adult rucksacks.
The straps themselves, although not thickly padded, are made from a dense foam and are wide at the shoulder so as not to dig in. A chest strap is provided and the adjustment straps have enough length to get a comfortable and secure the pack into position.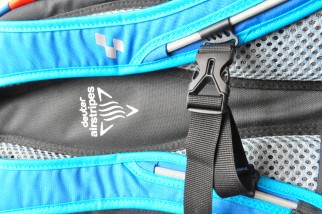 Cube kids cycling rucksack – review conclusion
The Cube Junior rucksack has a good amount of storage space with some nifty little pockets for stashing goodies. It comes with some nice safety touches to ensure it's visible at night and the construction has a strong and rugged feel to it that is essential for anything that may get dragged around the school yard. Definitely one to look out for. Plus, perhaps most crucially, our young reviewers agreed the Cube Junior backpack was stylish and comfortable enough to use – result!
The Cube Junior rucksack retails for a recommended price of £35.99 and is available via the Cube network (Dealer Map)

Cycle Sprog were provided the Cube Junior Cycling Backpack for review by Cube.eu