When the Limar kids cycle helmet arrived through the post for review in time for our Easter cycling trip there was a lot of excitement in our house. The bike helmet, which is size medium (50-56cm) was for Lucy, my 4 year old daughter – although her 7 year old sister, Emily, was looking rather envious it has to be said!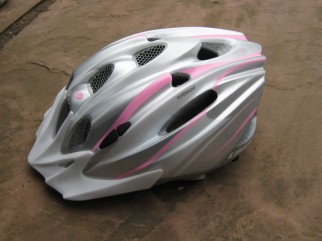 First impressions of the Limar kids cycle helmet
The silver pink colours look very stylish which Lucy loved, having grown out of the previous 'Angelina Ballerina' helmet. There is a reflective V-shaped strip at the back and also an integrated front visor which finishes off the helmet nicely. Several people have commented on it's cool look! The ventilation holes are covered with subtle netting to stop any unwanted insects.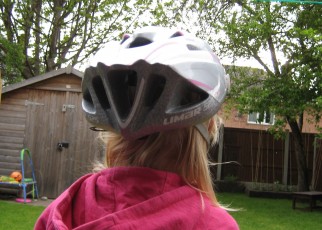 Ease of Use
The bike helmet has soft padding all over the inside as well as a pad on the chin strap which Lucy says is "nice and comfortable". It is also really easy to adjust the helmet by simply twisting the knob at the back. This was particularly useful in Holland when Lucy was wearing a buff under her helmet one minute and then wanting it off the next!
The tightness of the chin strap is adjusted using the buckle and is straightforward for an adult to do with a band to secure the excess strap. The buckle is easy to fasten and un-fasten and Lucy can do it herself now.
It is worth noting that although Lucy is 4 years old this helmet maybe too big for some children the same age. You do need to check head size. Lucy's head is 50cm and the helmet is set up as small as it will go. I was pleased that weighing 260g the Limar helmet is not too heavy for her despite being worn for a couple of hours at a time.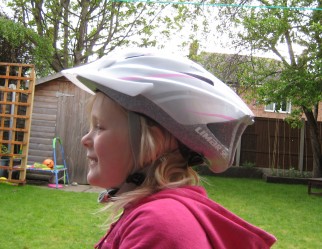 Limar Kids Cycle Helmet review – the final verdict
This bike helmet is stylish, is comfortable and easy to adjust. It complies with CE EN 1078 safety standard for bicycle helmets, has a 2 year warranty and we think is good value for money (RRP £29.99). As well as the style we were sent for review, the Limar bike helmet also comes in a range of designs that will appeal to boys and girls in equal measure.
Where to by the Limar Kids Cycle Helmet
To find if your local bike shop stocks Limar Cycle Helmets, please click here. They can also be bought online at Amazon
.
The Limar kids cycle helmet was provided to Cycle Sprog for review.