It was a very early start for us to get the train to the Birmingham NEC for the Trade Day of the Cycle Show 2019, so we had to take a taxi to the mainline station. As the Family Cycling Media Partner we were setting out on a hunt for anything family cycling related that we could report back to our readers. I didn't realise at the time, but our taxi driver set the tone for much of the rest of the day by excitedly regaling tales of how he'd recently discovered e-bikes and how they've enabled him to get back onto two wheels.  We had a great chat about how electric bikes have the potential to revolutionise the way people make short and medium distance journeys on a daily basis.
So it was not suprising to find that much of what we saw at the Cycle Show was focused around the same theme!  It feels as though the cycling industry is finally starting to take seriously how families of all different ages and sizes, can use cycling as a means of transport.
It's really heartening as we know that many families are starting to think about cargo bikes as a serious option for their day to day transport. However, we need to have dealers stocking them and mechanics able to service them if they're going to become a popular option for the school run.  That's why it's great there were so many being showcased on Trade Day. To share this with you, here's a round up of the family cargo bikes we saw:
Family cargo bikes at the 2019 Cycle Show
Tern GSD Longtail Cargo Bike (from £4,000)
I was REALLY pleased to see the Tern GSD at the show, as I'd ridden one a few months earlier whilst judging the Transport For London family cargo bike competition. I love the GSD as it's so compact and is designed to cater for a family with older Sprogs, which suits my current circumstances. However I hadn't had the Sprogs with me then, so I really wanted to find out how it handled with a passenger on the back.  I'm pleased to report that it was just as impressive – in fact I could hardly tell that they were there!  I got up and down the ramps on the test track no problem and the stability of the bike with a teenager on the back really impressed me.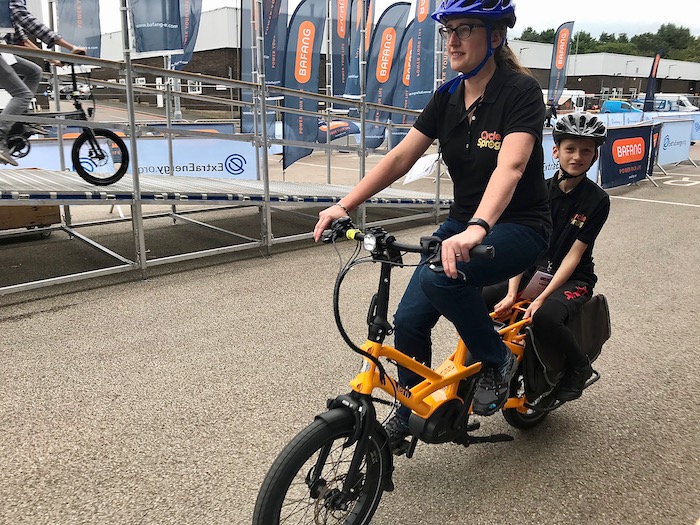 The model we were riding was the standard one, and the feedback was that it's well worth investing in the padded passenger seat as it's a bit uncomfortable sitting directly on the tubing of the rear rack.  This can be bought separately for £45 or as part of a family conversion kit  (£200) that allows you to carry up to two rear bike seats and cargo too.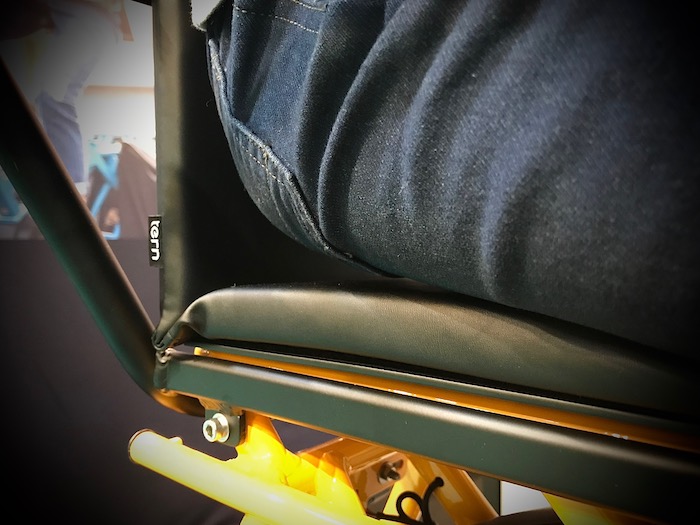 On the Tern Stand it was possible to see how the bike can be used with younger Cycle Sprogs, which goes to prove this really is a versatile bike that adapts as your children grow.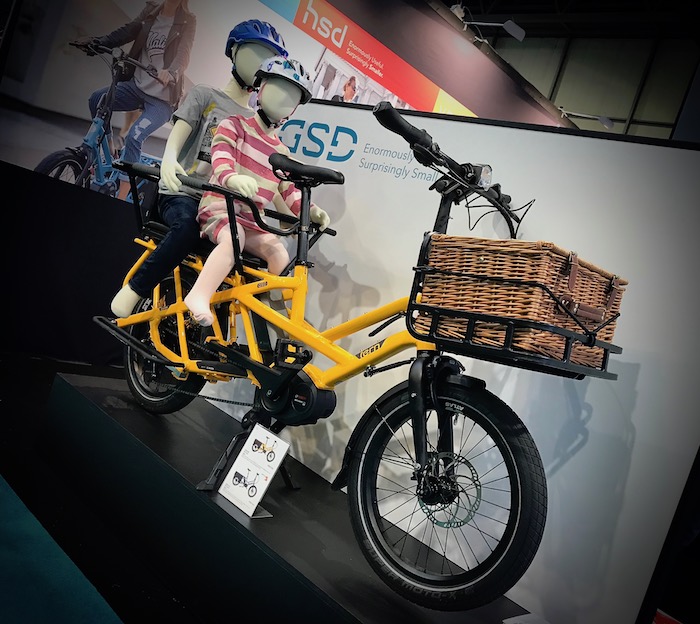 The Tern GSD retails for £4,000 and is available from Tredz 
Pedego Stretch (£3,362)
The Pedego Stretch was another longtail cargo bike being showcased at the Cycle Show. It too can fit one or two rear bike seats and has various configuration options for both passengers and luggage as your family grows.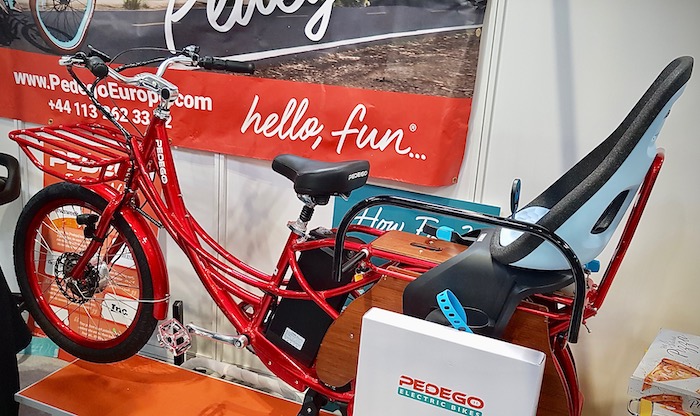 Once again as I was testing this bike on the track I couldn't tell that I even had a passenger, and despite riding around for about 5 minutes it didn't feel as if I'd exerted any energy at all.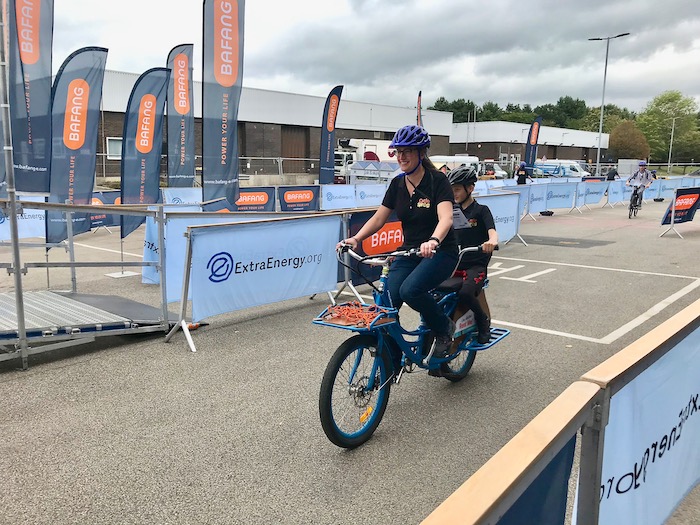 The Pedego is cheaper than the Tern and I did notice a slight difference in the handling and performance of the bike as I was riding it.  However, the Tern was the basic model and my passengers preferred the Pedego as it had the padded seat and rear handlebars fitted which you have to pay extra for on the Tern.
If you want to test ride the Pedego Stretch they're available to hire from their UK HQ in Leeds – you can rent for as long as you wish and your rental fee will be taken off the purchase price if you decide to make it a permanent relationship (please let them know you heard about Pedego from Cycle Sprog!)  They are also available at a couple of locations in Yorkshire and Cumbria as rental bikes – check out their website for a full list of locations.
Riese & Müller Cargo Bikes
Riese and Müller are a German cargo bike manufacturer currently expanding into the UK, and they had one of the stand out products of the Cycle Show for me.  Their Multicharger (from £3,729) is a longtail electric cargo bike that can carry two children either in rear seats or seated on the rear rail. It is also trailer compatible.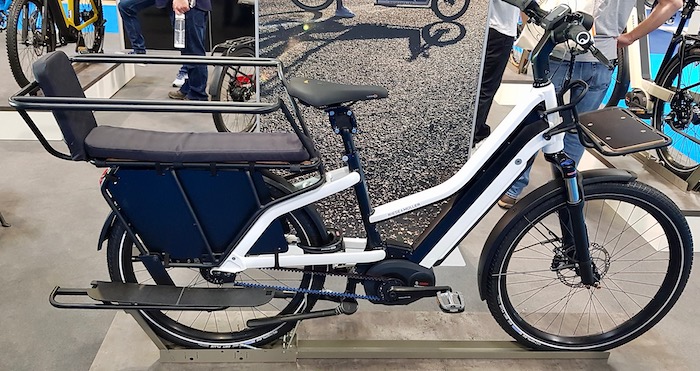 However, it's an additional side loader add on (£94) that I think will appeal to many of our readers. The footrest can be converted into a towbar for a child's bike with up to 20" wheels.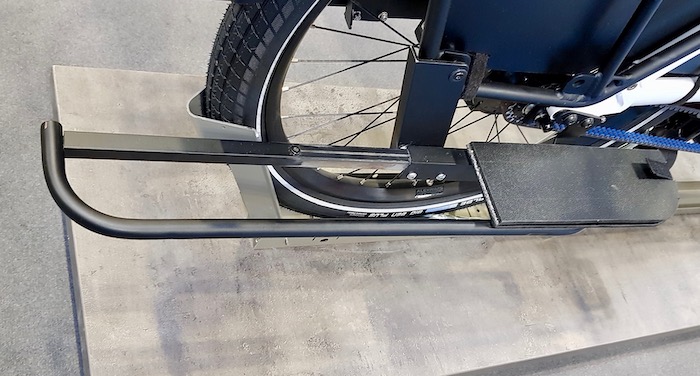 This means your Sprog can ride their own bike, but if energy or traffic levels mean they can't continue pedalling themselves you can hook up their bike and they can pop onto the rear seat of the Multicharger for the rest of the journey.   This is the bike I wish had existed when we were at that stage in our family cycling journey!
This German attention to detail was also evident in the other cargo bikes that Riese & Müller had on display. The "Load" comes in two lengths (60 and 75) with the larger being able to seat up to three children in the box, while the smaller version can hold one or two children.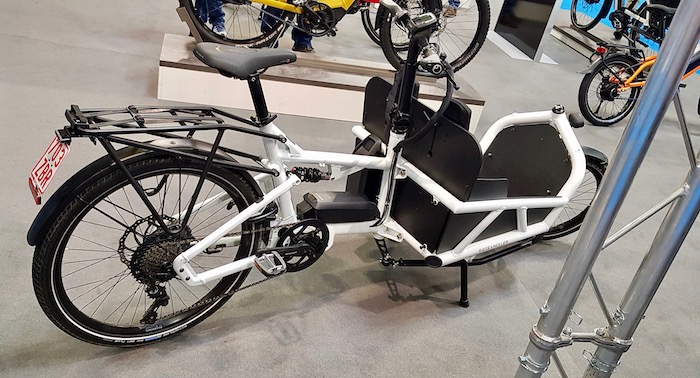 A feature I particularly like is the way you can adjust the position of the back rest as your child grows.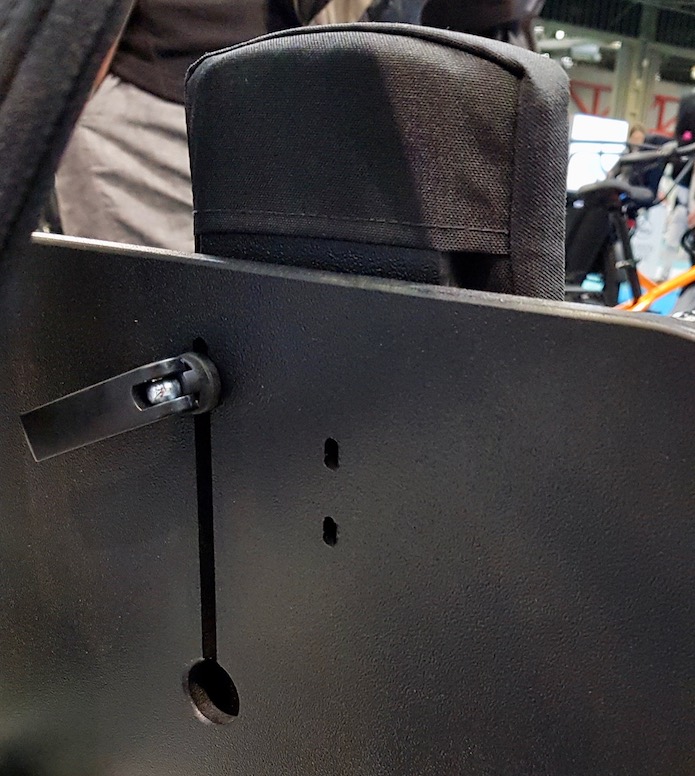 The Packster is a more compact cargo bike, with the Packster 40 seating one child in the box (plus it has an optional rear rack for a rear bike seat).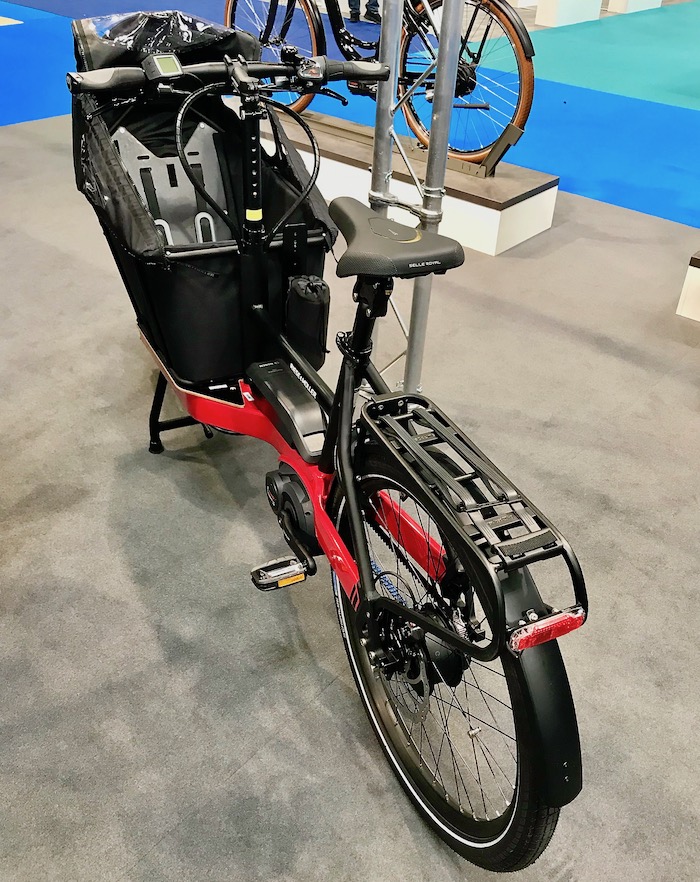 The Packster 60 and 80 are larger and can seat 2 children in the box.   A useful feature for those who want to alternate between using their bike for passengers and cargo is that you can stash the seat pads away in a small compartment in the base of the box when you don't have the Sprogs with you.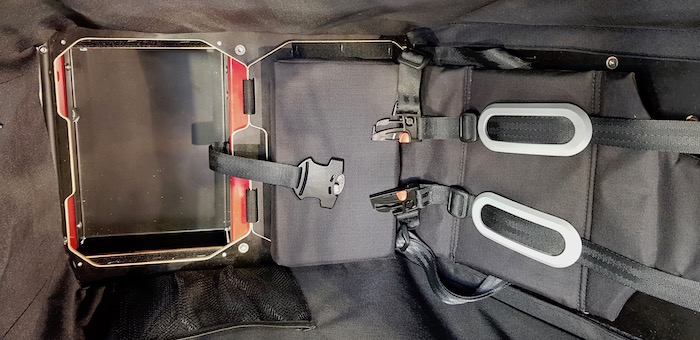 The rain covers seemed very robust and suitable for keeping your kids or cargo dry, so making commuting by bike a possibility all year round.
For more information visit the Riese and Müller website
Babboe Slim cargo bike (from £3,549)
The Dutch company Babboe is renowned for its cargo bikes. They were displaying their wares only on trade day of the Cycle Show this year, which I thought was a real shame, as I'm sure many families would love to see what they have to offer.
Babboe were showcasing their new Babboe Slim, which sits 1 or 2 children in a straight line in front of you.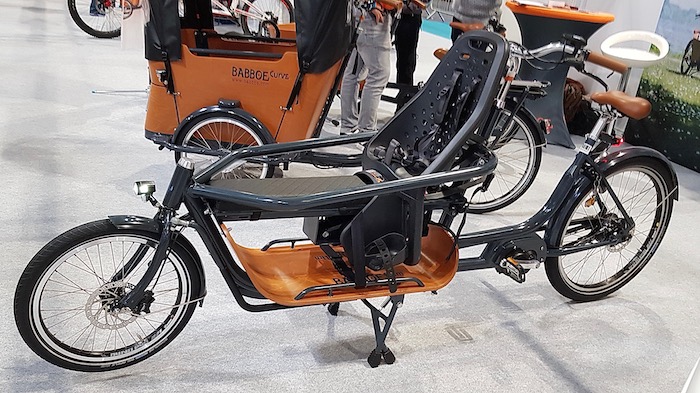 Older children can sit on the seat pads, whilst younger children can go in Thule Yepp bike seats and babies in a Maxi-Cosi carrier.
What was noticeable about this bike in comparison to Babboe's more traditional box cargo bikes is that it takes up a lot less space, which will appeal to families where storage space is limited.
Also on display were the Babboe Curve shown below on the left.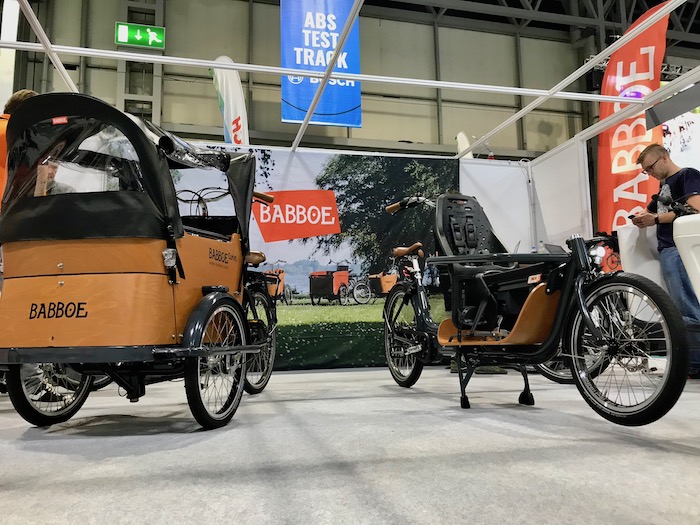 And below, the Babboe City with the optional Maxi Cosi baby seat carrier alongside.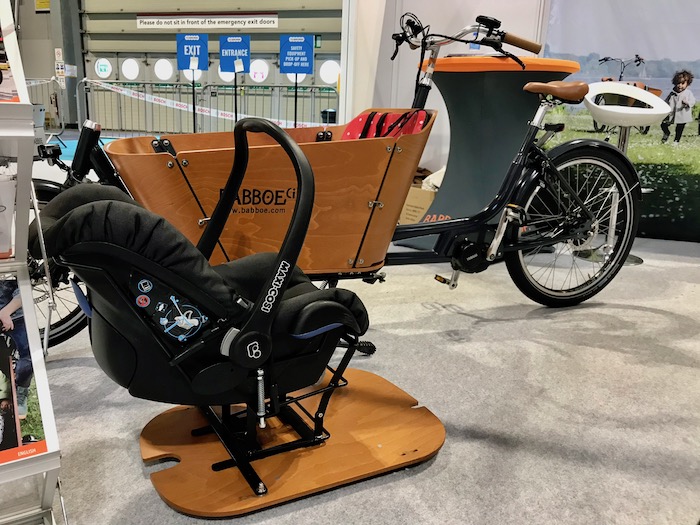 Surly Big Fat Dummy (£3,000)
Up to now all the cargo bikes we'd seen were electric, but for those of you who prefer manual pedal power, there's the Surly Big Fat Dummy.  Designed for all terrains and all weathers this really is a bike that allows you to take your kids anywhere on two wheels!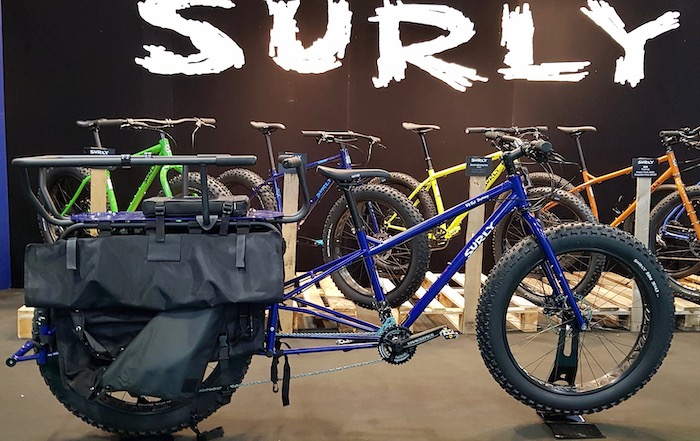 It's the first time I've seen this legendary bike in real life which was a real treat – it really does have fat tyres!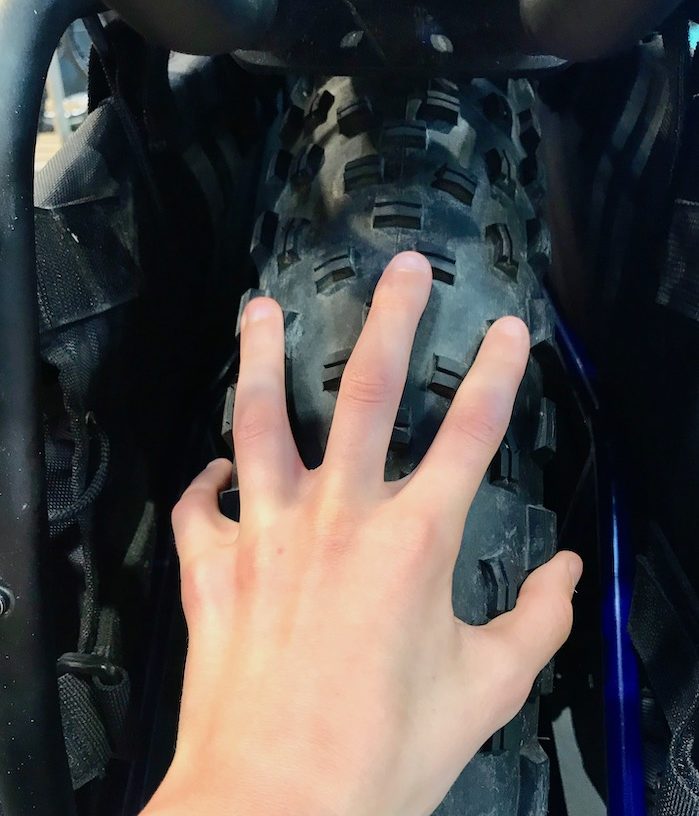 This is a bike that's just crying out to be taken on a family adventure……
This is just a selection of the family cycling products we saw at the 2019 Cycle Show. Our thoughts on some of the other products we saw are coming next, so keep tuned!
If you'd like to go and check out these family cargo bikes for yourself, the 2019 Cycle Show takes place from Friday 14th to Sunday 16th September 2019 at the NEC in Birmingham.  Full details on their website. 
Other articles you may find useful:
Disclosures:  Cycle Sprog received complementary press tickets to the 2019 Cycle Show Trade Day at the NEC Birmingham on Thursday 12th September 2019.  We are members of various affiliate schemes which means that if you click some of the links in this article and make a purchase we may get a small commission. This doesn't impact what you pay, but helps us to keep the website going. Thanks!