Is your child Geraint Thomas's biggest fan??  Or maybe they've been cheering on Chris Froome, or marvelling at the sheer dedication of Adam Rowe, Egan Berbal or Michael Kwiatkowski.  However they like cheering Team Sky on, they'll love the range of Kids size Team Sky cycling kit that is now available –  from a Team Sky kids bike through to a pair of kids sized cycling gloves or a saddle bag – it's possible to get part or all of the Team Sky look, whatever age your child is.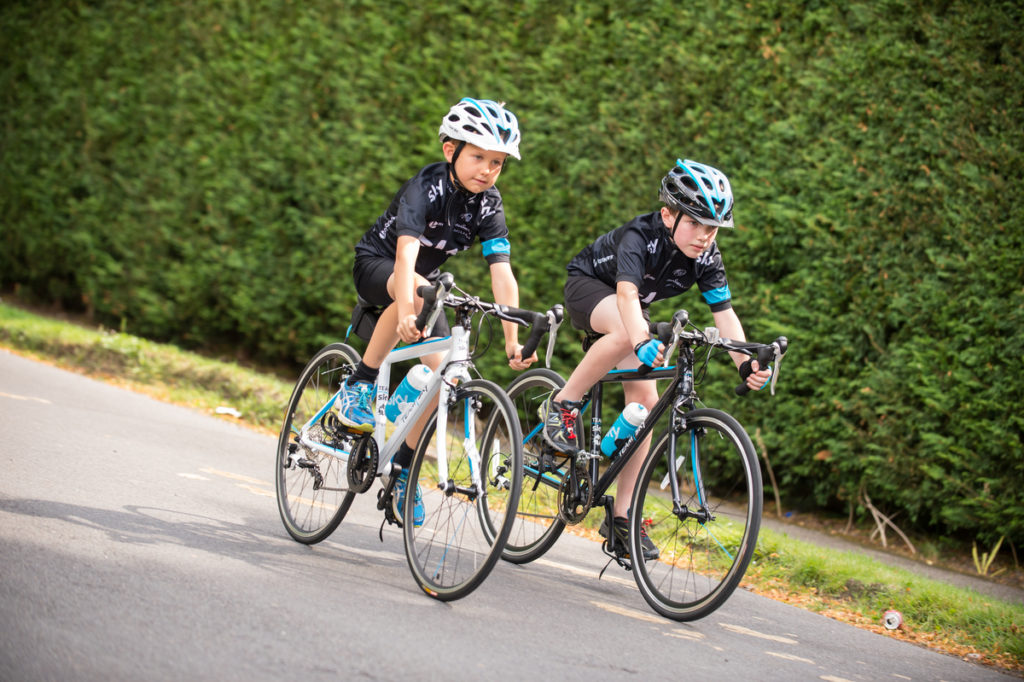 Here's a quick summary of what Team Sky kids size cycling kit is available for 2018 – as you'll see it's not quite as extensive (or as cheap) as previous years, as apart from the bikes, is almost all out of stock. 
Kids size Team Sky Cycling Kit
Kids Sky cycling jersey (from £40)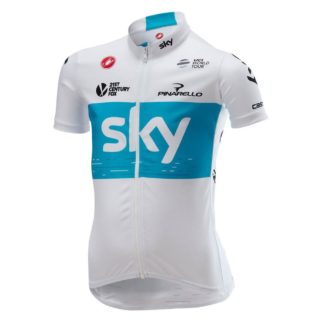 The 2018 child size Team Sky Jersey is made by Castelli, and is constructed from a high performance, moisture wicking fabric called Prosecco Strada, the same as worn by the Pro cyclists. Perfect for energetic young cyclists of all ages, whether you're cycling up Mont Ventoux, or around your local park!  This years design doesn't have a zippered pocket, which is a loss from previous years (when they were designed by Rapha).
The kids size Team Sky cycling top has three large cargo pockets, as well as a full length zip. It's available in four sizes – 6 years, 8 years, 10 year and 12 years.  Please note that Castelli are renowned for their tight fitting designs, although we don't know how this translates into kids sizes, and have been unable to find a sizing chart on their website.
The Team Sky kids sized cycling jersey is currently reduced to £39.95 at BikeInn (down from an RRP of £53)
Team sky kids cycling shorts (from £44)
These Castelli kids sized Team Sky cycling shorts aren't exactly the same as the shorts worn by the riders, but they do feature Affinity Lycra for outstanding stretch, 4-panel fit to cater for for growing kids, and a kids specific seat pad. They come in a unisex fit suitable for boys and girls, and come in sizes 6 years, 8 years, 10 years and 12 years.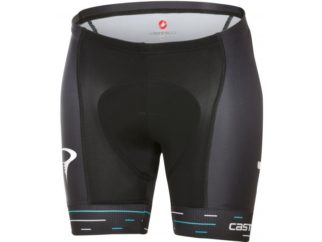 BikeInn have both the 2017 and 2018 designs in stock from £44. 
Team sky kit for older / taller kids and teenagers
Once your child can fit into small adult sizes, then there are SO many choices of replica kit – short and long sleeve jerseys in different colours, fabrics and designs, gilets, gloves, shorts, bib leggings, caps – the list goes on and on.  As Castelli are renowned for a tight fit, these could be bought for youngsters with a few to getting a couple of years wear out of them.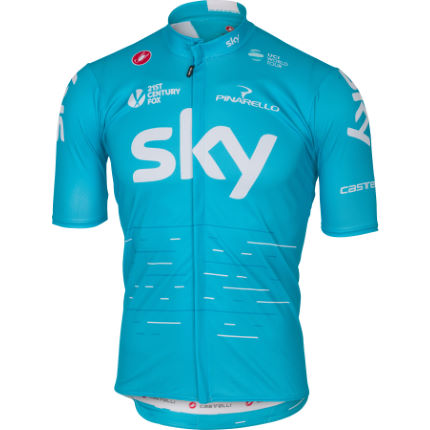 The small Team Sky adult jersey size says it is designed for the following sizes:
Chest 92cm, Waist 80cm, Hips 94cm, Inside leg 82cm, but the advice is that the kit is always so tight to go up a size, so you could probably get away with it fitting the following sizes for your youngster:  Chest 88cm, Waist 76cm, Hips 90cm, Inside leg 81cm. This is an estimate based on the sizing differences between the larger sizes, so please take a look at the precise item you're thinking of buying and measure appropriately.
Team sky kit can be purchased from Wiggle
Frog Bikes Team Sky kids bikes
The ultimate kids bike for a Team Sky fan! Frog bikes have been working in partnership with Team Sky for several years and the Sky range is now available in all age ranges, from the balance bike through first pedal bikes to their junior hybrid and road bike ranges.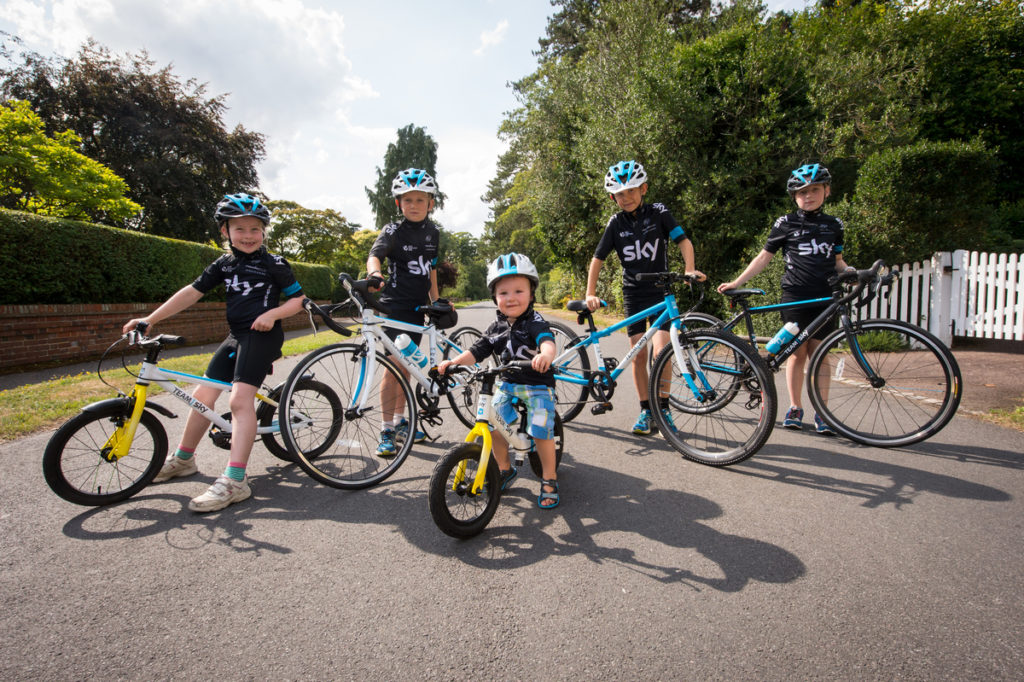 The range comes in various paint jobs depending on the size of the bike – look out for white, blue and black bikes, all with distinctive Team Sky logo and blue line, which is carried through onto two of the spokes.
The Frog Team Sky bike range is available to buy from Tredz – just click on your bike size and select Team Sky from the drop-down.  If you add the code SNG7NYG2 at the checkout, you'll get £10 off! 
===> CLICK HERE TO BUY A TEAM SKY BIKE FROM TREDZ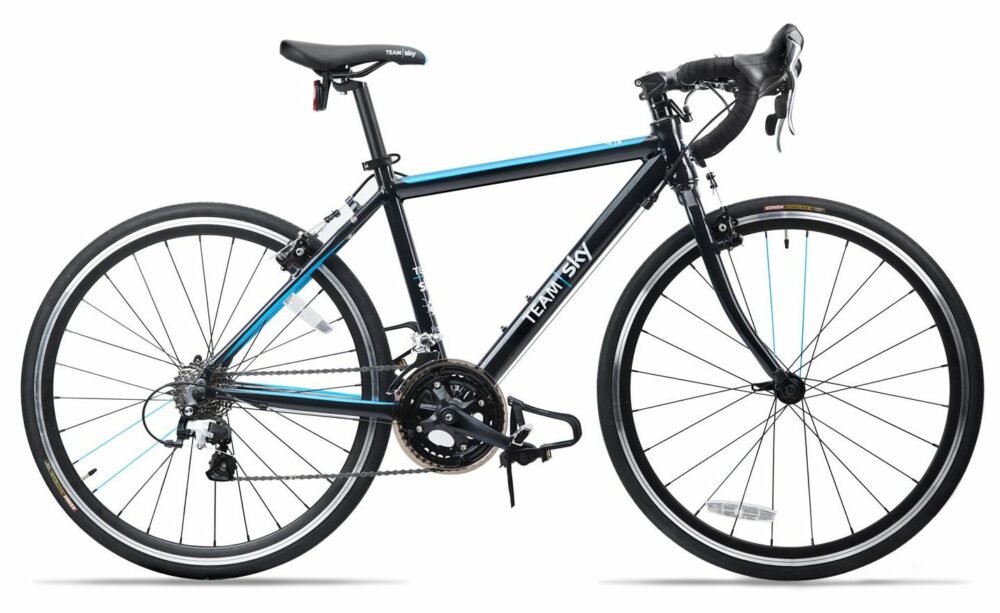 As you'd expect, the drop handlebar road bikes are particularly popular in the Team Sky design – you can read our reviews of the Frog Road 58 and the Frog Road 67 here.
FOR MORE TOUR DE FRANCE INSPIRED KIDS ROAD BIKES CLICK HERE!
Team Sky kids cycle helmet
What better way to stay safe and show your support for Team Sky at the same time?  The helmet is available in two sizes and designs – 46-53cm for balance bike and first bike riders and 54-58cm for older kids. The bigger helmet comes in two different colour combinations – blue and white (pictured below) and black and white.
The Team Sky kids cycle helmets are available from  Tredz Cycles and Cycle Sense.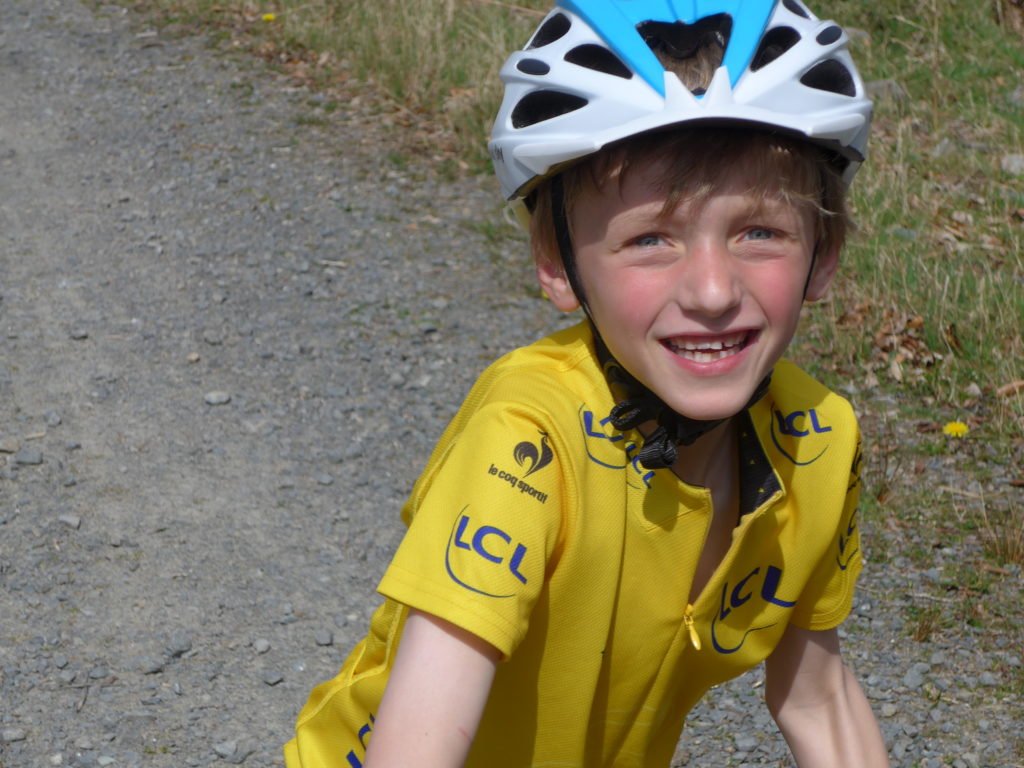 If, like this young fan, you expect Chris Froome to be wearing the Yellow Jersey during the race, you can get the authentic look by teaming it up with a kid's size yellow jersey too!
Kids Team Sky Rucksack and waterproof cover (from £21)
This is one durable rucksack!  Our son has used this everyday for school for over 3 years, plus taken it on family holidays and camping trips. It's  hard wearing and comfortable to wear and can be bought with a separate waterproof cover if needed.

There's a few remaining for sale on Ebay, but you'll have to be quick as these are no longer being made.
And for those days where you're cycling in the rain, you can keep your rucksack and its contents dry with a Team Sky waterproof cover – available from Leisure Lakes Bikes.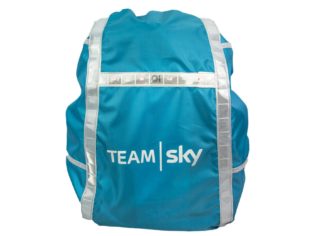 Team Sky Saddle Pack (£11.99)
If the Team Sky rucksack is too big for those budding racers, the Team Sky saddle bag will hold the essentials such as puncture repair kit and a snack, without having a negative impact on the aerodynamics.
This is another product we've used for over 3 years, both on kids and adult bikes and have found to be very robust and incredibly easy to fit.
The Team Sky Saddle Pack is available from Rutland Cycles.
You can read the Cycle Sprog review of the Team Sky Saddle Pack here.
Team Sky kids sized cycling gloves
Cycling mitts are a great way to stay inspired throughout your ride – they're always just in front of you, guiding the way!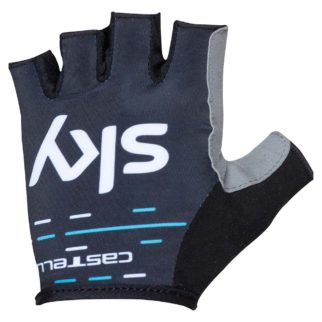 Kids sized Team Sky cycling gloves are available from BikeInn.
Thanks for visiting Cycle Sprog. We'd love to hear how your budding cyclist reacts when they get their Kids size Team Sky cycling kit – send us your photos on Instagram or Facebook!
If you've enjoyed our post on Kids size Team Sky cycling kit please share it with your friends – THANKS!
Kids and the Tour de France
To help kids of all ages enjoy the Tour de France, we've written a series of kids guides to the Tour de France – we hope you find them useful.  Chapeau!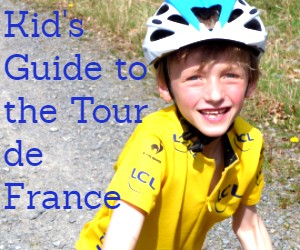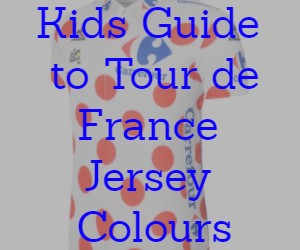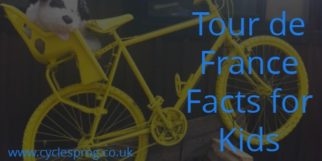 Disclaimer: Cycle Sprog may make a small commission on products purchased through clicking links on this site. It helps us fund the website running costs – thank you for your support.
Other posts you might find interesting:
This post was first published in July 2016 and updated in December 2017.