Perhaps the best accolade that a cycling accessory designed for kids can have is that it doesn't reach the kids but gets used by the parents instead. Cue the Team Sky kids saddle bag, made by Frog Bikes that arrived for review in the post recently.
Over the years I've had a few different saddle bags, from huge ones that fit in nappies, wipes and other emergency baby paraphernalia needed on even the shortest ride out with an under 2, through to small streamlined ones that hold a CO2 puncture repair kit for use during training rides and races. However, I've often found them slightly difficult to install. I've had one saddle pack that I found impossible to tell which way up it went until I'd fitted upside down (every time!) and another that had a metal fitting to secure to the underside of the saddle. Only it didn't fit to all my saddles securely and would work loose after a few miles – useful!
So when the Team Sky kids saddle pack arrived for review it had my name on it! To start with, it's incredibly easy to fit and the Team Sky lettering means it's simple to know which way up it goes. The Velcro attachments loop underneath the saddle and secure firmly and an additional elasticated loop provides added security around the seat post.
How much can you fit inside the Team Sky kids saddle bag?
For adult use, you can easily fit in a i-phone, CO2 puncture repair kit, keys, money and a cereal bar. Sometimes we use it to carry a cable lock during family rides; always useful for cafe stops. Alternatively it can be used to hold any number of goodies a budding young cyclist could need, including cuddly toys, sweets, pens and paper or sunglasses.
For the purpose of this article, Cycle Sprog's Chris has managed to fit in the following with careful packing:
An iphone, a cereal bar, a Knog Milkman lock, his mini tool kit, a CO2 puncture repair kit and a £10 note.
How durable is the Team Sky Frog Bike kids saddle pack?
I've used the Team Sky Frog Kids Saddle Pack for several months of regular use on the roads on both a hybrid and a race bike and it's been great. There's been no slippage and the zip, straps and elastic are still in great condition. I also like the reflective strip for night riding – there is a loop for attaching lights too, if you have the kind of bike light that would fit.
Chris has also been using it when I let him, and has commented on how much it holds – plus the padded insides make it suitable for carrying a mobile or a small camera.
How easy is it to fit to a kids bike?
As Cycle Sprog is of course a kids cycling website, it's only fair that the saddle pack also gets reviewed by someone more age appropriate! Perhaps the best test was when I asked my 8 year old to remove the saddle pack from my bike and add to his. He managed to remove it in seconds and got it fitted to his bike using the Velcro straps quickly. I just needed to explain how to use the elastic loop, which can be tricky to work out first time.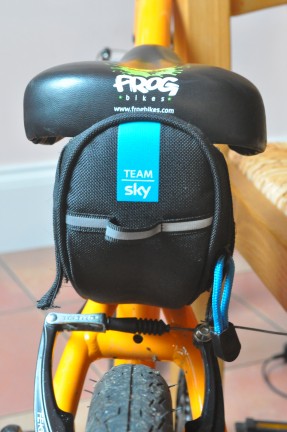 My concern was that the Team Sky saddle pack might not fit onto a smaller kids bike. On an adult bike it looks streamlined, but when I held it up against a Frog 55 with the saddle lowered I had my doubts – would it fit without the saddle post being extended? Would there be enough clearance above the wheel. However, I am pleased to say that it fitted in – here's the proof!
Top tip – fit the saddle bag with the seatpost raised, then lower it into the correct position. As there's brakes and frame getting in the way, this gives you plenty of access underneath the seat to get the bag in the right place without needing to be an ambidextrous spider monkey.
If the seat is in the very lowest position double check that the Velcro is tightly fastened to give enough clearance above the rear brake cable, rather than rely on your child to fasten themselves.
As you can see there was a good centimetre or so when I pulled it tight, and of course the seat doesn't stay in the lowest position for very long. Once the seat is raised a kid with reasonable fine motor skills should be able to fit themselves, but of course it's always worth checking they've secured it properly before you set off.
Due to the slimline width of the saddle pack, it doesn't protrude beyond the width of the child's saddle, which is very important to avoid leg rubbing. The zip is very easy to use by adults and kids alike, even with winter cycling gloves.
Does the Frog Bike saddle bag fit other makes of kids bike?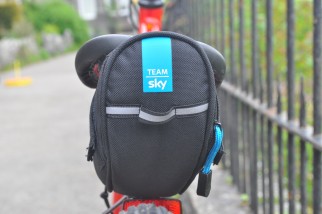 Frog Bike claim on their website that the saddle bike fits most kids bikes. To test this out I also then fitted it to a couple of Islabikes, to see if it would work with a rivals set up.
It's been put to regular use on an Islabikes Luath 26 with the saddle in the lowest position with absolutely no problem, and I've also fitted it to the Beinn 26 as shown.
On most bikes you may need to remove the rear reflector from the seat post to make it fit, but given the bag has a reflective strip this is no real loss.
Anything else to note about the saddle pack?
It pleases Chris (a mature adult(?)) that he can make the Team Sky Frog Saddle bag look like some kind of sea creature with just the top off the CO2 kit and a couple of pieces of blue tac!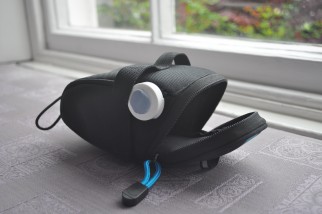 Where to buy the Team Sky Kids Saddle Bag
The RRP for the Team Sky Frog Saddle Bag is £12. You can purchase the Team Sky Kids Saddle Bag online at Rutland Cycling or The Little Bike Company, or alternatively if your local bike shop stocks Frog Bikes, they may well also sell these. You can check on the Frog Bike website to find your local Team Sky Frog Bike stockist.
Disclaimer:
Cycle Sprog were sent the Team Sky Frog Bike Saddle Bag to review by Frog Bikes