Starting school is such a big step – both for your child and for you. You've probably seen some of the countless books, checklists, websites and blogs to help prepare for the first day at primary school, but few urge you to consider how you actually get your child to school.
Cycling, walking or scooting to school is a great way to get your child used to keeping active. With what seems like daily news articles about the rise in childhood obesity, type 2 diabetes, air pollution and traffic congestion, active methods of getting to school are increasingly important and getting into good habits from day 1 is so important (even if, as we discuss below, they're not actually pedalling at this stage).
Cycling can be such fun, and is a great way to introduce your child to a healthy lifestyle, whilst keeping you fit and saving on petrol and public transport costs. Your child will also arrive at school wide awake and ready to learn, compared to their peers who arrive by car.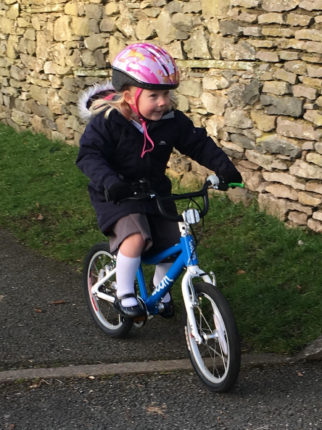 Getting to school by bike
Some people (such as 4 year old Jessica shown above) have child friendly routes to school, and can pedal themselves to school on a daily basis. For help in finding a suitable bike for a 4 or 5 year old see our post on the best 16″ wheel kids bikes.
However, many people aren't that lucky to have traffic free routes all the way to school, or else live too far away. There are still a number of options to get a 4 or 5 year old to school without resorting to a car. Trailers and cargo bikes are two of the more popular methods, as your child is sheltered from the elements and doesn't have to put in any physical effort. As school itself can be extremely tiring for young children, this can be an added bonus over pedalling, walking or scooting in the early years.
Trailers and cargo bikes are also brilliant for younger siblings, plus you can fit in all the bags that you find you need to transport to the school each day. For more information about trailers, and how to cycle with them on roads, check out our trailer section.
Another good option, and particularly popular with ages 4 through to about 7, are tag-alongs or towbars. Both these designs allow your child to pedal – a tag-along on a specifically designed one wheel bike that fits onto your bike, and a towbar by fixing their bike to yours. We've got more information about both styles in our Pullalong section.
Tagalongs and towbars are perfect for when your child is too heavy for the trailer, as they allow them to get exercise and experience of riding without them having to control a bike themselves – very important if you are riding on road with them at this age.
If little brother or sister needs to come along for the ride, then a front seat is the ideal pairing with a tagalong.
So, as you're preparing for the educational journey your child is starting on this autumn, take a few moments to think about how they arrive at school each day.
Other post you may find useful: