Today's request for help has come from Sarah, a mum of two from London, who needs a bike carrier for a VW Touran. Sarah tells us:
"We're going away in Wales with two kids (aged 4 & 1) and our dog in our VW Touran. We want to bring our bikes: hubby's is a standard hybrid; mine's a women's frame sit up and beg. We need access to the boot for the dog. We'll be buying a bike trailer for the kids from eBay but in future years we'll also need to transport two kids bikes too. I would welcome any advice as the cost of all the accessories is vast!"
Choosing a bike carrier for a VW Touran
Before buying an bike carrier, Sarah should check it fits the exact model of VW Touran she has. A reputable bike carrier manufacturer will have a website that let you check out what cars they fit.
Some of the options available to Sarah are:
Roof mounted cycle racks
Roof carriers fit onto roof bars which then attach to the car. For this Sarah's vehicle would need to have roof rails. Most VW Touran's have them, but not all.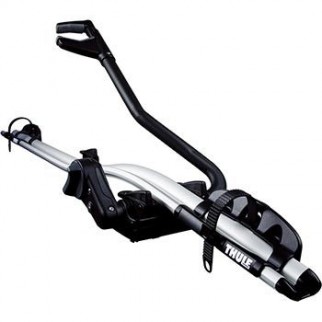 Sarah could initially purchase two racks for her and her husband's bike, and add more as her children grow out of the trailer and want to ride their own bikes (although a small kids bike can usually fit in the boot.
Personally, we have Thule roof mounted carriers which are great as they are lightweight and easy to use. However, VW Tourans are higher than our Audi A4, and Sarah doesn't say how tall she is. She will need to check she is OK lifting the bikes on/off roof. A small step can be helpful to keep in the boot – those ones that toddlers use to reach a sink are good!
Sarah can check the fit of the Thule cycle racks on the Thule website, and then buy at Wiggle if she decides to go with this option.
Rear door mounted bike carriers designed for the VW Touran
Rear door mounted carriers ones tend to be reasonably priced, and could be a good starting option for carrying the two adult bikes. However, they do restrict access to the boot, which could be a problem for Sarah's dog and the children's bike trailer. They can also interfere with your rear wipers (although hopefully Sarah will have wonderful weather for her trip!), and fit directly against the paint work of the car.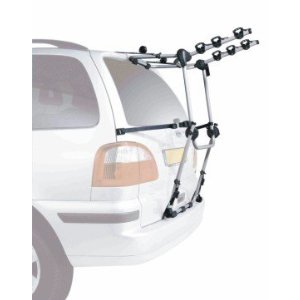 A lot will depend on how much Sarah wants to get in and out of the boot whilst the bikes are in position.
There are a number of specific racks for the VW Touran available here
on Amazon, although Sarah does need to consider if she's going to swap cars in the near future.
Towbar mounted bike carriers
Another option would be a towbar and towbar mounted bike carrier (there are various types available, some high level some low for 2 to 4 bikes). High level ones tend to tilt out of the way to allow access to the boot (although Sarah should check if they need to bikes taken off to do this if she plans to store the bikes on the carrier whilst she's away). Getting a towbar fitted is an investment, but one worth making if Sarah's thinking of keeping the car for the foreseeable future and is planning on doing loads of cycling.
Thule and Witters are popular choices of towbar mounted carriers.
2 or 4 bike carriers
Sarah will also need to decide whether to go for a 2 bike option now, and then reinvest in a 4 bike option when the kids have outgrown the trailer, or whether to go for the 4 bike option now. This will depend on her budget and storage space.
Fitting a ladies bike to a cycle carrier
Sarah has a "Sit up and beg" style ladies bike, which will not fit onto most cycle carriers as you need to use a cross bar to secure the bike into place. However, for between £20 and £40
she can purchase a cross bar adapter, which will fit to the frame of her bike, making both these options available to her.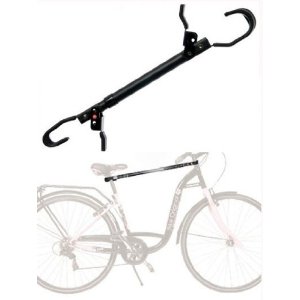 Which cycle carrier to choose for a VW Touran?
Sarah is going to have to do some further research before making her decision. She needs to consider how long she plans to keep her current car, what her budget is and how much cycling they intend to do in the future, and these will help guide her to the right cycle carrier for her VW Touran.
There are various manufacturers of cycle carrier on the market, so it is really imporant that she visits their websites to check compatibility against her Touran before making a final decision.
If you have a VW Touran and carry all the family's bikes, why not let us know how you do this in the comments section below.
Other articles you should check out before you go:
If you've enjoyed reading this article, please do sign up for our newsletter - we'll keep up updated when we have new articles which may be of interest. Thanks!