(This is only for children. )
MY BLOG OF A CARGO BIKE IN A BOY'S VIEW (7 years old)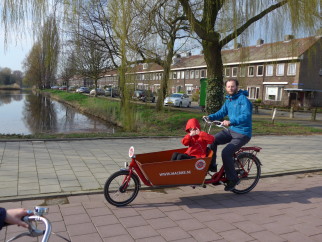 When I went to Mac Bike's in Amsterdam to collect the cargo bike I was a little bit worried. Because it only had two wheels and the front one swung round a lot very easily.
But when I was in it was great fun, I definitely recommend it.
The Boiler Room
I made a Boiler Room out of the bottom of the Cargo Bike and put coats and fleeces on the top. It was nice and cosy and kept the wind out. I also made fresh water with my foot whilst Mummy or Daddy was pedalling. I used a plastic bottle of water and squashed it against the side of the cargo bike.
What I saw
It was really nice because on a normal bike you can't really look around at the beautiful views around you but in a cargo bike you can turn around and look about at the beautiful scenery.
Comfort
It was really nice and comfy because you could stretch your feet out to the other end of the cargo bike and be quite aerodynamic and also when you do that the wind doesn't really hit your legs and they don't get cold.
Did it feel safe?
Definitely! It was so nice not having to worry about cars because you had your own bike paths which went both ways.
What would it feel like in the traffic?
I think it would be quite freaky but maybe OK.
When my brother got in it was quite cramped but OK. It was fun as well as we were making water.
My was very sad when I had to get out. It was almost like a new house. There was storage room underneath where you sat.
🙂 🙂