I'm sure we all remember the trips we would take with school. Even if it was only to the local pool, it usually involved a coach trip. Gary, the Deputy Head at Michaelchurch Escley Primary in Hereford, decided on a trip with a difference! Over to you Gary…
Mountain biking from school to Hay-on-Wye for ice cream!
On Friday, 28th June, I took 18 children from our school, Michaelchurch Escley Primary, on a 19km mountain bike ride from the school to Hay on Wye. The trip was led by me, the Deputy Head, and we were accompanied by our Head Teacher, the school's administrator and 4 parents.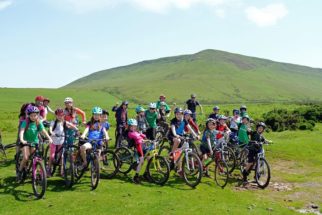 It was an amazing trip and the children had a great sense of achievement. They also really enjoyed the ice cream we bought them when we got to Hay! We are a small, rural school with just 61 pupils and we are very proud that nearly a third of the school joined us for this challenging ride.
Gary – Michaelchurch Escley Primary
What an amazing day out, we've no doubt that the children all loved the adventure and will remember it for years to come. Here's to more schools being able to follow Gary's lead!